Charity goes a long way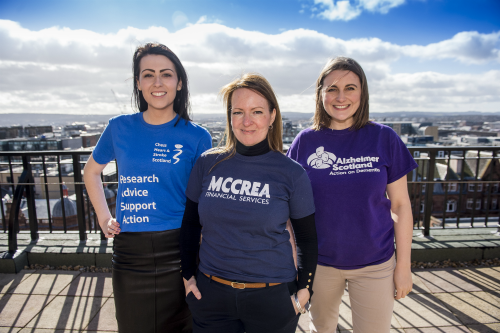 Charitable causes are extremely important to McCreas as we recognise that we have the opportunity to be able to give something back as well as being able to help raise the profile of our nominated charities.  They can also benefit from the generous fundraising efforts of our clients, staff and friends.
In recent years we have raised more than £400,000 for our nominated charities and with plans for everything from Race nights and the London Marathon to Skydiving, we are committed to raising much more.  
You can follow us on twitter @mccreafs or keep up to date with our news section to see more.
To donate to one of the charities you can link directly to their website above or simply go to the McCrea Financial Services Virgin Money Giving Page
If you are a charity and would like to work with McCrea Financial Services in the future, please contact us at enquiries@mccreafs.co.uk
Chest Heart & Stroke Scotland
Chest Heart & Stroke Scotland (CHSS) improves the quality of life for people in Scotland affected by chest, heart and stroke illness, through medical research, influencing public policy, advice and information and support in the community.
Over the past year, we have maintained our position as one of Scotland's major charitable funders of medical research and this year funded approximately £0.5m of new medical research in Scotland.
Across the country we provide services to more than 18,000 people affected by chest, heart and stroke conditions.
Alzheimer Scotland
Sadly, dementia is one of the top 10 causes of death worldwide and is the only one we cannot prevent or cure.
There are over 90,000 people in Scotland living with dementia and this figure is set to double in a generation. 
That's why Alzheimer Scotland is working hard to build strong lasting relationships with individuals, businesses in local communities across Scotland.