First Time Buyers, Don't Miss Out!
Time is running out to open a Help to Buy ISA, the savings scheme that offers first time buyers a cash boost from the government to get on to the property ladder. Savers looking to take advantage of the scheme must open their Help to Buy ISA by 30 November 2019.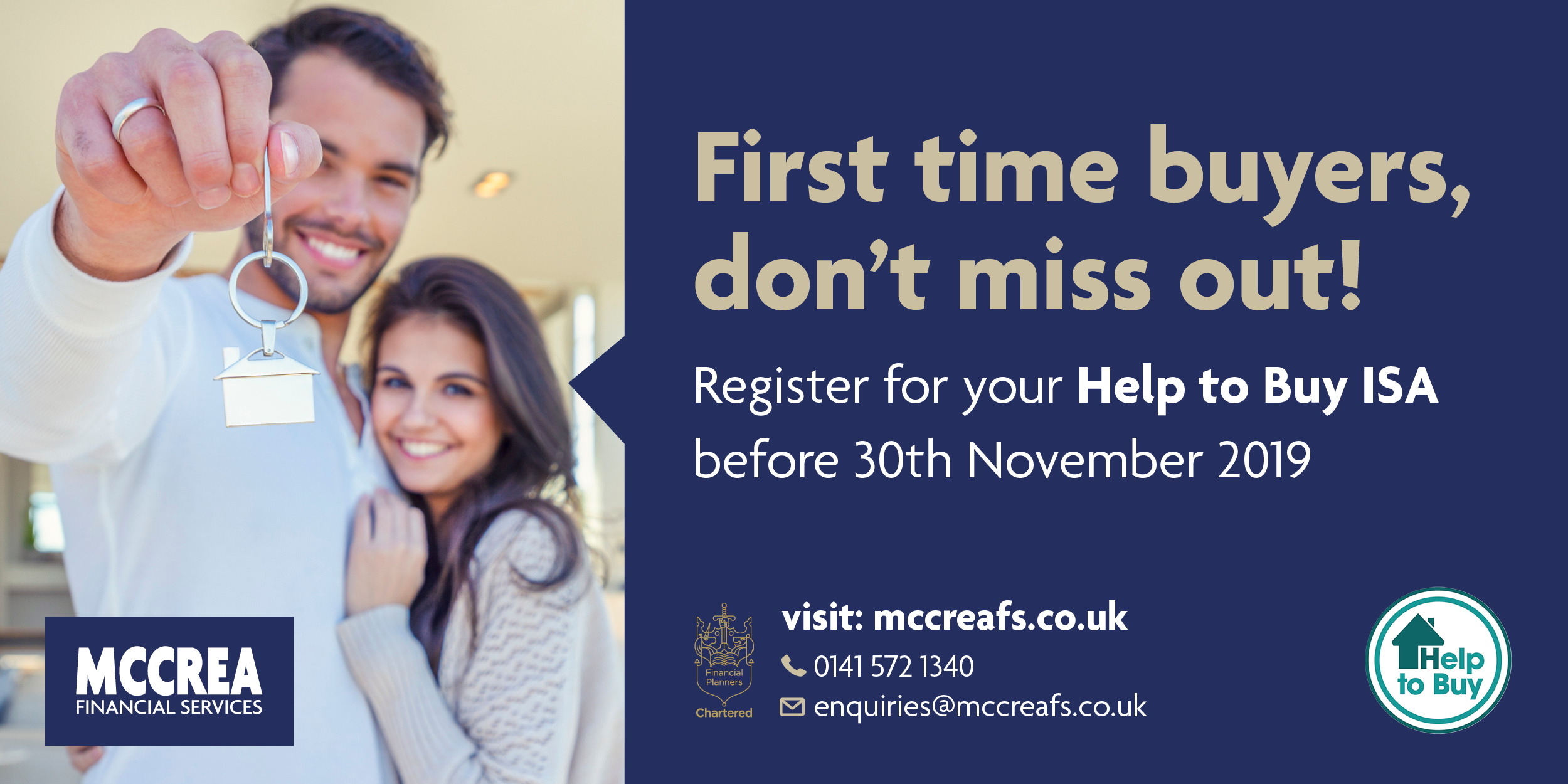 These ISAs are specifically designed to help savers buy their first home, with the government contributing up to an additional £3,000.
Any UK resident aged 16 or over who has never owned a property can open a Help to Buy ISA. Savers can deposit an initial lump sum of up to £1,200 and top up with up to £200 each month. The money they save can be used to buy a property in the UK worth up to £250,000 (£450,000 if the property is in London) as long as the buyer intends to live in the home and purchases it using a mortgage. When a buyer's solicitor closes the ISA as part of the purchase of a qualifying property, the government contributes a bonus of between £400 and £3,000 depending on the amount saved.
Deposits can be made into Help to Buy ISAs until 30 November 2029, and the government bonus must be claimed by 1 December 2030. This makes the Help to Buy ISA an ideal option for long term saving even when the prospect of property is far in the future, as Graeme Nichols, Mortgage and Protection Specialist at McCrea Financial Services, explains.
"The interest rates and government bonus available on a Help to Buy ISA make it especially attractive for young adults who might be looking to buy their first property within the next ten years. There's no minimum limit on contributions, so even if your child is 16 and not thinking about regular saving yet, let alone saving up for a property, it's worth their while to open a Help to Buy ISA now and have it available when they're ready to start making contributions. Just £1 is enough to open a Help to Buy ISA, as long as they do so before the scheme shuts at the end of November."  
Help to Buy ISAs are also available to those who have already saved into a Cash ISA in this tax year, however it is advised you take specialist advice on the necessary fund transfers.
More information on the Help to Buy ISA is available at https://www.helptobuy.gov.uk/help-to-buy-isa/how-does-it-work/.
Our mortgage specialist Graeme Nichols and our team would be happy to discuss your individual requirements with you.  Call or email us today to arrange a free, no obligation appointment to find out how we can help, or read more about our Mortgage Service here.