Callum Gibbins takes Warrior Award for September
Supporters have voted Callum Gibbins the McCrea Financial Services Warrior of the Month for September.

New Zealand-born Gibbins has quickly established himself as a fans favourite at Scotstoun having only joined from the Hurricanes this summer.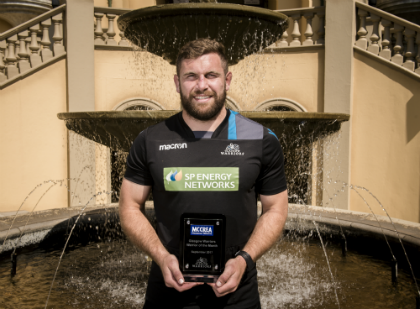 The back-rower started three games in the month of September, demonstrating his hugely diverse skill set and excelling across the park in both defence and attack.

Warriors supporters first got a taste of Gibbin's ferocity as he inspired the Hurricanes to an entertaining draw against the British & Irish Lions in Wellington this summer.

Since arriving in Glasgow, his abrasive presence on the pitch has delighted his coaches, teammates and supporters culminating in him winning the first Warrior of the Month Award of the season.

Speaking to glasgowwarriors.org Gibbins said: It feels very good to be voted the McCrea Financial Services Warrior of the Month. It was cool to hear and I'm happy with it.

"It's a pretty cool feeling to know that the supporters voted for me.

"I've met a lot of supporters after games at Scotstoun, so it has been great. The support is awesome and I'm looking forward to getting back there."

Check out Warriors HQ on Warriors TV for an exclusive interview with Callum Gibbins from Glasgow's training base in South Africa.