Captains Run and Lunch with the Warriors!
On Friday we were lucky enough to gather a small group of guests together to enjoy a morning at Scotstoun Stadium and get a real sense of the planning and effort that goes in to match preparations.
This time, we joined the Warriors as they prepared for the game vs. Toyota Cheetahs which was played on Saturday night.
After a breakfast and warm welcome from the McCreas team, our guests were able to watch the training, known on pre-match days as the Captains run, on the main pitch at Scotstoun.   From here, one of our advisers, Doug Hall, a former Warrior, was joined by one of the current Warriors, DTH Van der Merwe, to provide a comprehensive behind the scenes tour at Scotstoun and the two provided some real insight into just how focused the set up is at Scotstoun.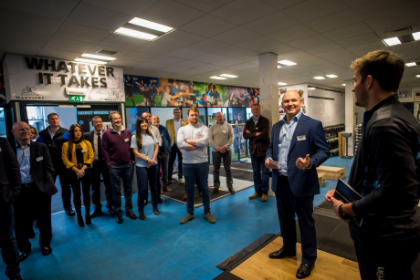 Returning to the club deck after the tour, we were joined by five Warriors players, Ryan Wilson, Huw Jones, Tommy Seymour, Lee Jones and George Horne who joined our guests for lunch before taking part in a Q&A session.  With Ryan Wilson at the helm, it proved highly entertaining, with plenty of laughs and a great deal of information for our guests to take away from their visit to the club.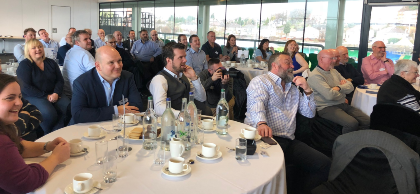 The only disappointment, in an otherwise, extremely engaging morning, was that we didn't get to see Hoggy's new hairstyle first hand! 
One of our guests, Mark Carnan, won two tickets to the game on Saturday after the players determined his question was the best one posed when he asked the players which position would they choose, other than the position in which they actually play.  No-one will be surprised to hear that the No. 10 spot was a popular one.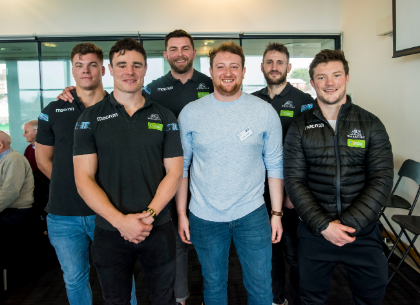 With the team going on to win on Saturday by 35 points to 17 securing both a bonus point and their place at the top of conference A, we're quite sure it's a game he will have enjoyed!  
To find out more about McCrea Financial Services sponsorship of Warriors and the way we work with this for the benefit of our clients you can read our sponsorship update here.  
And of course, if you you would like to get in touch to make an appointment to discuss your financial planning or mortgage, please call us on 0141 572 1340 or email us here.