Congratulations to Kiran McDonald winning his first Warrior of the Month Award
Glasgow Warriors second-row Kiran McDonald has claimed the McCrea Financial Services Warrior of the Month for October, after emerging victorious from a supporters' vote on the club's official Twitter account.
The former Glasgow Accie and Glasgow Hawk was presented with the award following the Warriors' 50-0 victory against the Southern Kings on Friday night, which also coincided with the second-rower's 25th birthday.
McDonald claimed 64% of the public vote for his performances over the month, getting the better of Jamie Dobie, Callum Gibbins and Chris Fusaro to claim the club's monthly award for the first time in his career.
Standing at 6'8", he impressed in each of his outings during October, most notably in an all-action display against Cardiff Blues in round two of the Guinness PRO14.
McDonald was presented with his award by young Brodie Baird who was celebrating his 8th birthday and his first game as a fully fledged Glasgow Warriors supporter courtesy of McCreas.  Brodie also got to high-five the Warriors players as they left the field and is likely to be talking about his night for many years to come!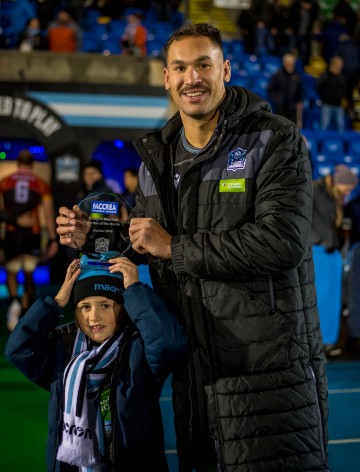 Meanwhile, McDonald commented "It feels fantastic,".
"It couldn't have been a better weekend to be honest! A massive win to get our season going, man-of-the-match and this award - you can't beat it.
"It's really cool to get the backing of the fans for this award. It's always a great feeling when you get clapped off the pitch, so I'm pretty stoked with that.
"I'm just going to continue working hard now - I can't take my foot off the gas, I've got to keep going and keep building on each performance."