Critical Illness cover: the critical facts for protecting you and your family
It is important to understand the different types of protection available to you and your family, should your circumstances suddenly change; if you were to become seriously ill and could not earn a living, would this pose a financial burden on those closest to you?
This is not a nice question to consider, however a vital one if you believe your loved ones might struggle to pay the mortgage or meet the day-to-day costs of living and running a household if you were seriously ill. In this case, critical illness insurance is a 'no brainer', providing a lifeline if you develop a serious medical condition.
The facts are that we are four times more likely to suffer a serious illness than die before the age of 65; a critical illness such as a heart attack or cancer, strikes one in five men and one in four women before 65 – this is where critical illness insurance can help.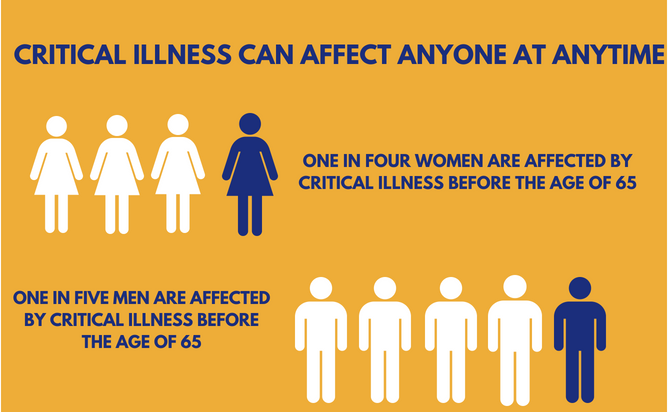 So, what is critical illness cover?
Critical illness insurance is designed to pay out if you suffer from one of a range of serious illnesses covered by the policy. Unlike income protection, which also covers illness, there is no requirement to be off work for a claim to be successful; the trigger for a critical illness claim is the fact that you have been diagnosed with an illness that is covered by the policy.
How we can help
Don't wait until it's too late. Critical illness protection can give you much needed funds at a critical time. This will free you from worrying about making ends meet and allow you to concentrate on your recovery.
We can provide a full protection review to ensure you have appropriate protection for you and your family for the most important things in life, giving you peace of mind when it matters the most.
Find out how we have helped our clients with Critical Illness Insurance, from one of our case studies here.
If you would like to arrange an initial free no-obligation meeting you can email us: enquiries@mccreafs.co.uk  or give us a call on 0141 572 1340.
Follow us on Facebook, Twitter or LinkedIn for the latest news.