McCreas Byte Night Team raising vital funds for homelessness!
On Friday 5th October 2018, McCreas team - Andrew, Ashleigh, Emily, and Carley participated in Byte Night - the UK's largest corporate sleep out event in aid of youth homelessness.
We were happy to support the cause and raise funds for our 2018 charity partner, Action for Children Scotland, by participating in #ByteNightGlasgow; sleeping rough in Blysthwood Square Gardens (just ourselves and our sleeping bags)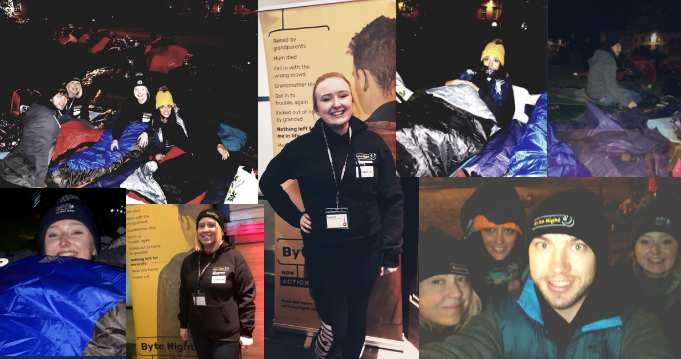 It all began indoors (warm and cosy) at 7.30pm, at 200 St Vincent Street, where representatives from 23 companies, including McCreas were welcomed to the event.
We heard from Marc, a young man who has benefitted greatly from Action for Children Scotland, when the charity intervened and helped him to better his life; picking him up from a very low point in his life whilst Marc was experiencing relationship breakdowns in his family, with nowhere to call home and nobody to turn to for help whilst on the streets. Marc was subsequently subjected to street violence, exposed to criminal activity and deprivation. Action for Children Scotland gave Marc shelter, food and an environment with access to opportunities needed to turn his life around. Marc now has his own flat, a job, and recently bought his first car.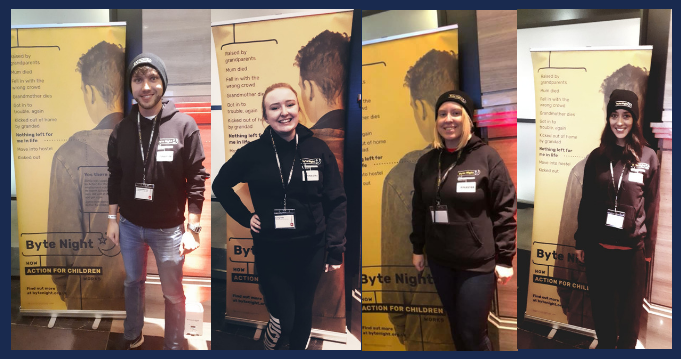 Marc thanked Action for Children for saving his life and for everyone participating in Byte Night and Action for Children for all their support. He said that without the support of Action for Children and the people who support them, even the necessities that most of us take for granted such as a warm space to have a chat, bread, milk, tea, and coffee would not be available for the homeless to take comfort in.   
Hearing Marc's story highlighted how donations can improve the lives of the most vulnerable people; just £10 could provide two hot meals for a young person in need and £15 could provide an emergency starter pack of toiletries and essentials for a young person living on the street. 
83,000 young people in the UK are homeless every year. 4 of them have shared their story with us.
To listen to their stories, including Jamie's, click on the image below: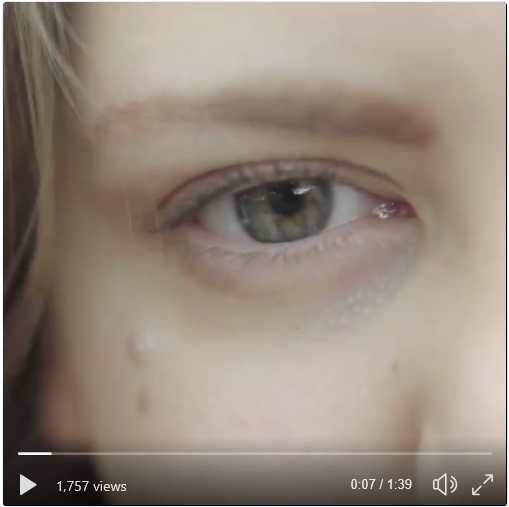 After the welcome brief and insight, we went out to find our spots and 'settle down' for the night ahead. This is when it got 'real' and we realised there would be no comforts for the night; no warm space with light, no shelter, no soft mattress - nothing but us and the elements for company! Despite this, we set up our sleeping bags for the night, fairly full of life and gusto, with the excitement and hype of helping charity and knowing that the next morning we'd be home in our own beds, with ease of access to our luxuries once more. By the morning however we packed up and left feeling very tired, sore and somewhat dejected at this being thousands of people's reality on a daily basis. 
We would like to thank everyone who supported us with their encouragement and donations, enabling Action for Children Scotland to continue the great work they do and help more young people like Marc.
If you would like to support the cause and help Action for Children Scotland, please donate anything you can here. A little will go a long way!