McCreas Charity Challenge(s)!
Our Charity fundraising is already well underway for 2016 on behalf of the Beatson Cancer Charity and Venture Trust. We've already raised over half our target for the year and after a successful Race Night at Hillhead Sports Club and Golf day at the Dukes Course in St Andrews, we're turning our attention to the personal challenges a number of our staff have committed to.  
Very recently Jonathan Campbell set the bar high by running the London Marathon and the attention now turns to Douglas McCrea and two challenges he has set for himself, whilst six of the team have committed to the Tough Mudder later in June.
For Douglas, his first challenge is the John Muir Way  which involves the small matter of walking 134 miles coast to coast between the 18th and 24th June.
This will be the longest walk undertaken for his charity walks and with the old osteo arthritis playing up in his left hip should be challenging. (New right hip is fine!)
The longest days will be 26 mile shifts which should be interesting and likely to be supported by ibuprofen painkillers and Tennents lager (although in which order we're not sure).
His other challenge for 2016 is thanks to his children who assisted by giving him a present that involves running off the top of a mountain and relying heavily on what looks like a flexi-foil kite strapped to his back.  We're advised this is more formally described as tandem or dual paragliding!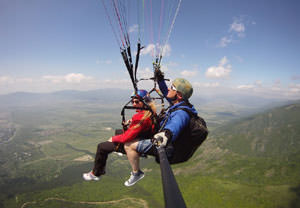 Over the last eight years with everyone's wonderful support we have raised over £350,000 which is an incredible figure and greatly appreciated and if you would like to support two wonderful charities and an old wreck (Douglas) trying to do his bit, donations will be gratefully received either through our online donations page at Virgin Money Giving or by sending a donation to our offices payable to either charity.
Thank you again for all your support.