McCreas Player of the Year Voting Open for Thistle
The most prestigious award of the season returns again when, on Sunday afternoon at the Crowne Plaza, the Partick Thistle Player of the Year, sponsored by McCrea Financial Services, is announced.
This season has seen a number of strong performances from players in the red and yellow of Thistle with a push for top six failing in the final of the pre-split fixtures. The nominees for the Partick Thistle Player of the Year, sponsored by McCrea Financial Services, were very hard to pick with a number of different players scooping the monthly awards this season, but, after much deliberation, four contenders were selected and they are:
 Stuart Bannigan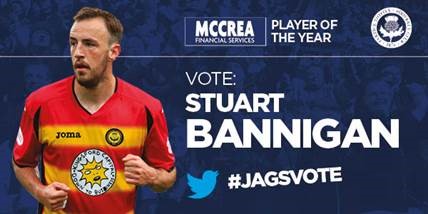 Stuart, who won the young player of the year award in 2013/14, has been exceptional for Alan Archibald in the heart of the midfield and had successfully completed over 1,000 passes in the Ladbrokes Premiership prior to suffering a season ending injury at Tynecastle in March.
Vote for Stuart on Twitter
Vote for Stuart at ptfc.co.uk
 Callum Booth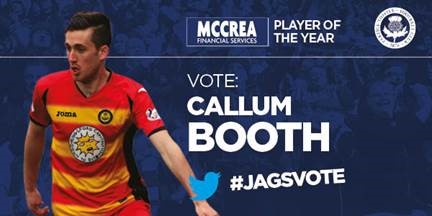 Callum was bidding to become the first player since 2005/06 to play every competitive minute for Thistle in a season but a suspension incurred in April denied him that chance. Callum has been an excellent player for Thistle since joining in January 2015 and he has made the left back slot his own. His adventurous attacking play supplements Thistle's style and he has even been known to get on the scoresheet in spectacular fashion.
Vote for Callum on Twitter
Vote for Callum at ptfc.co.uk
 Tomas Cerny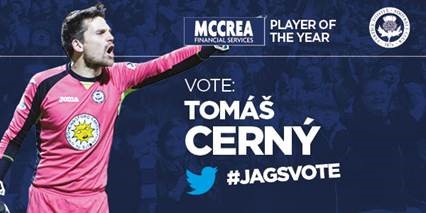 This is Tomas's first season as a Jag and what an impact he has had. To date he has kept 11 clean sheets in the Ladbrokes Premiership with only two goalkeepers having kept more. He was the first Jags keeper to reach the tally since Craig Nelson in 1993/94 and in only two top flight campaigns has a Jags number one kept more. He is capable of making spectacular saves but the way he commands his defence has been equally impressive and has given Thistle a solid defence to rely upon.
Vote for Tomas on Twitter
Vote for Tomas at ptfc.co.uk
 Abdul Osman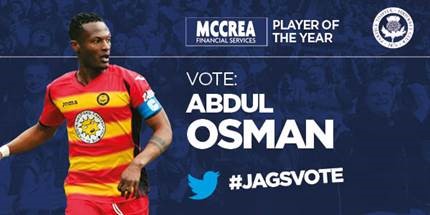 Last year's winner is looking for a repeat success this Sunday. Club captain, Abdul Osman, has continued the excellent performances that won over the hearts of Thistle supporters worldwide last season. Osman has impressed with a high level of consistency in the engine room of the Jags midfield. Playing alongside a variety of partners, his absences, on the rare occasion he has had to sit out a fixture, have been noticeable with the side failing to record a win without Osman in the team. 
Vote for Abdul on Twitter
Vote for Abdul at ptfc.co.uk
Copy provided courtesy of PTFC.CO.UK