One Direction: Douglas' 2017 Charity Walk Blog
McCrea Financial Services managing director Douglas McCrea is embarking on an eight-day 117 mile challenge along the full length of the Fife Coastal Path to raise money for our 2017 charities, Alzheimer Scotland and Chest Heart & Stroke Scotland. He'll be blogging regularly, as long as he's still standing...
If you feel able, please consider making a donation to our charity fund, here. 
DAY 1
"Here we go again."
At least I'm pretty sure that was what my feet and legs would have said to me if they had mastered the art of speech.
According to the modern thingy that monitors steps and distance from our starting point in Kincardine to stop off at the Queensferry hotel was over 32000 steps and over 28 km which I believe in old money is 17.5 miles. 
Willis - a pal of over 35 years - and I didn't even get lost which is a marked improvement on my walk last year.
We set off at 10.15am with an hour's stop for lunch and arrived in under six hours walking which isn't bad for a combined age of over 100. Willis is obviously considerably older than I am!
I was looking forward to a quiet night in the hotel as Willis has headed home to Edinburgh. Seven hours with me is clearly enough for anyone.
So I wandered down to the hotel restaurant to discover 180 guests in for drinks and canopies.  They really shouldn't have gone to the trouble.  And, of course they hadn't.
The hotel is relaunching as a Hilton. I was invited in but 180 people chattering away isn't my idea of a quiet night so it's a wander down the hill to North Queensferry to get grub and a beer.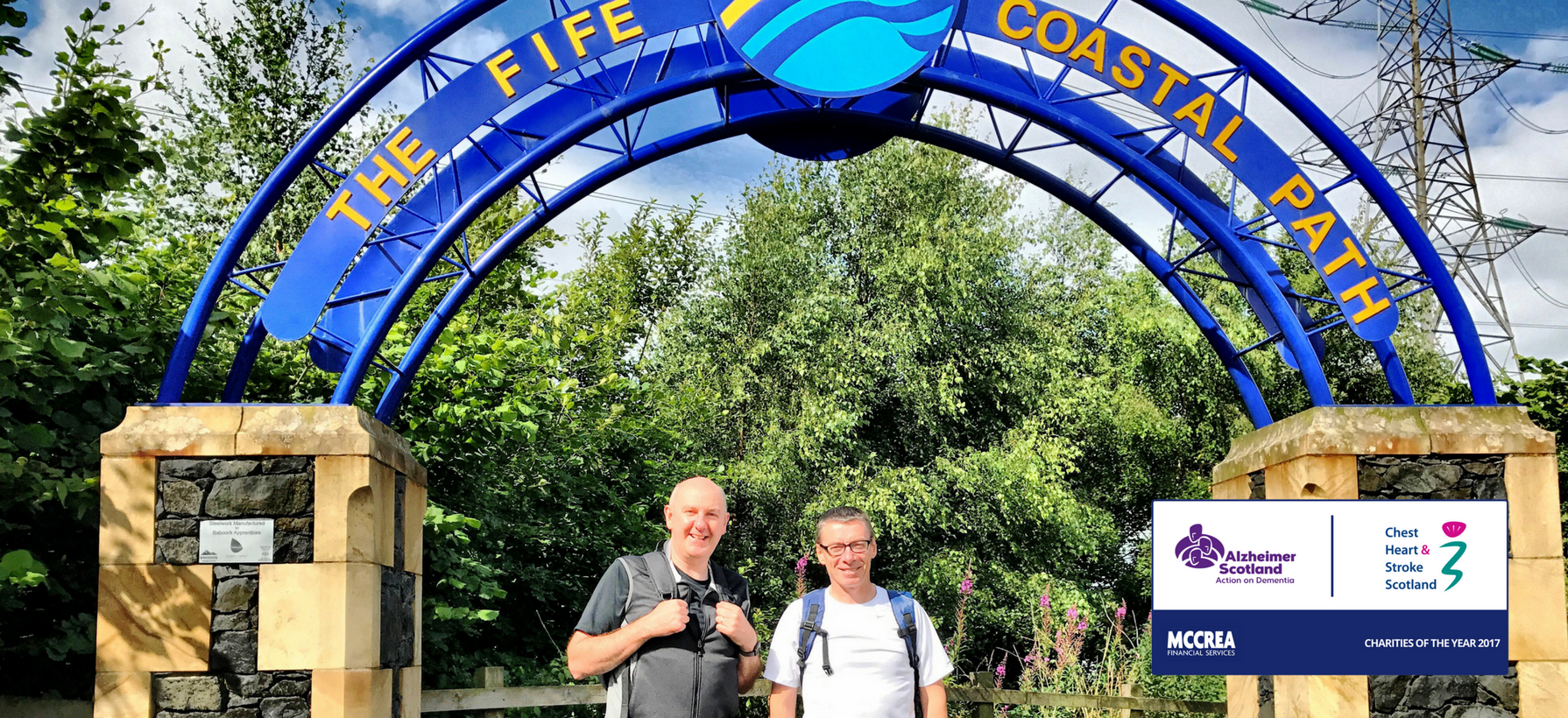 Unfortunately, it's a big hill and I will need to go back up it later.

Tomorrow's leg sees Wills return and Mel, my old boss from Legal & General over 30 years ago, joining me on the walk to Kirkcaldy - a small matter of just under 18 miles which will mean 35 walked in just over 32 hours!
I may get a comment or two from the body again!
DAY 2
Ouch. That was tough.
North Queensferry departure with Mel and Willis at 10.45, just under an hour for lunch at Aberdour and arrived in Kirkcaldy at 18.45. 
20 miles walked which was more than expected but well into the route now. The forecast was for rain but at lunchtime I had to buy factor 50 for the bald patch.
Who does these forecasts? Slight drizzle for ten minutes rest of time glorious. Mel bailed out at Burntisland but as he had taken total age of three walkers to almost 180 he was a star.

Willis has now sensibly headed home as Thistle are playing tomorrow which I will be following on whatever mobile device I can.
Ian Wright who did the full West Highland Way with me four years ago is joining up for the next four days. 
Tomorrow's stint is Kirkcaldy to Lower Largo and I'm hoping the extra walking today knocked a few miles off. It should be 13.3 miles and as my first blister has just made an appearance I'm glad it's not 20 miles again! 
Now is it waterproofs or the factor 50?
DAY 3
I was kidding myself.
Turns out today was just light of 15 miles so I have broken the 50 miles mark and the shins are not impressed; I'm sure they aren't meant to be that size or colour.
It was a glorious day until the last two miles towards our hotel in Lundin Links when the heavens opened.
My athletic pal Ian Wright joined me today and will be doing a four day stint with three others joining us on Sunday.
This is down to:
It's a Sunday
It's the shortest walk
My good lady and daughter are also making an appearance with our cocker spaniel, tomorrow.
I met a few interesting people today and I see Thistle managed to win without me although they left it late and we can look forward to the excitement of a cup draw during tomorrow's walk.
My fairly poor training regime in the lead up to the walk is now taking its toll however and according to the book it's only 67 miles to go.
Help. 
At least by this time tomorrow it's the home straight. 
Albeit a rather long one.

DAY 4 
Five set off from Lundin Links this morning and four arrived in Anstruther via the coastal route. 
We had our first casualty as Ian's dodgy knee gave way at St Monans.
Dr Nathan Pike's recommendation of pain killers, ice, and cider is an unusual one however Ian seemed happy enough to go with it - especially the cider bit.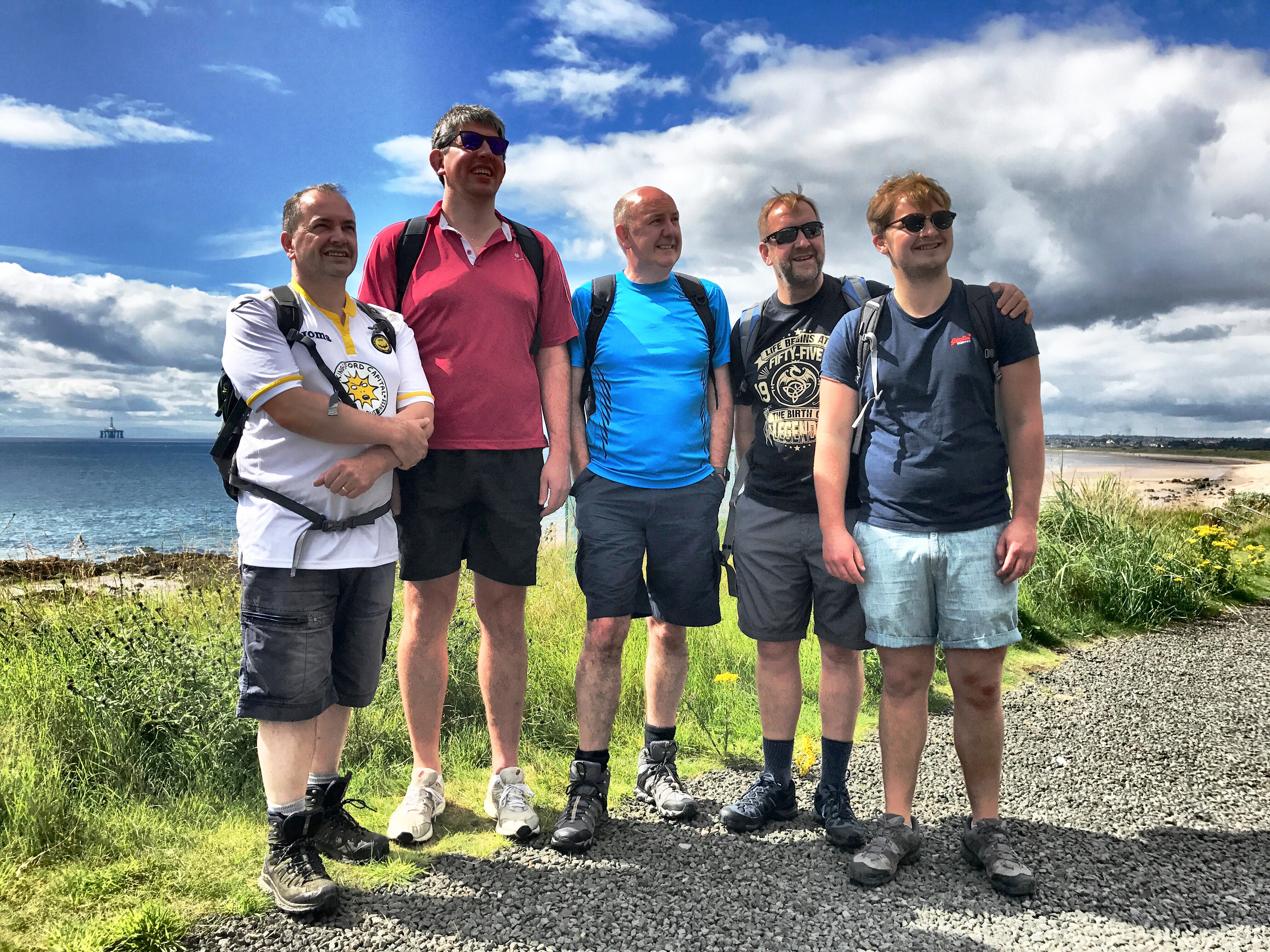 The bus carried him the last part.
We walked just over 14 miles today and are now into one of the best walks in Scotland scenery-wise. It's a great coastal route and the views are stunning.
We are now over half way at 65 miles completed and I've restocked with blister plaster, which will be used.
I am really looking forward to tomorrow when we head to Crail and Kingsbarns. 
A big thanks to Wilson and Andrew Galloway and Nathan Pike for joining Ian and I today on the walk.
It is back to the two of us tomorrow before Brian joins us on Tuesday.
We are getting towards our £20,000 target and thanks to everyone who has donated so far.
DAY FIVE
An interesting day. 
Ian and I set of from Anstruther with it chucking down and within 15 minutes we had glorious sunshine. 
Unfortunately after leaving Crail following a quick lunch Ian's knee gave way again.
Unlike Wimbledon's first round injured there will be no £35,000 pay day. I might even get him to pay for dinner.
Off I set from just outside Crail, "Jonny no mates" and head down.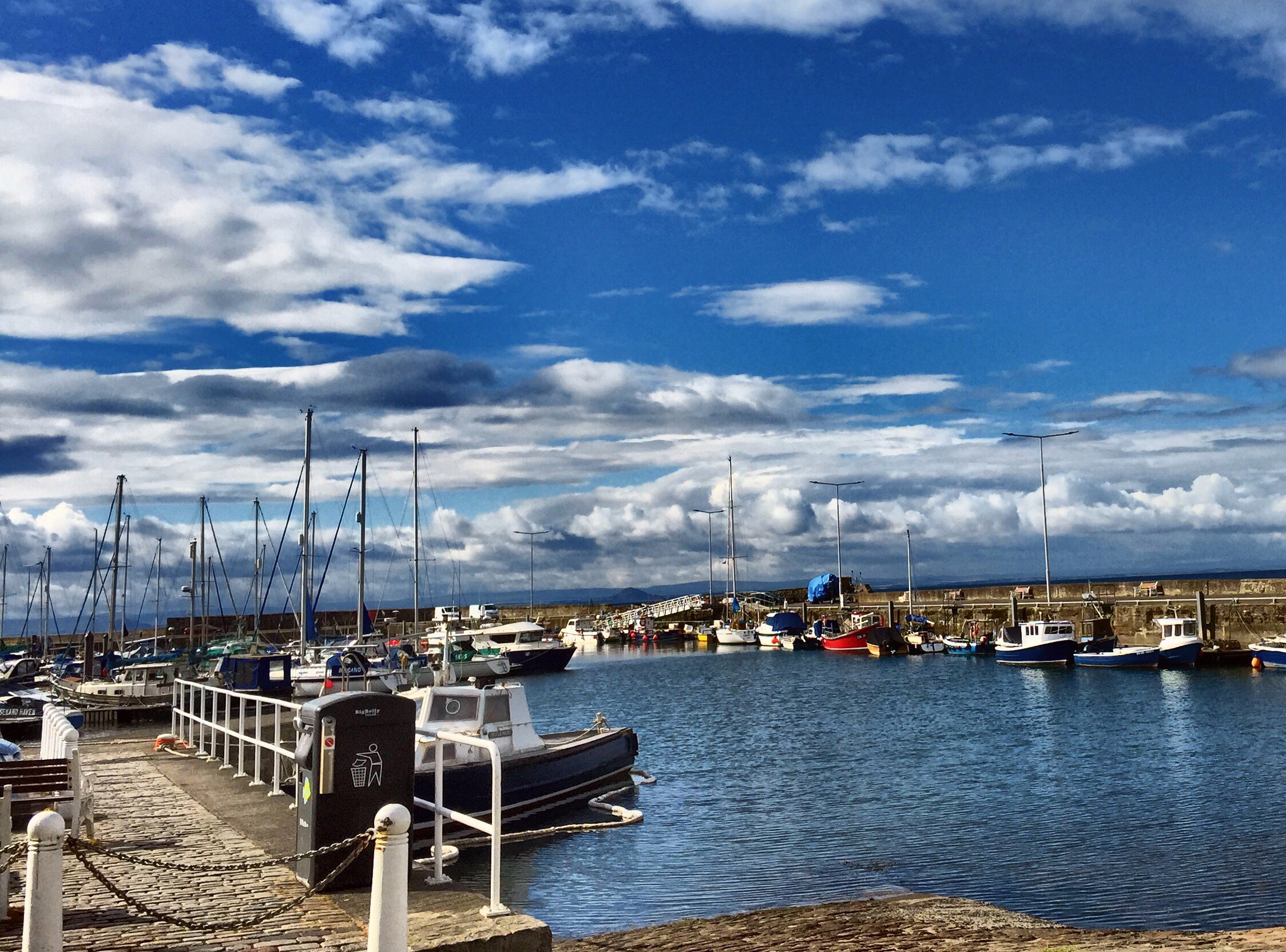 Thankfully we had low tide and the Scottish equivalent of the giant causeway was negotiated (slowly) to be met with a sign advising a short detour due to the ladies British Open at Kingsbarns.
My idea of a short detour is not 3.6 km!
I had thought about trying to crack on and get to St Andrews but after my detour and the shin splints I decided the initial target of Kingsbarns was enough.
So I walked 12.5 miles instead of the planned ten, and it was slow going but hey ho.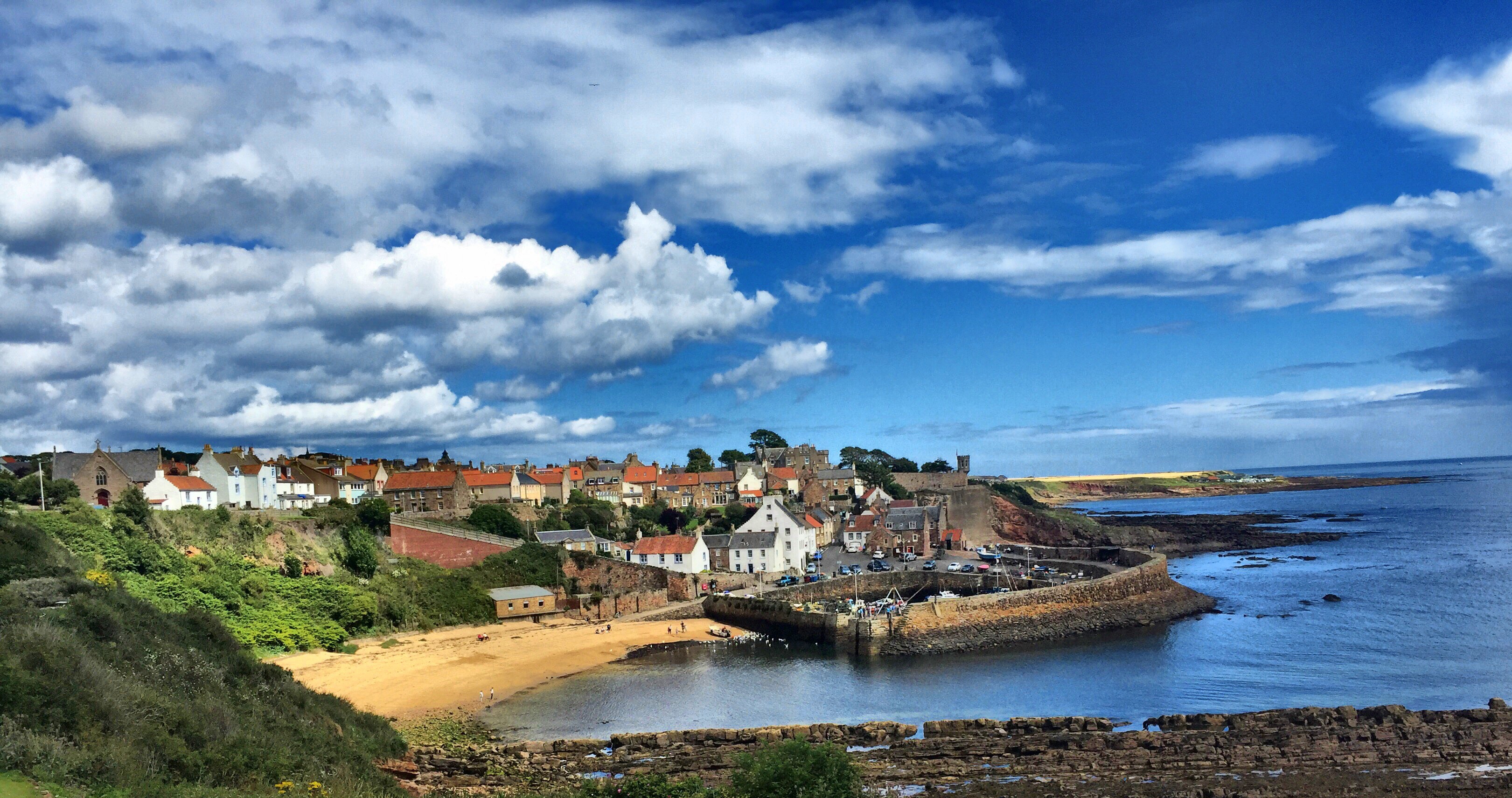 I saw some of the most stunning coastline in the world and met a few really nice people for a blether on the way. 
Three days to go and the weather meant to be dreadful tomorrow.  Based on forecasts to date shades and factor 50 are at the ready.
DAY 6
When you have to ask someone is it Monday or Tuesday you know the days are flying by.
We had a good day today.
Ian lasted his now customary four miles before the knee went again. Unfortunately for him it was three miles one way and two miles the other to civilisation.
I'm not sure about this guide book as it took Brian and I four hours to walk the coastal route from Kingsbarns to St Andrews albeit with another wee detour for the golf at Kingsbarns.
Then it was on to Leuchers with typical Scottish day weather; rained at start, glorious sunshine, and then hailstones mid afternoon.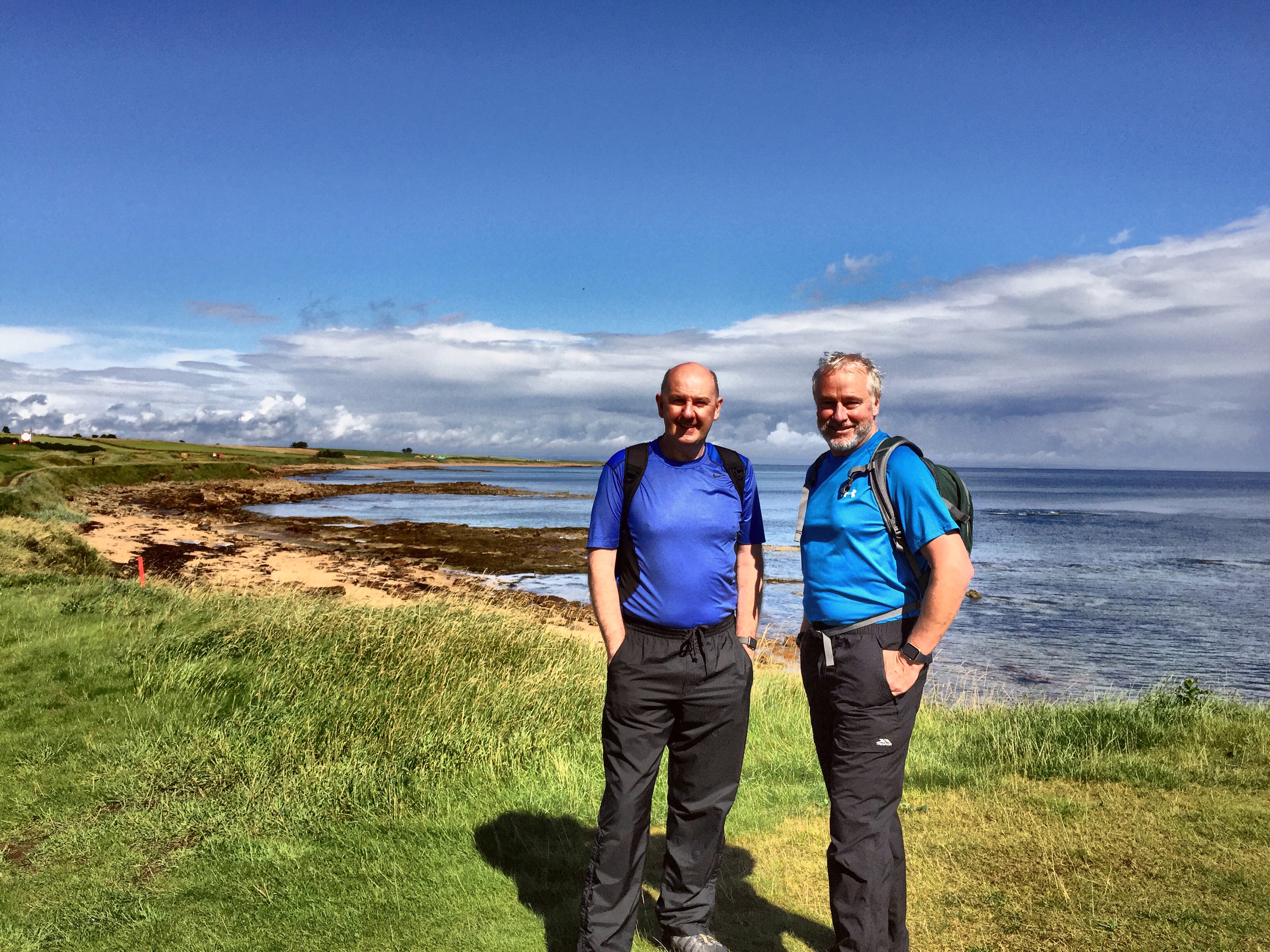 We are waiting for the thunder and lightning and plague of locusts before midnight. 
Brian Potter (ex-Clyde Travel and another big Warriors fan) joined us today and may be with me tomorrow on the assumption he can move in the morning.
We walked an unexpected 16.5 miles all in today which wasn't too bad compared to a few of the other days.
The scenery was great, we had a few scrambles up rocks and the first nettle stings of the walk!
We are now through the £19,000 mark which is great and hopefully a big push to get us to £20,000 by Thursday.
Still about 30 miles to do in two days so blister plasters and the hard hat for the hailstones at the ready!
DAY 7
We are almost there! 
The hundred mile mark was achieved today and by doing an extra stint we managed to arrive at Wormit which was a further three miles. 
A well earned pint at the end of the walk was gubbed as we discovered the old country pub is now a restaurant that was closed! 
The weather held for most of the day but it's now chucking it down in Dundee.
Brian is leaving us in the morning and wisely heading the other direction from me and heading home.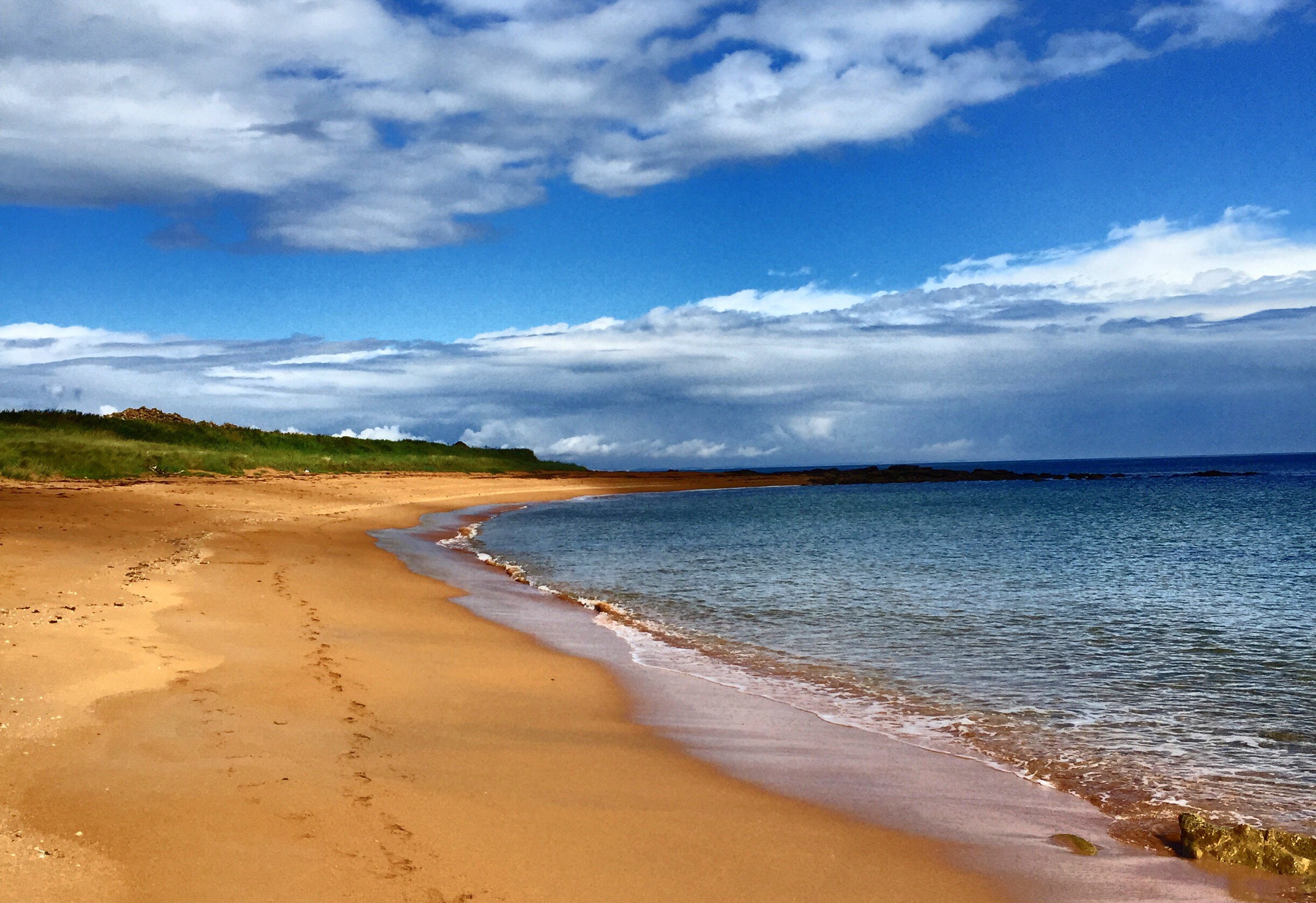 I am now out alone (as opposed to home alone) and the last 16 miles tomorrow will be on my Jack Jones.
Today wasn't as scenic as recent days with a fair bit of walking through Tentsmuir forest.
For day 8 to quote the guide book it says, "Roadside pavement field edge and field paths farm tracks woodland and gravel paths minor roads paths and tracks - potentially muddy and a steady ascent of Normans Law to 850 feet."
A real mixed bag.
16 miles to go and so the next blog will hopefully be to say - finished!
Thanks to all that have donated to date.
Next year I should get sponsored by a company that do blister plasters and a talcum power company (the guys that walk will understand the talc bit).
Wish me luck!
DAY 8 
Done! Me and the walk!
Today was tough. 
Seven hours 20 minutes out with a couple of five minute stops; a long time walking for 16 miles, although my watch says I walked almost 19 miles. 
Up hills, down hills. Up more hills. Mud galore and a day of glorious sunshine then ten minutes later chucking it down.
Eight days, officially 116.5 miles but in reality a good few more.
A big thanks to Willis, Mel, Ian, Nathan, Wilson, Andrew and Brian who joined me throughout the week but had clearly done their homework and avoided day eight! 
At least today I was never wrong! 
At last count the tally was over £19,000 which is fantastic and thank you to all who have donated.
Thanks to all who have helped this week and now for next Thursday and my next bonkers adventure involving flight!!!