Race Night kick starts our charity fundraising for 2017
On Friday night, McCrea Financial Services held their 8th annual race night at Hillhead Sports Club in Hughenden. That is was St Patricks Day simply added to the occasion with plenty of Guinness being ordered at the bar and with the Irish love of horse-racing, an atmosphere well suited to the occasion.
Having recently confirmed our two charities for this year as Alzheimer Scotland and Chest, Heart & Stroke Scotland, we were delighted to get the fund-raising properly underway.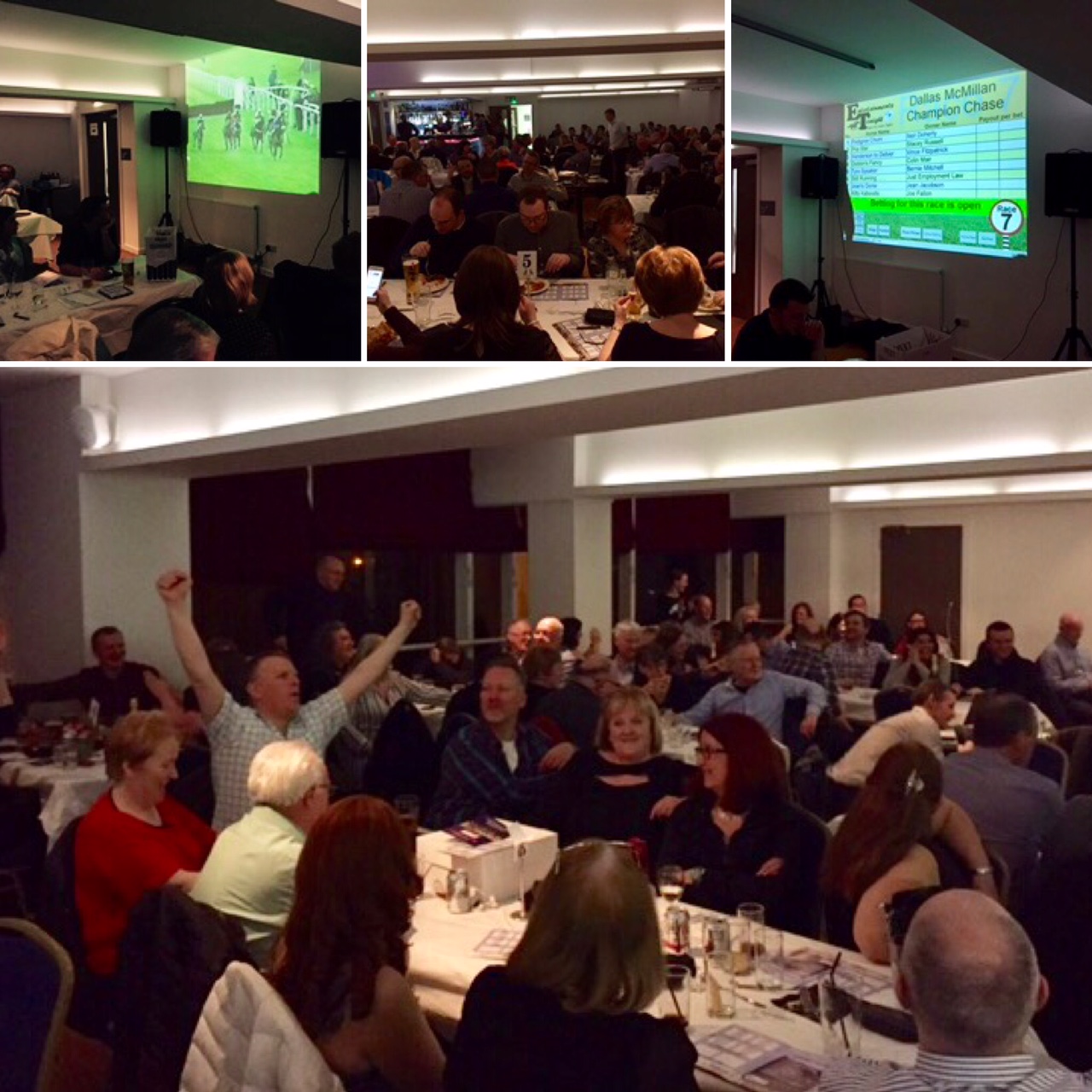 As well as a total of nine races on the night, food was aplenty with the now traditional curry offering  (we like to keep it simple) and the bar was busy all night.  Happily, so too were our volunteers from the two charities who worked tirelessly throughout the evening both taking bets and paying out the winnings. Our thanks goes to Andrea and Ross from Chest, Heart and Stroke Scotland and Fiona and Tash from Alzheimer Scotland.  
With 64 horses and 125 tickets sold before the event as well as the fantastic support from our race sponsors, we were already well on the way to making this year even better than last.  The auction race this year though was outstanding and special acknowledgement must go to Dave McRae at Just Employment Law.  His horse won The Utter Catastrophe Stakes, the official auction race sponsored by the Business Insurance Bureau and he chose to donate back the £1,125.00 he won to the two charities.   Together with the sponsorship, ticket sales, horses purchased and betting, we were able to raise well over £6,500 this year.  A total we are absolutely delighted with.
A very special thanks goes to everyone who attended, and who has continued to support our charity race night over the years and to our race sponsors who this year were 
S. Sim & Son Funeral Directors
The West of Scotland Cricket Club with Chairman Colin Mair
Electrify Marketing & Communications
Just Employment Law Solicitors
If you weren't able to make it along on the night but would like to donate to either charity or find out more about the work they do, you can do so here