Track Record Mortgages for First Time Buyers
The property market can be extremely difficult to get into, especially for first-time buyers. The cost of a considerable deposit can be a major barrier, as you struggle to save enough money due to monthly rent payments and other household costs. This is where a Track Record Mortgage could be the perfect solution for taking your first step on to the property ladder.
What is a Track Record Mortgage?
A Track Record Mortgage is a type of mortgage that allows first-time buyers to purchase a home with a deposit-free 100% mortgage, meaning that you don't need to save for a deposit. The product has a fixed interest rate for five years, meaning you have peace of mind that there won't be any sudden changes during that time.
A Track Record Mortgage may not be suitable for all first-time buyers, so it is crucial to consider whether you are in the right current financial position to apply for this – you can do so by getting in touch with our Mortgage and Protection Advisor Ged Cumming, who can talk you through the best options for you.
To Be Eligible for a Track Record Mortgage, You Must Meet the Following Criteria: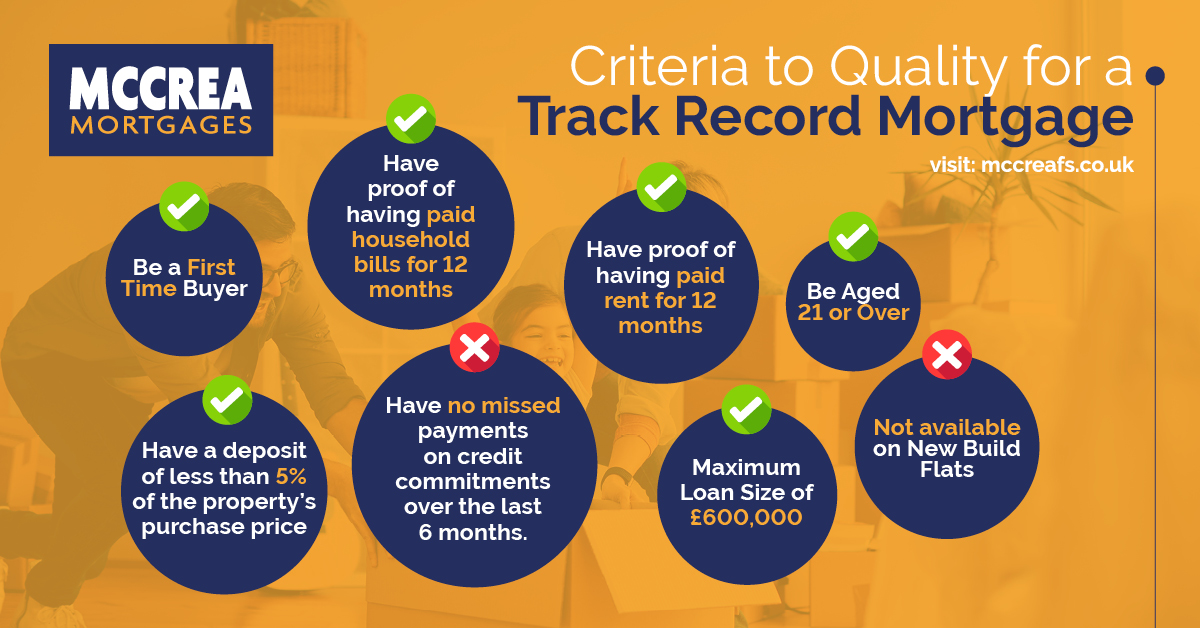 Be a First Time Buyer
Be Aged 21 or Over
Have a deposit of less than 5% of the property's purchase price.
Have no missed payments on debts/credit commitments (e.g. phone bills) over the last 6 months.
Have proof of having paid at least 12 months' rent in a row during the last 18 months.
Have proof of paying all household bills for at least 12 months in a row during the last 18 months
Maximum Loan Size of £600,000
Not available on New Build Flats
As with all types of mortgages, there are certain benefits and drawbacks of a Track Record Mortgage:
Benefits of Track Record Mortgages
You don't need a large deposit.
Gives first time buyers renting a way on to the property market as the lender recognises the challenge of saving for a deposit whilst paying rent.
Drawbacks of Track Record Mortgages
The monthly payments may be higher than with a traditional mortgage.
You may have to pay early repayment charges if you sell your home early.
The risk of negative equity if property value falls.
As always at McCrea, we take extremely careful consideration of your personal circumstances and financial position when providing recommendations.
If you are considering whether a Track Record Mortgage is right for you and would like to find out more about the benefits and risks, then please do get in touch for a free no-obligation chat, and we'd be happy to talk you through your options.