What Would You Do With a Windfall?
A one-million-pound lottery win is something many of us have wished for, but who among us has a clear idea of what we would actually do with such a windfall?
For one lucky client, a detailed financial plan became a necessity after exactly that with a jackpot on the EuroMillions Lottery.
"Our client was aware of McCrea through our sponsorship of Glasgow Warriors," explains Financial Adviser Chris Bain. "While one million pounds is a life-changing amount of money, our client was in their mid-thirties, advancing in their profession and not looking to retire to sail off into the sunset.  They wanted our help to use the win to ensure their long term financial security, while leaving some money free for fun."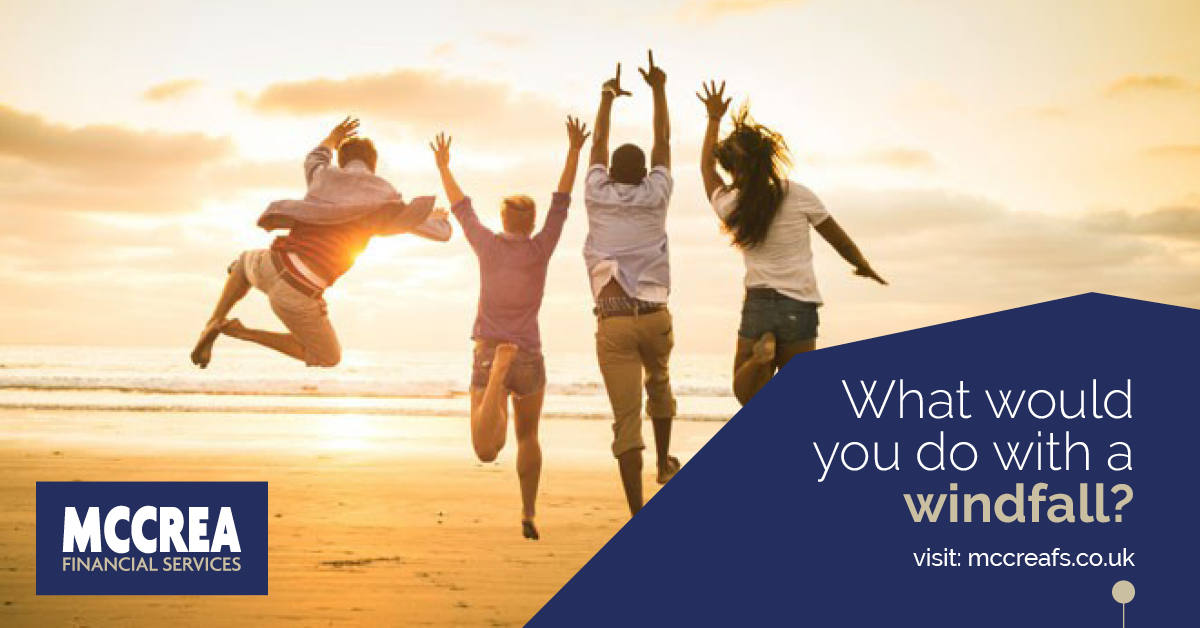 With a down to earth reaction to the win, our client had plans for their winnings, including settling loans and credit cards, indulging more deeply in hobbies and helping friends and family. They were keen that the bulk of the money, however, be used to serve long term financial goals.
With our holistic approach, McCrea were able to offer a fully personalised service to our client, drawing on experts in several fields to ensure their aims were met.
When our client advised they were happy in their current home for now, but looking to reduce their mortgage payments, our Mortgage and Protection Specialist team found the best remortgage deal available. By investing just over £26,500 of the winnings in overpayments on the existing mortgage, we reduced the loan to value (LTV) ratio to under 60%, thereby ensuring access to the best remortgage deals for our client. Together, we selected a fifteen year mortgage, reducing the length of time until our client pays off their mortgage, with a five year fixed term offering long term value on interest rates.
"After a windfall, many people might assume it's best to pay off their mortgage completely," explains Chris, "but comparing interest rates on the money you've borrowed against the potential gains from savings and investments might reveal a different picture. This is just one way that working with an expert can help you make the most beneficial financial decisions."
Given the impact of the win on the value of their estate, we referred our client to a trusted solicitor to help  prepare a will and advise on power of attorney arrangements. We also provided detailed advice on the impact of our client's win on tax liabilities, including the Inheritance Tax implications of gifts to loved ones.
"Having taken care of immediate spending plans, our client knew that simply leaving the bulk of their winnings in a savings account would mean it wasn't working hard on their behalf, and that over the long term, they might actually lose out if savings interest rates don't keep up with inflation," explains Chris.
"Our client wanted our expert guidance on how best to invest £700,000 of the winnings. We started out by working through our risk assessment tool to ensure we designed an investment strategy that the client would be comfortable with and identified that they had a balanced attitude to risk. This meant we were looking for investments with good medium to long term growth potential which also offered flexibility in how and when to access investments. We then performed a tax wrapper analysis, which essentially is a way to show our client the tax implications of various investment options as a high rate taxpayer and ensured we worked together to select the most tax efficient options for growth.
"We decided to invest the first £20,000 in a new Investment ISA, using our client's full ISA allowance for the year. This offered us a good prospect of tax efficient growth over the medium to long term and ensured easy access to the fund should our client decide on additional spending.
"We invested the remaining £680,000 in a new Funds Network Investment Account balanced portfolio. This allows us to move an additional £20,000 to the Investment ISA in future years through the 'Bed and ISA' facility and offset gains against the annual Capital Gains Tax allowance. We're also working with our client on maximising the tax advantages in their pension planning, helping the lottery win go further for them throughout their life."
Our client's portfolio will benefit from our expert analysis as well as independent oversight from our Investment Committee and professional third party discretionary fund managers.
Our client now has their own team of financial planning and investment professionals helping  transform good fortune into long term financial security.