200 KM for British Heart Foundation Scotland with Douglas McCrea
Douglas McCrea Charity Challenge 2019 - Regular Blog Update 
Douglas was reporting in to the office regularly so we were able to update how he got on with this years' 'super-challenge'  comprising of two well established Scottish routes, The Cowal Way  (91 km) and the Arran Coastal Way (109 km).  As part of this challenge, he had also hoped to finally complete the long-awaited, 28 times postponed due to weather, paraglide (scroll down to Tuesday 11th June for the details on that one)! 
The sponsorship total has gone up a fair amount and can't thank you enough for the donations so far.  Of course, if you'd meant to donate and hadn't got round to it, you can click here to help us raise as much money as possible for the British Heart Foundation.
It's been a case of being right back to it after the last few weeks for Douglas but not before he's had time to reflect a little on the achievement of the last few weeks and watching the sponsorship total increase after a rest at the weekend.
Here is what he had to say about it all! 
"After 200km in 9 days walking I thought I would be in a worse state than the walking boots which are now in the bin. 
A few crazy days including the trip half way up Everest (or so it seemed) on the last day of the Cowal Way as well as tree climbing and boulder scrambling on the second week (which I am definitely too old for) on my trek round Arran. 
Apart from keeping Compeed in business over the last few weeks ( they do blister plasters) I'm in remarkably good shape and thank you to all who have donated which is why I do these daft walks. A few days of the 9 were a real slog with over 30km  but we do stay in a beautiful country which helps - especially as I climbed my beloved hills! 
The wildlife excelled this year with a frog , deer , a seagull in the huff with a heron, various farmland animals and my personal favourite the snake ( although Elise my daughter freaked when I sent her the picture)!"
Quite apart from anything else, the average step count reports from his smart watch should make impressive reading with a total of 245,723 steps in the nine days (112,146 for the Cowal Way and 133,577 for the Arran Coastal Path) - might be a bit of a struggle trying to match the average per day this week! 
Congratulations and well done Douglas.  
Friday 14th June - The Final Push  - Whiting Bay to Brodick
With boots breaking, conditions extremely changable and a number of obstacles on the route, it was another 23,967 steps  21 km and 5 hours and 28 minutes of walking on the final day to complete the 200 km challenge for Douglas.
With a welcome party to greet him back in Brodick, there was significant relief to have completed the challenges and to see the sponsorship coming in as a reminder, and the motivation to complete this.  We'll get some thoughts from Douglas next week once he's had a chance to rest and reflect but thank you to everyone for following the progress and here's to next year (although we might be back with paraglide news at some point)! ;)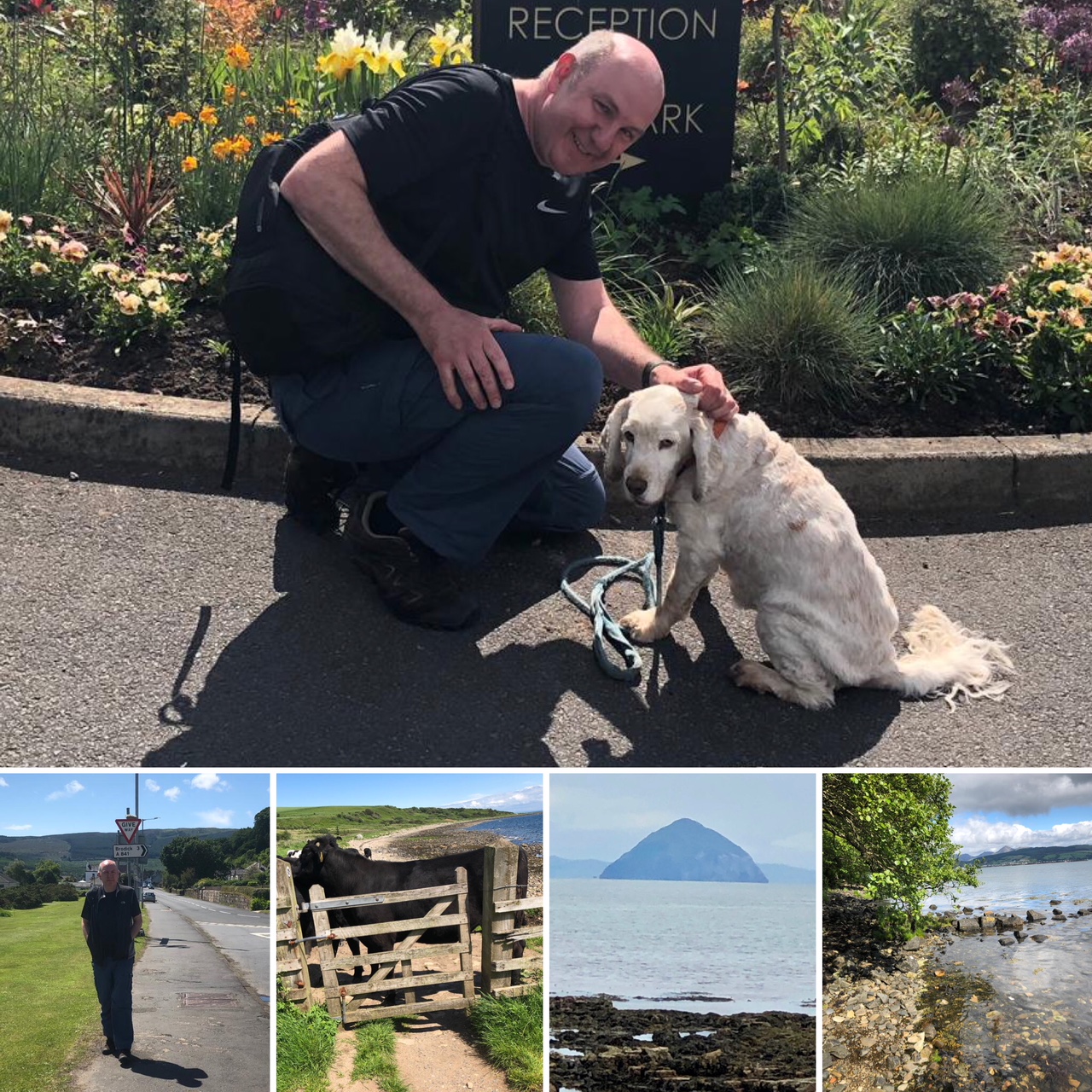 Thursday 13th June - Blackwaterfoot to Whiting Bay
Challenges today of a different sort on another long slog to get the 31.5 km from Blackwaterfoot to Whiting Bay.  Much of the challenge has been around a combination of blisters, walking boots giving up and the coastal path demonstrating, repeatedly, exactly why it's called that.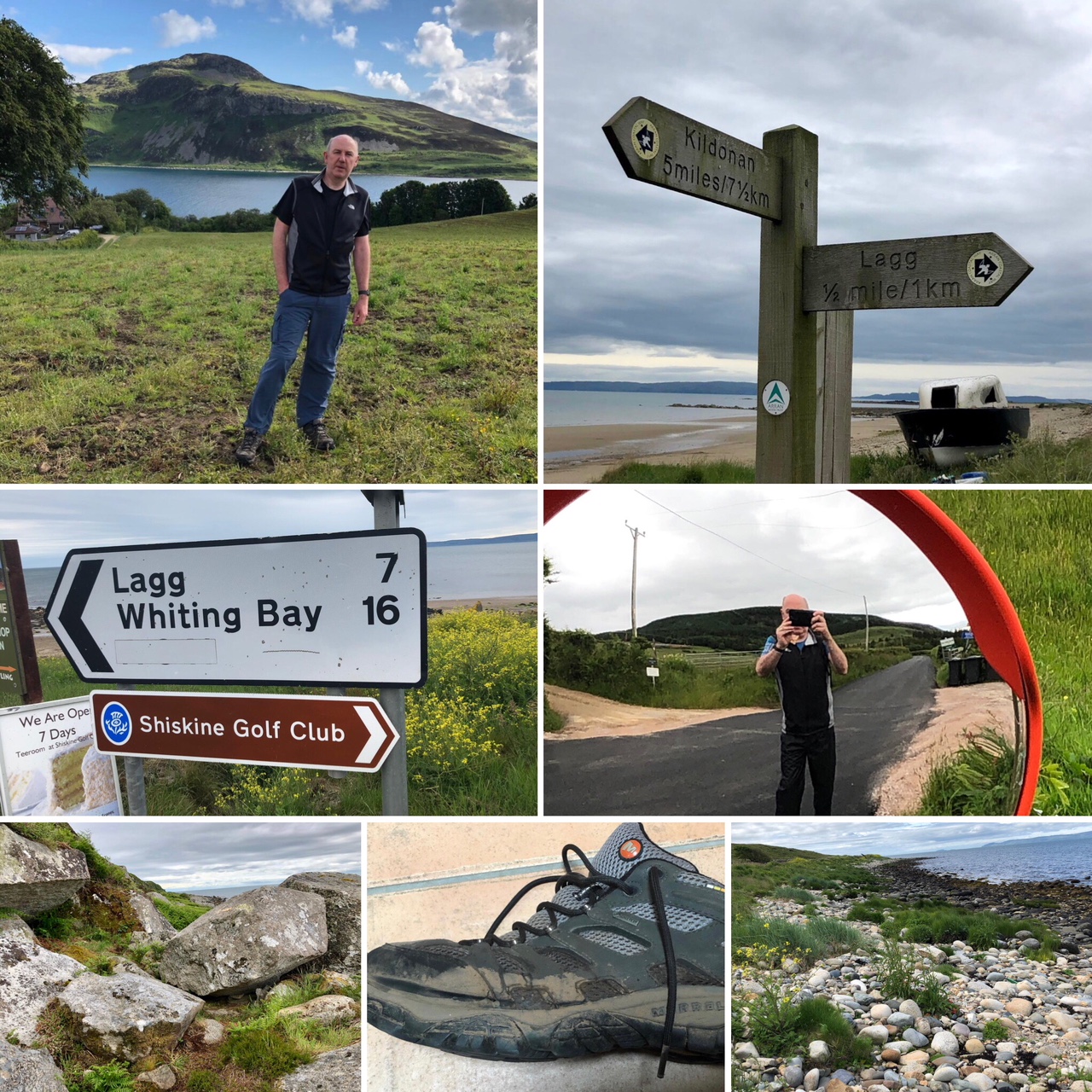 Tidal issues have meant having to go back inland and onto the road at times. Despite that, another 37,388 steps completed (with 1,667 unofficial ones to get back from the overnight stay to the path) and another six hours of walking.  Douglas is really starting to think about getting home now so just one final push, one more day to get back to Brodick (and that ferry back home)! 
Wednesday 12th June 2019 - Lochranza to Blackwaterfoot
One heck of a shift getting over to Blackwaterfoot today and the hardest part is knowing it's going to be more of the same tomorrow (another 30 km).  It's fair to say that it's been quite a different experience to the Cowal Way, as well as it being a longer walk over less time, it's also been a completely solo effort which had meant needing to dig deep. 37,213 steps and not surprisingly now, the blisters have ramped up - they aren't good and of course won't be going away any time soon. On the positive side, it's only two more days to go to complete the 200 km marathon for British Heart Foundation!   Just don't look at the weather forecast ...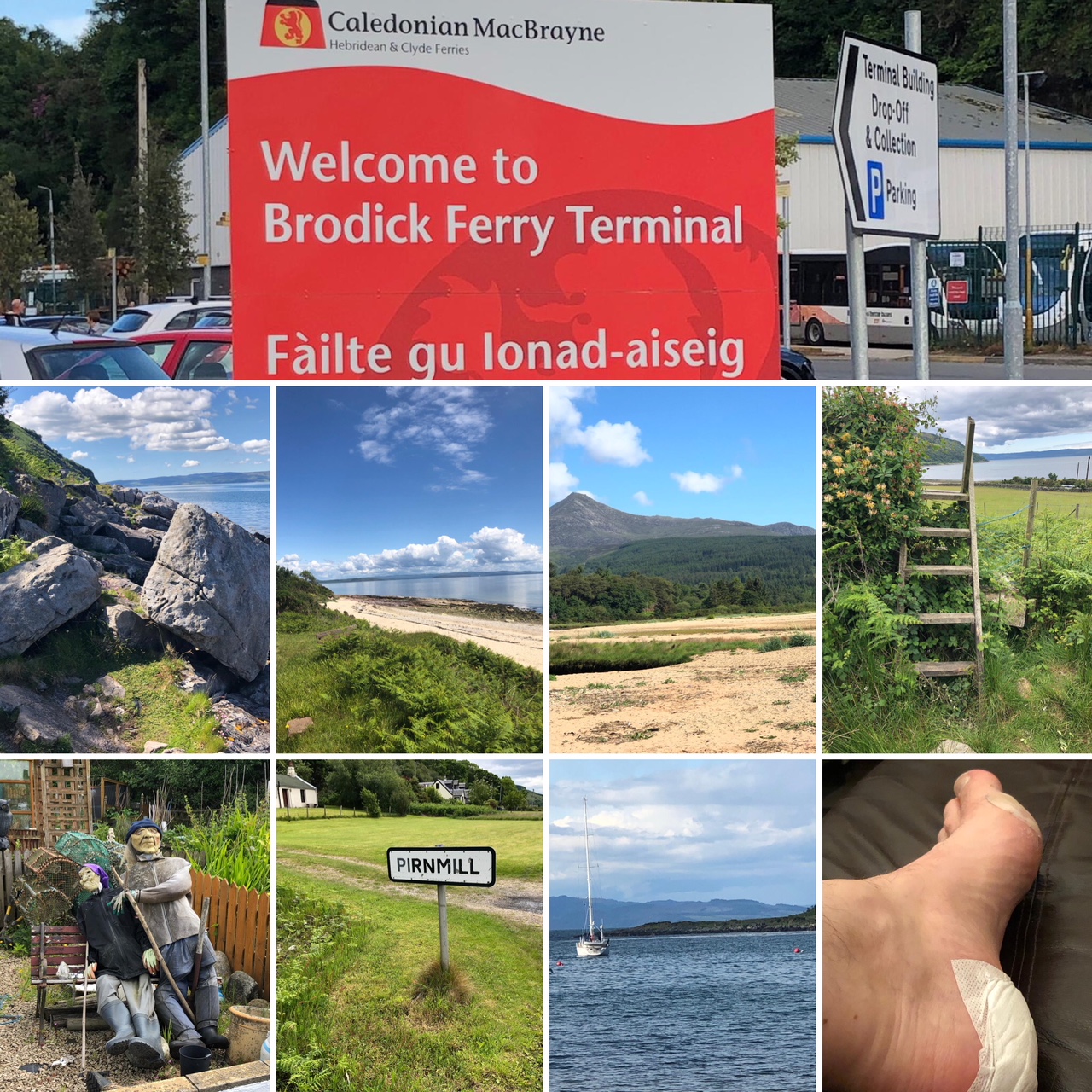 Tuesday 11th June 2019 - Paraglide day, or maybe not?
Here more here from Douglas on his Paraglide. over in Arran - it's not going well :(
Monday 10th June 2019 - On to the Arran Coastal Way
After a week of terrible weather last week, at least the start today from Brodick to Lochranza saw plenty of Sunshine.
However, this week, with 109 km to complete and the possibility of a paraglide to fit in, it promises to be pretty tough.  Add to that, tired limbs from the 91 km in rain and mud with hills and midgies for company to complete the Cowal Way so week two promises to be quite a test of character!  
That said, we heard this from Douglas earlier, amazing views and gorgeous sunshine, despite the forecast for rain and he seems in good spirits.  
Onward and 7 hours and 40 minutes later, with only a 15 minute break, that's 35,009 steps or almost 31 km to establish the pattern for this week!
Thursday 6th June 2019 - The Cowal Way Completed & half way through (ish)!
That's it, the first of the two walks is out of the way and 91 of the 200 km ticked off.  It certainly proved to be quite a biggie however with too many hills and not enough sunshine!  In fact this video sent in yesterday to us, summed it up! 
Despite that, and it being a long long day, the sun finally came out at the end of the day and Douglas was able to enjoy that, despite a bus load of tourists stopping to take photos just as he got to the end which was a sharp reminder of the end of any peace and quiet!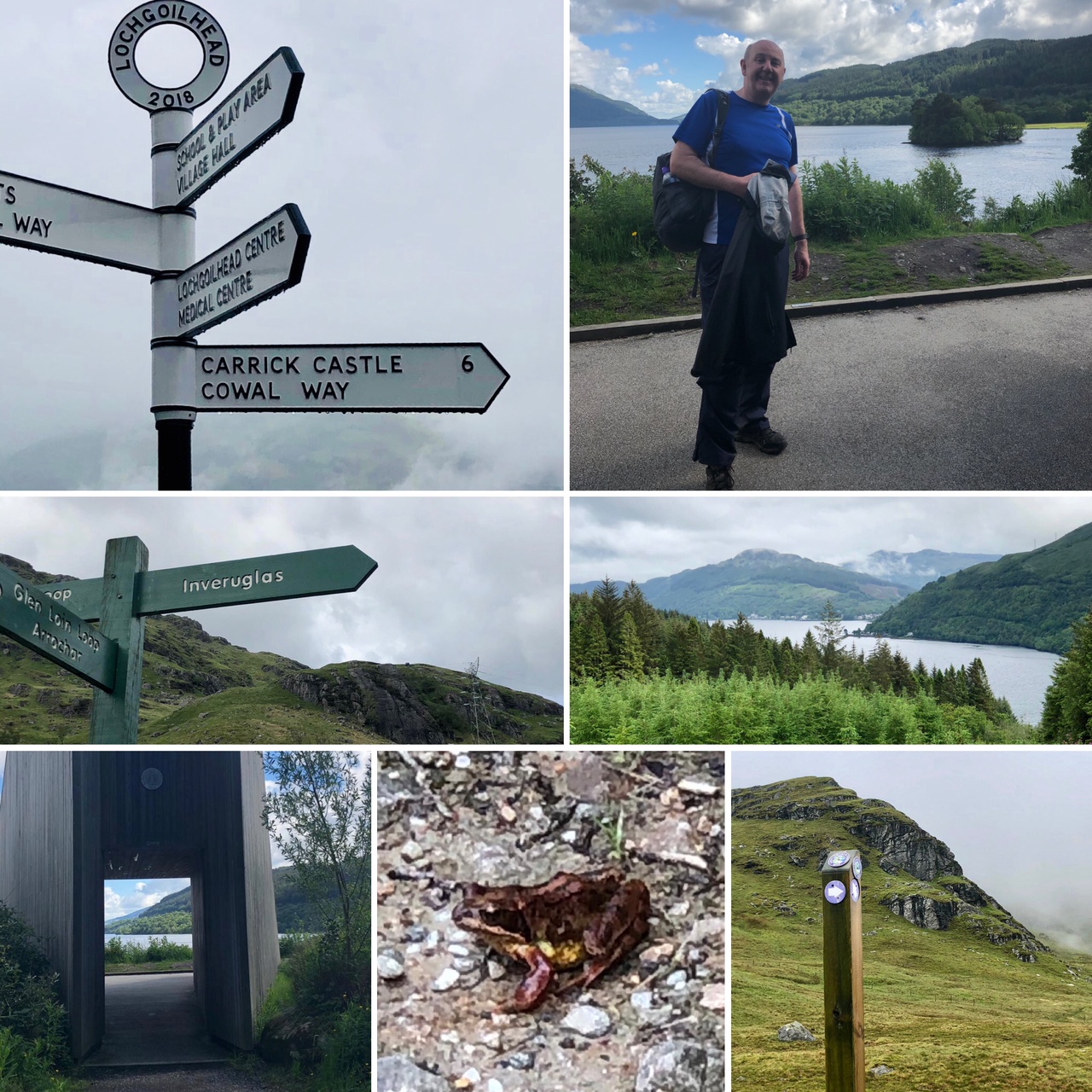 Another 28,143 steps to bring the total for the Cowal Way to 112,146  and just over 96 hours in total committed to the cause with walking, hill climbing, having to stop for photos and video at the insistence of the marketing team, some creative transport arrangements to get to the over-night stays and a great deal of midgie dodging in what can only be described as their equivalent of five star hotel conditions!
Hear from Douglas here as he signs off part one!
Wednesday 5th June 2019 - Strachur to Lochgoilhead
It's been all about the hills, the midgies and the rain over the last few days with very little respite but Douglas has managed to keep going in order to get the Cowal Way completed.  When we left him last he was about to deal with day three from Glendaruel to Strachur and was looking forward to a pint at the Creggans Inn afterwards.  With a further 29,498 steps (or 25 km) walked, having to walk another 1.2 miles to the hotel at the end of the walk made the eventual pint all the more appealing!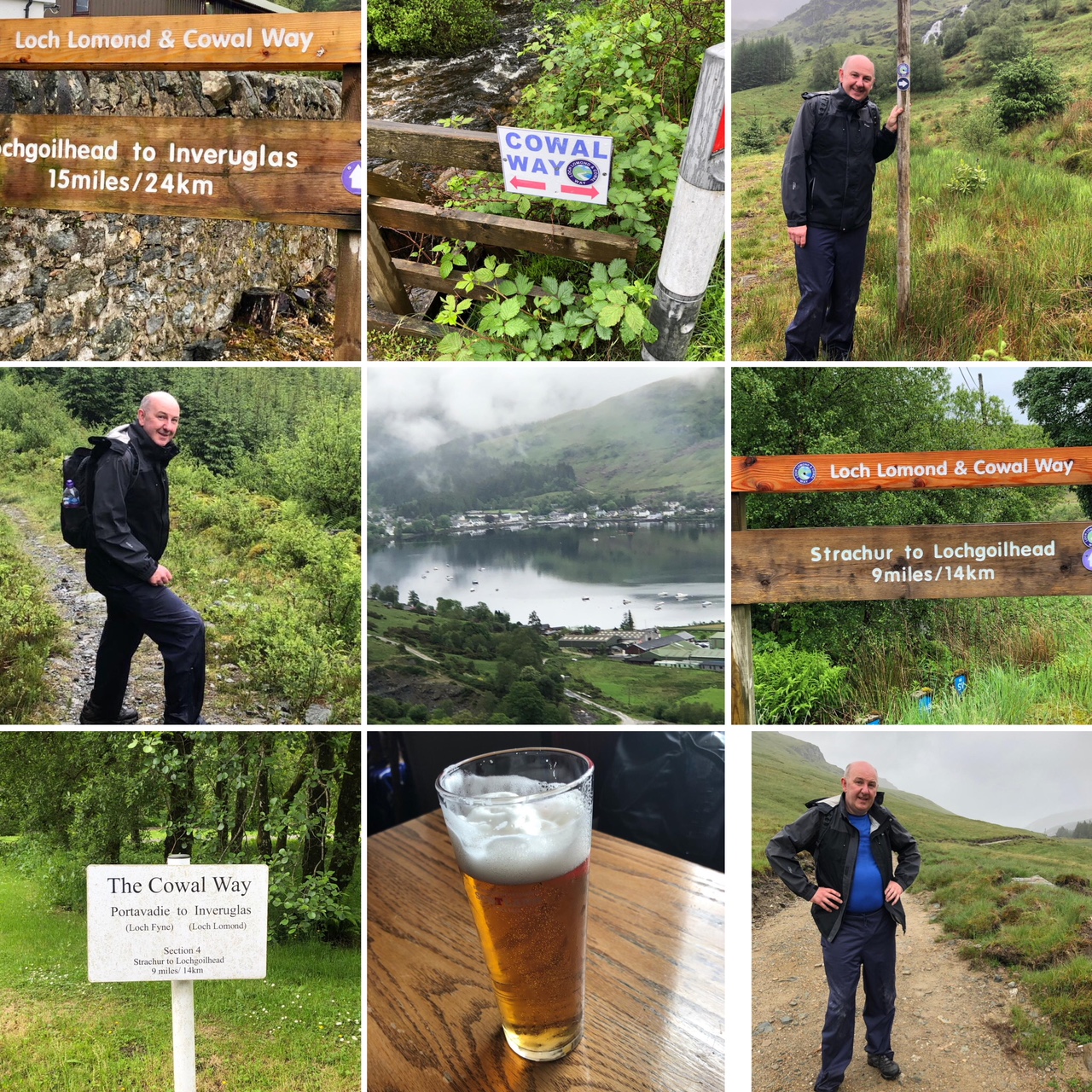 Day four hasn't been a great deal of fun for Douglas and pal Brian Potter who has joined him for the first four days of the walk.  Brian, however, has seen the hill for the final day and wisely advised Douglas that he had other plans!  The conditions have been soggy, muddy, midge-infested and of course, very hilly getting from Strachur to Lochgoilhead, not helped by almost falling into the loch at points along the way. On a positive note, it's another 19,033 steps (and 15 km) out of the way and the sponsorship total getting close the 10k mark!
Looking ahead to the final day however, it's the biggest hill of the week (of course) to be tackled (and the reason he's walking solo)!  This will take Douglas up and over into Arrochar before the final push to Inverglus.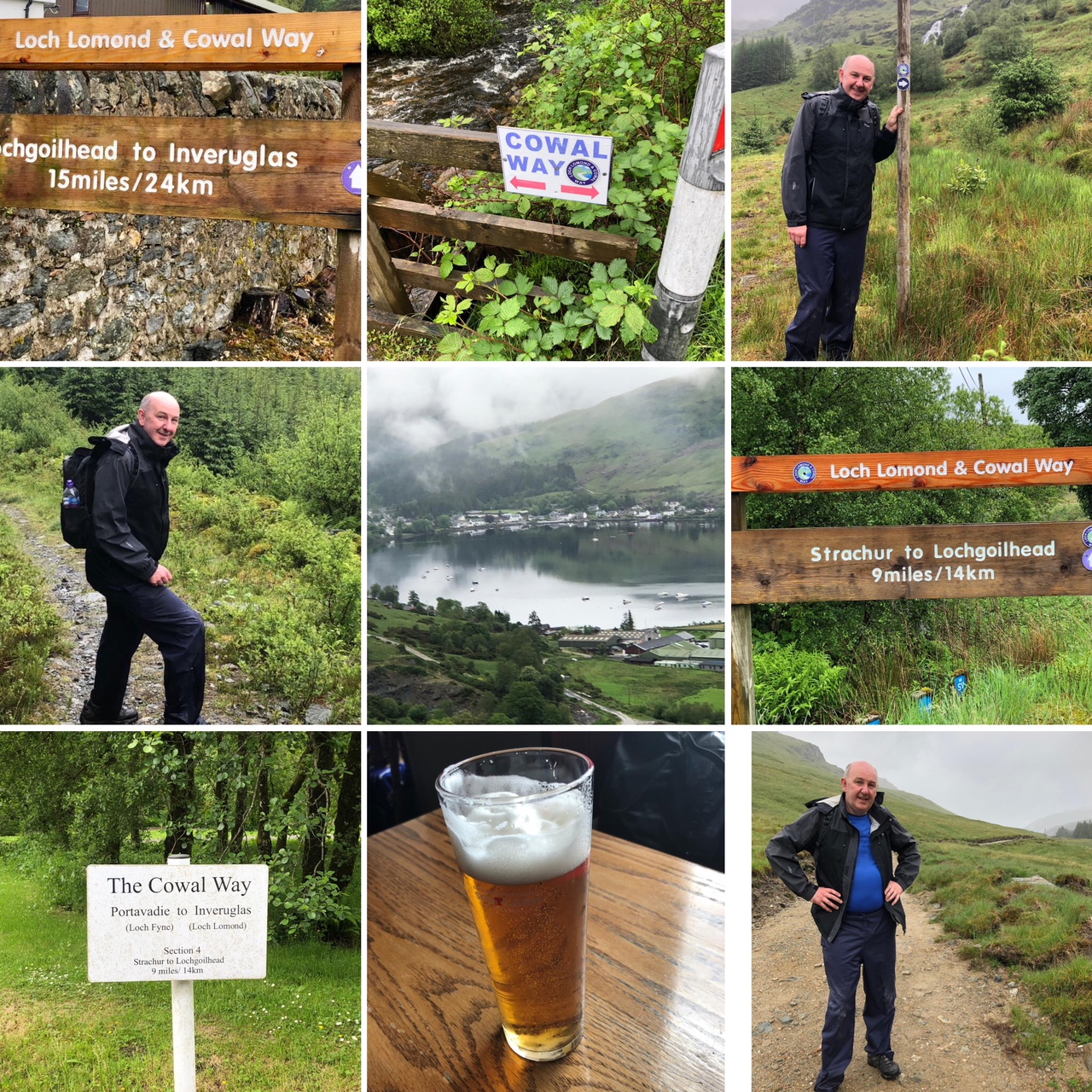 Tuesday 4th June 2019 - Portavadie, Tighnabruaich and Glendaruel to Strachur
The weather forecast hasn't been kind to Douglas McCrea, managing director of McCrea Financial Services as he undertakes his personal challenge for this year's nominated charity, the British Heart Foundation.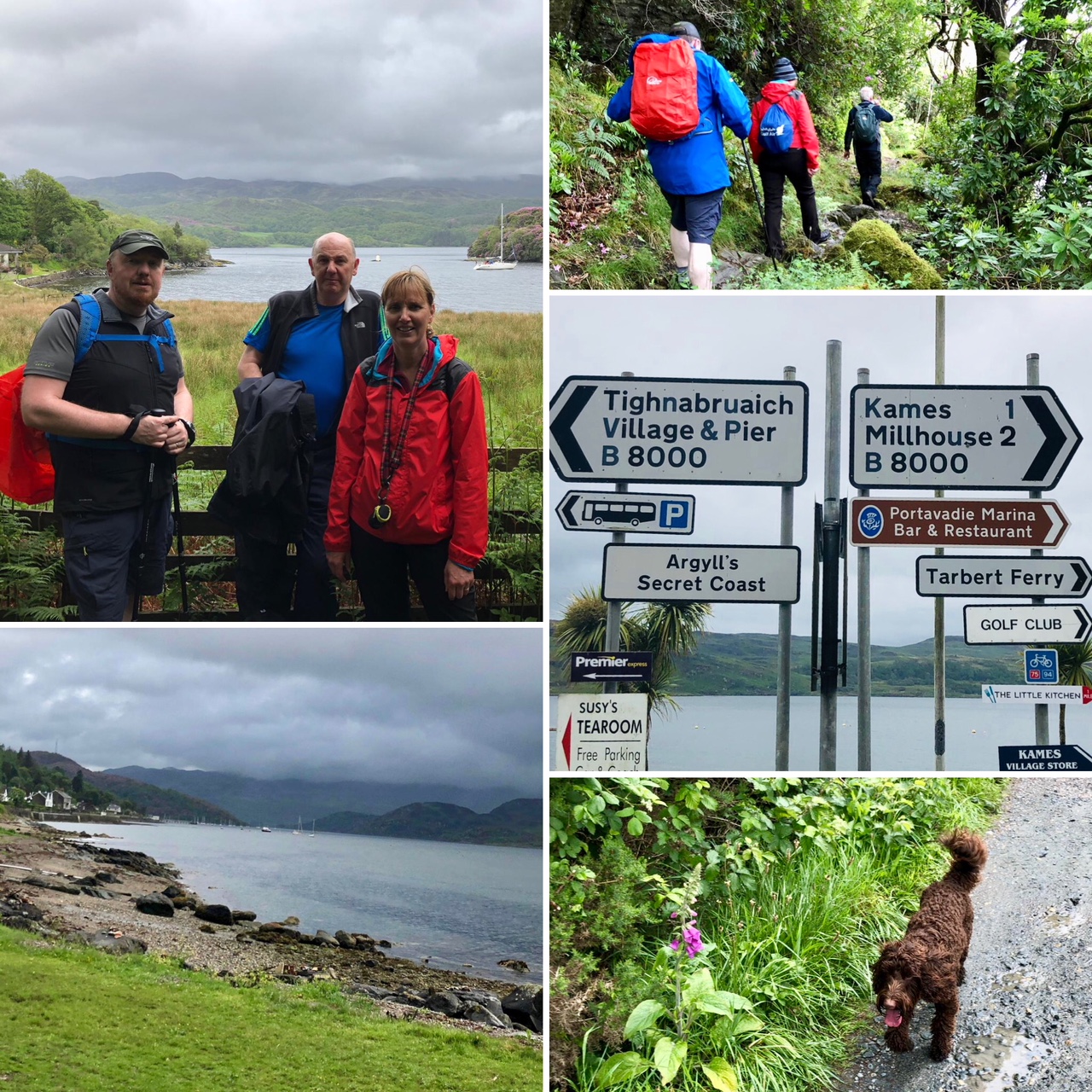 Despite that, he's already into day three of the Cowal Way, the first of two walks he is undertaking this year, 91 km of the 200 planned.
Portavadie, Tighnabruaich and Glendaruel are all ticked off the list with 35,472 steps walked and today he will be heading over to Strachur - 'heading over' being the order of the day with the first of the rather big hills to deal with!

You can stay in touch with all the charity activity being undertaken by McCrea Financial Services by visiting our website news pages or visiting our social media via Facebook and Twitter.   If you would like to know more about the charity work we do, and have done, you can click here!