A rugby and football Botanics get-together to exchange Player of the Month Awards
Keown and Alainu'uese win their respective McCrea Financial Services Awards for March

Niall Keown has been voted the McCrea Financial Services Player of the Month award for March with Thistle whilst Brian Alainu'uese has been voted the McCrea Financial Services Warrior of the Month for March with Glasgow Warriors.
McCreas sponsor both Glasgow Warriors and Partick Thistle and this year we celebrate 15 years in sports sponsorship.
As long-term sponsors of the monthly player awards, shortlisted by the coaches and voted for by supporters, we brought together the two March winners at the mid-way point between the two grounds, Scotstoun and Firhill, the beautiful botanics in Glasgow's west end.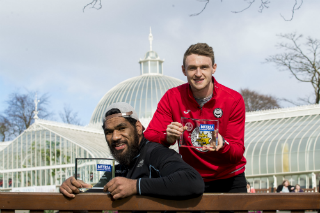 For Keown, the on loan centre back really got into his stride in March playing like a defender far beyond his tender years. Indeed his partnership with Lindsay represented one of the youngest centre back pairings in the league but you would never have known it watching the two play.
On receiving the award, Niall said: "It's fantastic from a personal point of view but the most important thing is that we made the top six. If my performances last month helped on that front then that's brilliant.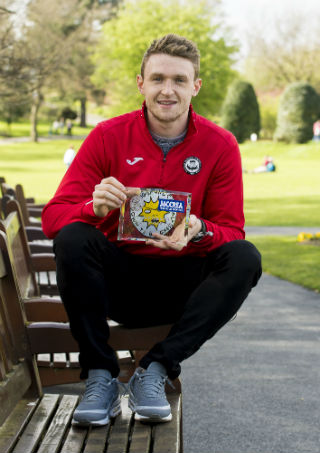 "I've really enjoyed my time up here and the manger and players have been fantastic with me. Hopefully we can continue to push the teams above us – that's where our focus lies now. There won't be any let up from us, we won't be caught taking the foot off the gas. It has already been fantastic to be involved with making a bit of history for the club this season but we certainly aren't finished yet."
Niall was presented with his award by Glasgow Warrior's Alainu'uese at the Botanic Gardens in Glasgow.
Meanwhile, Brian Alainu'uese, the giant lock put in two solid performances in the games against the Dragons and Connacht last month.
Alainu'uese was named the Guinness PRO12 Man of the Match following the win over the Dragons, with his constant carries chipping away at the visitor's defence.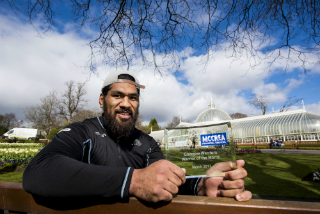 With Connacht enjoying the majority of possession when they visited Glasgow towards the end of the month, Alainu'uese's defensive capabilities were clearly on show, as he continued to knock attackers back in a dominant display.
The 23-year-old, who joined the Warriors last October from Waikato on a short-term deal until the end of the season, has become a fan favourite following a number of exceptional performances in the second-row.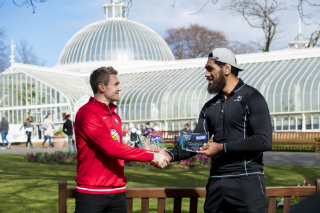 Speaking to glasgowwarriors.org, Brian Alainu'uese said: "I'm truly grateful to be voted the McCrea Financial Services Warrior of the Month for March.  "I love the fans and I'm honoured and humbled that they voted for me. I really enjoy playing for Glasgow Warriors."
Brian was presented with his award by Partick Thistle's Keown at the Botanic Gardens in Glasgow.