A very well deserved October Player of the Month Award for Tomas
Tomáš Černý has been voted the McCrea Financial Services Player of the Month for October.
The Czech goalkeeper was sidelined earlier this campaign but was back to his stunning best for the month of October. A vital penalty save was followed by an outstanding one handed save to provide the platform for the Jags to go on and snatch all three points at the death against Dundee. Signing off with consecutive clean sheets for the first time since February, Tomas will be looking to continue his fine form into the winter.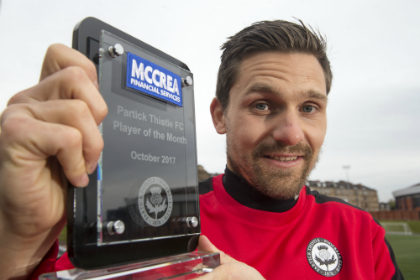 Tomáš receives his October McCrea Financial Services Player of the Month award.
After being handed the coveted award, Tomáš said:  "It's always an honour to receive this award and I can't thank those who voted enough. That being said though it has been a massive month for the team and that is the most important thing. Hopefully we can look back on this month as a turning point in our season and if that is the case then i can be delighted with the role that I have played in that.
"Nobody is naive though, we all realise that there is a lot of work to do and we certainly won't be resting on our laurels because we had one good week. December is now a massive month for us and could define our season so all eyes turn to that run of games which will certainly not be easy.
Don't forget you can follow us on twitter and facebook where we run regular competitions with Thistle and Glasgow Warriors.
Copy supplied courtesy of ptfc.co.uk