Autumn Budget 2018
Earlier this week, Chancellor Philip Hammond revealed the 2018 Autumn Budget for the UK. It proved to be another quiet budget for the Financial Services industry, with just a handful of minor changes to discuss. Nevertheless, we have researched various sources to provide you with some elements you may find useful. 

Firstly, there was confirmation that the ISA threshold will remain unchanged at £20,000 for 2019-20. The junior ISA threshold is £4,368.
There had been many rumours about significant changes to pension rules prior to the budget. However, this did not come to pass and there was confirmation that the lifetime allowance will increase with inflation to £1,055,000 for 2019/20. The rules around pension tax relief remain unchanged.
Regarding tax, the Personal Income Tax Allowance will rise to £12,500 for 2019/20. In addition, there was a significant change to the Higher Rate Tax Threshold which increases to £50,000. It should be noted that this does not apply to Scottish residents and we will have to wait until 12th December 2018 to see whether this increase is mirrored in Scotland.
There were a number of other announcements that will have an impact on a smaller number of people, depending on their specific circumstances. 
For a summary of general key points from the BBC, click here, and Scottish Widows also provide an excellent summary of changes. 
Of course, not all elements of the Autumn Budget will apply to Scottish residents and businesses. For this, we will need to wait for The Scottish Government's Finance Secretary, Derek Mackay, who will set out his plans on 12th December 2018.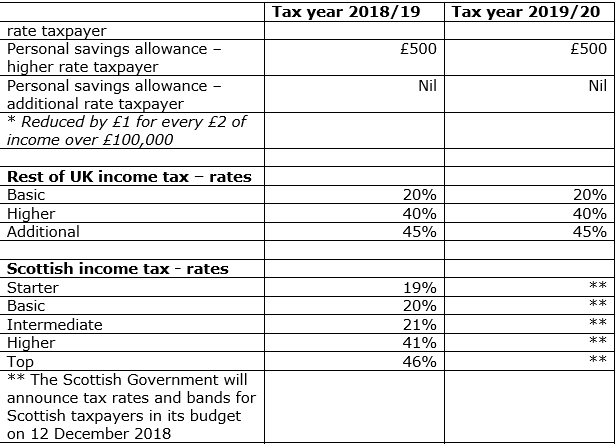 At McCrea Financial Services, we have a wealth of knowledge across a wide range of financial investments and mortgages and can work with you to ensure the right plans are in place, taking into account the impact of any regulatory changes. Why not call us on 0141 572 1340 or email enquiries@mccreafs.co.uk to arrange a free no-obligation meeting. 
Don't forget you can follow us on Facebook, Twitter or LinkedIn for our latest news.
Sources:
bbc.co.uk,scottishwidows.co.uk