Broomhill Pupils present Scott Cummings with his Warrior of the Month Award
Scott Cummings has been voted the McCrea Financial Services Warrior of the Month for February.
It was a big month for Cummings who returned from a long-term injury to play in all three fixtures, his first involvement in the 2016/17 campaign.
Cummings followed up his comeback game against the Scarlets with a two-try performance against Ulster in Belfast. He also put in an impressive 80 against Ospreys, meaning he played every minute of rugby available in the month of February.
Last week a group of kids in Primary 7 at Broomhill Primary School near Scotstoun Stadium were tasked by McCrea Financial Services with drawing pictures of the four nominees and yesterday 20-year-old Cummings went to the school to choose a winner.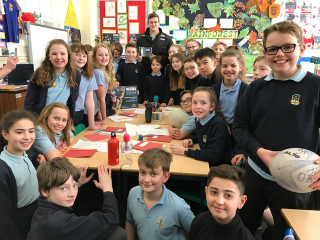 Scott selected Kirsten McAteer's picture and she presented Scott with his award.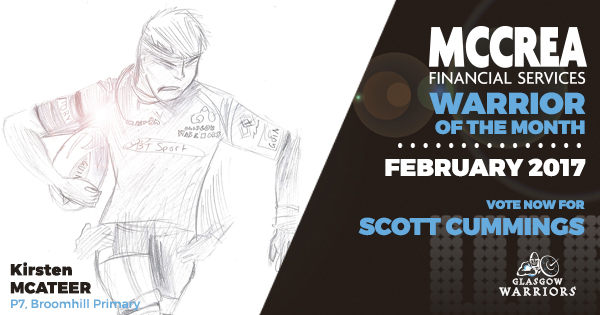 Speaking to Warriors TV at Broomhill Primary School, Scott Cummings said: "It's amazing to be voted the McCrea Financial Services Warrior of the Month. It's an award the fans have voted for so it means a lot to me.
"It was nice to get the win against the Dragons on Saturday. We've been improving every week and although some of the results haven't gone our way we definitely went out on Saturday and performed the way we wanted to. In the second-half we showed the style of rugby we want to play.
"The whole squad have had an opportunity to play during the month of February and a lot of the younger guys like me get a chance to play when the international players are away so we get to experience that level and get integrated into the team.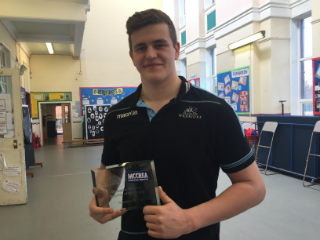 "It was good to come to Broomhill Primary School to see how excited they all are about rugby and about Glasgow Warriors."