Celebrating 15 Years of Sports Sponsorship with Celebrity Guests
McCrea Financial Services recently celebrated 15 years supporting the best of sport in Glasgow with an event held in the city.  McCreas are a key sponsor in football, rugby, golf and tennis as well as with several local projects in the wider Glasgow and West Coast of Scotland area.
The venue selected for the event was the very stylish Rox Champagne Bar based in Argyle Arcade with very special guests Glasgow Warriors Head coach Gregor Townsend and Partick Thistle Manager Alan Archibald.
Broadcaster Eilidh Barbour hosted an insightful session as both coaches reflected on excellence in their field through a wide variety of questions posed by the guests attending the event.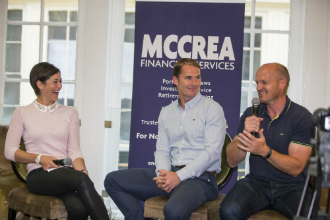 As well as a wonderful venue, we were delighted our drinks partner for the evening were new sponsors for Glasgow Warriors and the SRU, Eden Mill, who supplied a wonderful range of gin cocktails and craft beers for everyone to enjoy.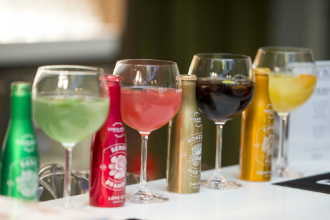 Douglas McCrea, Managing Director commented "We are proud to have reached this significant milestone in our support of sport in the City of Glasgow.  We have been fortunate to have had great success as a business and so it has always been important for us to share that across charity and sport."
Alan Archibald, Manager Partick Thistle said "The support we receive from sponsors such as McCrea Financial Services is invaluable.  They've been part of life at Firhill since I was a player and have continued to be wonderful supporters since I became manager.  These types of partnerships, rooted in Glasgow, make an enormous difference."
Gregor Townsend, Head Coach at Glasgow Warriors added "McCrea Financial Services have been a proactive and engaging sponsor with Warriors for many years.  Like us, they're passionate about Glasgow as a city and the benefits that sport brings to a community and we look forward to their support again this season."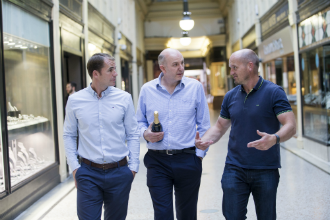 Finally Cllr Archie Graham OBE, Chair, Glasgow Life comments:
"For 15 years McCreas has been supporting sport across the city, working across football, rugby, tennis, cricket and golf.  Glasgow has enjoyed an incredible few years of sporting success and support from corporate partners is crucial in helping to increase the impact of our work at both elite and grassroots levels.  I'm delighted that McCreas shares our ambition for every Glaswegian to get more fit and active."
We will have the opportunity to share some video coverage from our celebratory evening with our special guests Alan Archibald and Gregor Townsend hosted by Eilidh Barbour soon!
Photography courtesy of Jeff Holmes @JSHPix.co