Changing times call for a Financial Check-Up
With economies around the globe significantly disrupted by covid-19, many of us are seeing unexpected changes in our income, our retirement savings and even our confidence in our financial future.
While we can't yet be sure of the long term impact of the pandemic, performing a financial check-up can help us adapt our finances to suit a changing world, and give us peace of mind that we're ready to face whatever comes our way.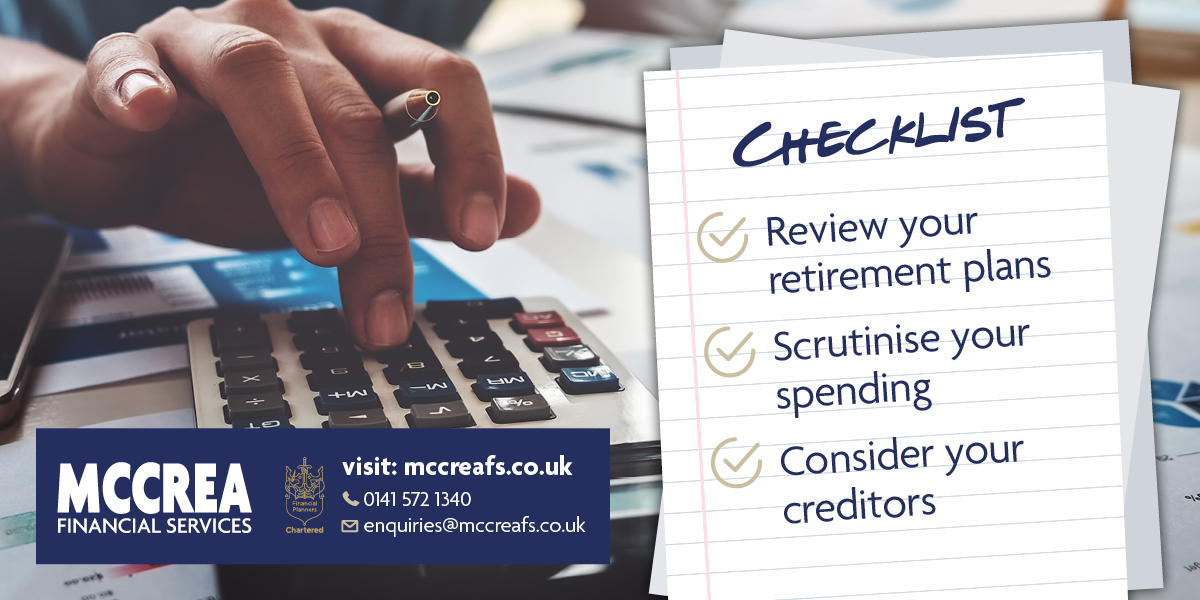 Review your retirement plans
If you've been working towards a specific retirement date, check on whether your savings and investment plans are still on track to allow you to meet that goal. If you don't yet have a date in mind, working with an expert to identify how much income you'll need in retirement and how you can build up sufficient assets to provide for your income will help you make a clearer plan.
A specialist advisor can also track down your old pension accounts, make sure your pension is invested in accordance with your own tolerance for risk, and help you decide how to structure your pension income using lump sums, drawdowns and annuities. 
You should also request a State Pension Statement to check whether you need to make additional National Insurance contributions in order to qualify for the State Pension.  
Scrutinise your spending
Whether you're looking to free up savings to put towards your retirement plans or build up an emergency fund to provide a buffer against future uncertainty, combing through your outgoings can identify valuable ways to save. You may find potential savings in small lifestyle changes such as swapping takeaways for home cooked meals or cancelling under-used subscriptions and memberships. Shop around for better deals on utilities, including broadband and entertainment packages, and look out for discounts for bundling services or paying through Direct Debit.  
Consider your creditors
If you're paying off loans, credit cards or other debts, check the interest rate you're paying on each account. Look out for balance transfer deals as a way to consolidate multiple accounts, but remember to factor in the balance transfer fee when you calculate potential savings. If you choose to keep your original accounts, make overpayments on the debt with the highest interest rate first, while making minimum repayments elsewhere. Once the first debt is cleared, move on to the next highest interest rate, to make sure you're taking care of your most expensive debt first.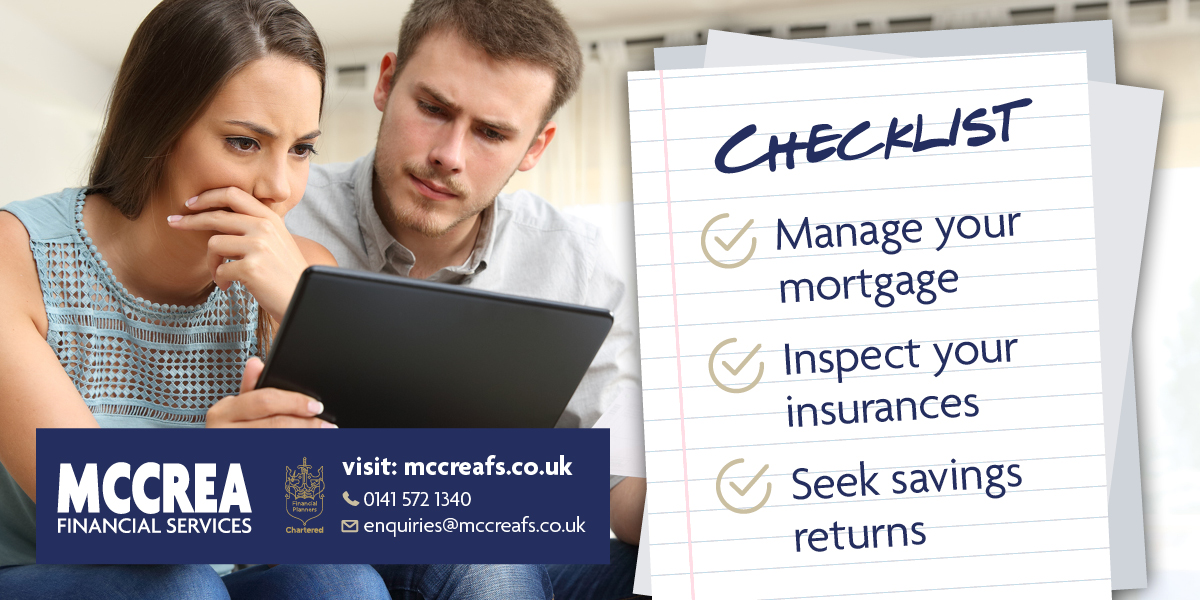 Manage your mortgage
Many homeowners can save hundreds if not thousands of pounds every year by shopping around for a better deal at the end of a fixed term mortgage interest rate. With interest rates currently at record lows, don't be afraid of remortgaging when your lender moves you to their Standard Variable Rate (SVR) when your introductory offer lapses. You can also save without remortgaging. Check your terms and conditions on overpayments, as many lenders allow repayment of up to 10% of the outstanding balance each year without imposing fees.
Inspect your insurances
You may have accrued multiple protection policies over the years, especially bundled with other products such as your mortgage. Now is the time to look again at the policies you have in place and assess their suitability. Do you have the right cover in place, and will it provide enough to cover any debts and provide for nominated beneficiaries?   
Seek savings returns
The pandemic has demonstrated the importance of having an emergency fund, so now is the time to build or bolster yours. Identify the rate of return your savings currently enjoy and don't be afraid to shop around for higher rates – interest rates as close as possible to cost of living increases protect and maximise the future purchasing power of your emergency fund.  
Here to help
If undertaking a full financial check-up seems overwhelming, we're here to help. With industry leading experts in financial planning, retirement, investments, mortgages and protection as well as our fully personalised service, we can help you understand and improve your holistic financial picture. Why not get in touch today for your free no obligation consultation?