Charity Update - Douglas McCrea gets ready for his Charity Challenges!

With the London Marathon challenge successfully completed by Jonathan Campbell and Elaine Hamilton, we are well underway with our fundraising mission for our 2018 charity partner Action for Children Scotland.
Whilst  'Flying Fever Paragliding' on 31st May had to be postponed once again due to conditions (see more below), The Rob Roy Way Walk  is underway for McCrea Financial Services Managing Director, Douglas McCrea and we thought we'd find out more from him about how he's feeling and what it all means to him.
DOUGLAS' PARAGLIDE 31st MAY | VIDEO UPDATE
After two days in Arran, unfortunately, Douglas' paragliding for Action for Children Scotland was postponed. He's due to have another go on the 24th of August!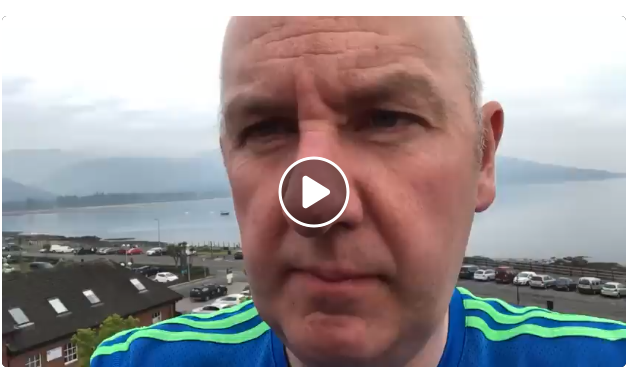 Q: Douglas, where did it all begin and what was your first fundraising event/challenge?
A: "The first fundraising we did was in February 1984 for MS (multiple sclerosis) research. Myself and two pals dressed as the Pink Panther, a Giant Panda and a Bear and headed to Edinburgh to support Thistle in a Scottish Cup tie against Hearts. We raised £1,100 for an MS charity as one of my mates had MS. (And yes, Thistle lost)" 
Q: Why is supporting charity important to you and to the company?
A: "It is so satisfying to be able to help people who aren't as fortunate. At times we all get caught up in how busy we are and things that we perceive to be important. We did a walk a few years back for Leukaemia research and a few kids with Leukaemia turned up to see us off. One of them is no longer with us. That's why we do the fundraising."
Q:  Of all the challenges you've undertaken, which was the one you most and least looked forward to and why?
A: "Least - Skydive – as someone that doesn't like heights, hoofing yourself out a plane with no door from 10,000 feet isn't the easiest thing to do.  Most – West Highland Way – Wow – beautiful country and great people."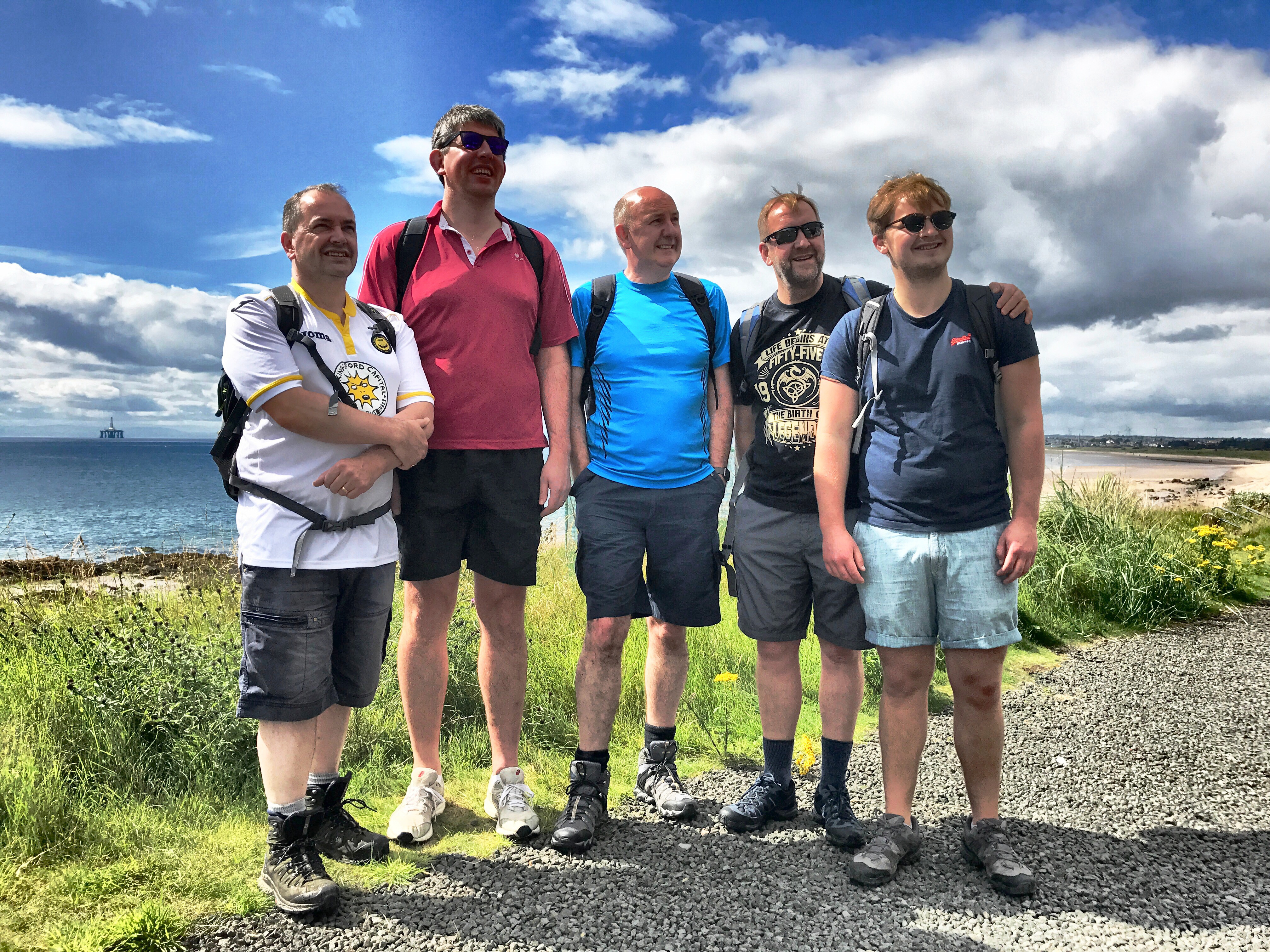 Douglas pictured above, during his 2017 challenge along the Fife Coastal Path.
Q:  In the past, you've had people joining you on your walks, do you have anyone signed up yet for your Rob Roy Way adventures?
A: "Yes – On day one I will have Mel and Graeme, who did the first day of the John Muir Way with me in 2016, joining me. Having said that they did the first day, I really mean that they came to the pub, then went home and left me to do the other 120 miles!
This year, I have deliberately kept days two and three for 'me time'. This also lets me crack on and get really stuck in, as over the space of 30 odd hours I will be walking 31 miles or almost 50km in new money.
For day four and the last day, Brian who did two days with me on the Fife Coastal Route and Gordon, a new recruit, will be doing the last 34 miles with me. Quite a few others have volunteered their services but have surprisingly gone quiet as the start line approaches."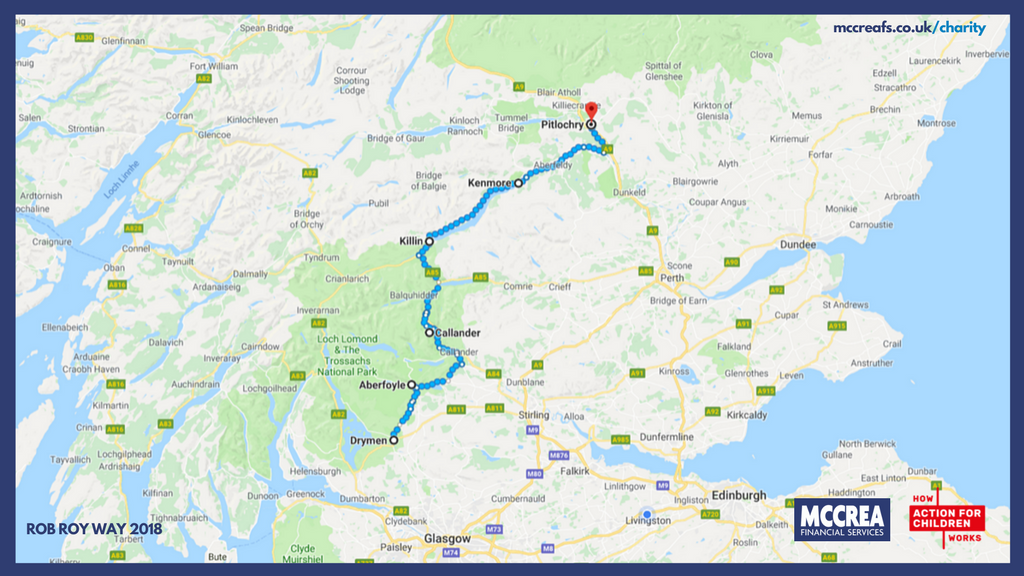 Douglas is due to walk 77 miles or 123.2 km from Drymen to Pitlochry, over 4 days and 8 hours.   
Q: Do you have any rituals, top tips for carrying out these challenges?
A: Rituals – none. Tips – Be organised and when it gets hard going remember it's for a great cause.
Q: Finally, you've managed to encourage others at McCreas to get involved, particularly over the last few years.  What do you have to say to staff carrying out these challenges – advice, warnings, support?
A: "Well done I'm proud of you. And don't fall off anything!"
From Douglas and everyone here at McCreas, we really appreciate the generosity of many people over the years, that has helped us raise almost half a million pounds for several fantastic causes.
If you would like to support our efforts this year, you can do so by donating online here or by sending a cheque to our offices payable to Action for Children Scotland. 
For a breakdown of all McCreas 2018 Charity Challenges, click here.
On behalf of McCreas and Action for Children Scotland, we thank you for your support! 
To stay up-to-date with our Charity Challenges and events, as well as visiting our news section here, you can follow us on Twitter and Facebook.