Congratulations to Adam Barton & Chris Erskine on their McCrea Sponsored awards!
McCrea Financial Services Player and Goal of the Season with Partick Thistle FC
It was a celebratory atmosphere on Sunday afternoon as every team from across the whole of Partick Thistle Football Club came together for the 2017 Player of the Year Awards. Now in its second season, Thistle's award bash is the only one in the country that lets every age group from under 11s right the way through to the senior team share the same stage and, with well over 500 in attendance, it's fair to say it was another successful day all round.
All the awards were hotly contested and as ever much sought after but there were two in particular that everyone was looking forward to. For a fifth successive year the Player of the Year award and this year also the Goal of the Season award were both sponsored by McCrea Financial Services and they were definitely the categories that generated the most interest.
As always, the competition was stiff but as everyone knows there can be only one winner.
First off, Chris Erskine's fantastic strike against Inverness on the opening day of the season was named McCrea Financial Services Goal of the Season. Chris's goal was voted for by all those in the room on the night.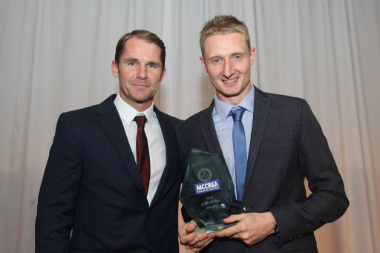 Reflecting on his first season back in a red and yellow shirt Chris said: "It was great to come back at the start of the season and to get the league kicked off like we did with that win over Inverness was really special.
"It's pretty well documented that my time in Dundee didn't go quite as I wanted but everyone has been absolutely brilliant with me since I came back. Obviously I've managed to get a few goals in the bag this year and hopefully that will only continue next season. It is a pretty special time to be involved with this club and I really can't wait to see just where we can end up."
And summer signing, Adam Barton, was named McCrea Financial Services Player of the Year following more than 1,200 votes cast online.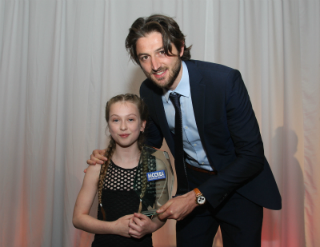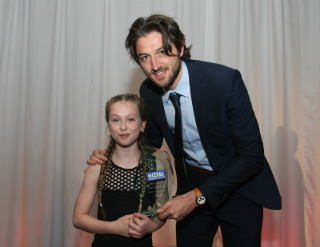 After receiving his award Adam said: "I would just like to thank everyone who voted for me and say how much it means to me to win this in my first season at the club. I know it's a bit of a cliché but it really is a team game and everyone has been terrific since I signed.
"This club has a really special feel to it at the moment and I really hope that continues. I came up here to prove a point and show that I can still play week in and week out so to have not only played as much as I have but having also helped to contribute to a really good successful season has been brilliant. We're all determined to keep building next season and hopefully this is just the start of something really special."
Adam was presented his award by Ashleigh Kilpatrick, the McCrea Financial Services Competition winner, whose Dad Scott had entered on our facebook page! 
You can follow us on facebook and twitter for all our latest news, competitions and giveaways or visit our contact page to make an appointment for independent financial advice.