Douglas McCrea Joins New Model Adviser Roadshow Panel
Douglas McCrea our Managing Director was recently invited to join the New Model Adviser Panel roadshow for a specialist discussion focusing on the future of specialist independent financial advice.

The topics included how to hire the next generation of financial advisers, where to hire them from, how to engage younger recruits, and ensure that they progress and stay at your firm enjoying their work and have a long rewarding career.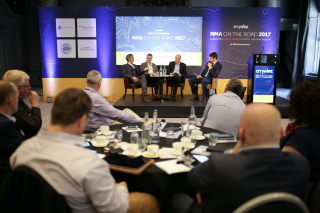 This area becomes ever more important as many careers officers in schools do not really understand what Financial Advisers actually do. We try to clarify this with a straightforward explanation of What Is Financial Planning for those considering independent advice.  There are now Financial Services degrees offered at a number of universities, however the average age of Financial Advisers in the UK is well into the late 50s.  
Douglas was invited onto the panel as he has recruited a number of younger people into McCrea Financial Services and shown that it can be done whilst achieving significant business growth and positioning the business well for longevity for the benefit of our clients. 
If you are considering independent financial advice and would like to know more about McCrea Financial Services, click here.  To arrange an initial free no-obligation meeting you can email or call us on 0141 572 1340.