Douglas McCrea's Rob Roy Blog
McCrea Financial Services managing director Douglas McCrea is taking on the Rob Roy Way, a 77 mile journey from Drymen to Pitlochry. His efforts are in aid of our charity partner for 2018, Action for Children. You can sponsor Douglas, here.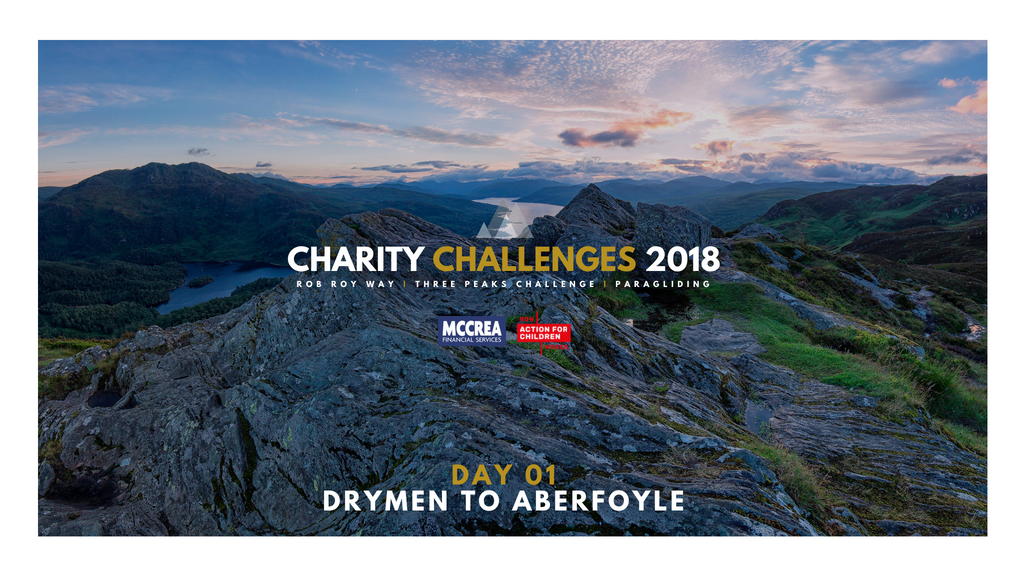 Day 01: Drymen to Aberfoyle
Distance: 11 miles
Steps: 21,141 
Time: 03.56 hours  
We successfully completed today's first leg in not too much time.
It was a fairly uneventful day as we were mainly walking through forest and countryside with the clouds blocking the views. 
The company was great with Mel and Graeme who have also volunteered for next year (well I'm sure that's what they said).
Today's walk was less than four hours as we didn't stop but the next few days will be a lot harder. Tomorrow it's just the 18.5 miles from Aberfoyle to Strathyre!
I sense a few aches tomorrow night, as all going well that will be 30 miles walked in less than 30 hours. 
There has been a good few donations made today and so thanks to everyone who has donated for Action for Children Scotland so far.
According to the book no big hills tomorrow however my idea of a big hill and other people's tend to be quite different!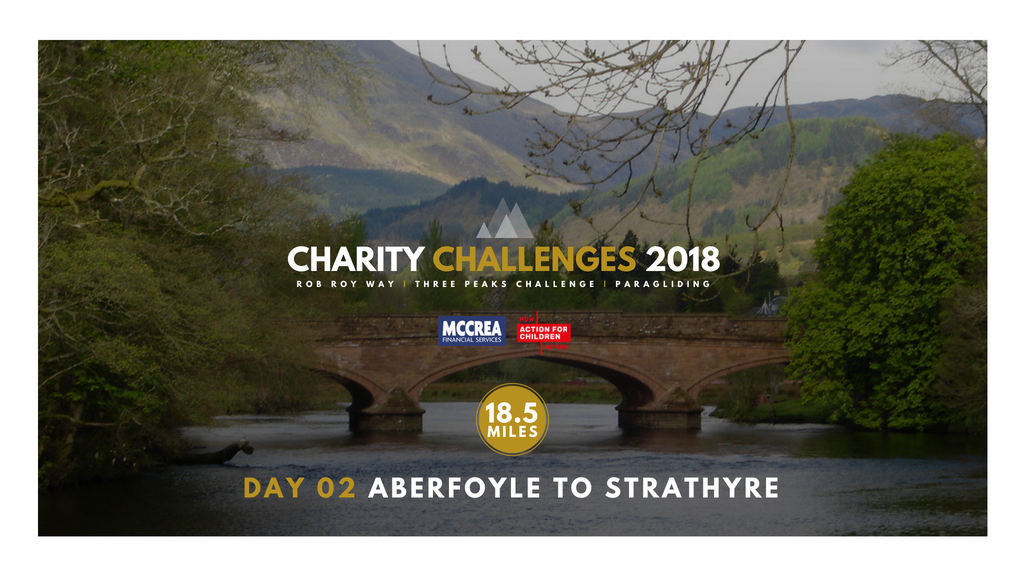 Day 02: Aberfoyle to Strathyre
Distance: 20.3 miles
Steps: 37,545
Time: 07:16 hours  
Challenging!
If day 1 was reasonably comfortable, day 2 wasn't.
It started badly with a no show from the taxi at 10am. I decided I wasn't going to walk 3.7 miles to get back to where I finished last night so was happy to wait.
I finally got going at 11.31am, just in time for the clouds to part and the sunshine to beat down.
The first leg was Aberfoyle to Callander which is roughly 10 miles. Some of the scenery was fabulous, but there wasn't much shade. No one was to be seen for miles as I crossed the Menteith hills (so much for no hills!). I had the factor 30 on but was not sure if it was working.
Ground conditions were pretty tough with broken stones - or scree as it's known to us outdoor types - along with a cycle path which is hard on the feet. Even with good well broken-in walking shoes I had four blisters by Callander.
I made a lunchtime (3.15 pm) visit to chemist for after sun and more blister plasters. A rather natty Australian sun hat completed my purchases (albeit not from the chemist). Fashion sense goes out the window when the bald patch and neck are under attack.
Onwards to Strathyre for another 9.5 miles or so. I managed not to get lost but even I can't get lost on a straight track. A fair bit of tree cover meant the hat was not over used (I wonder if they do them in different colours?).
That's 30 miles walked in just under 30 hours since we started. Not bad for an old wrinkly but trying to get up out of bed could be interesting tomorrow...
Tomorrow it's roughly 13 miles but there are a few big hills to get over so my plan is to get away early and avoid the afternoon sun (I'm starting to sound like Lawrence of Arabia). No taxi is required so I should be ok!
My friends Gordon and Brian join me tomorrow but not until after I've finished! They will be in place for the 19.5 mile shift on Thursday. I may have told them it was only 9.5 miles.
Thanks to everyone who donated today, it's greatly appreciated.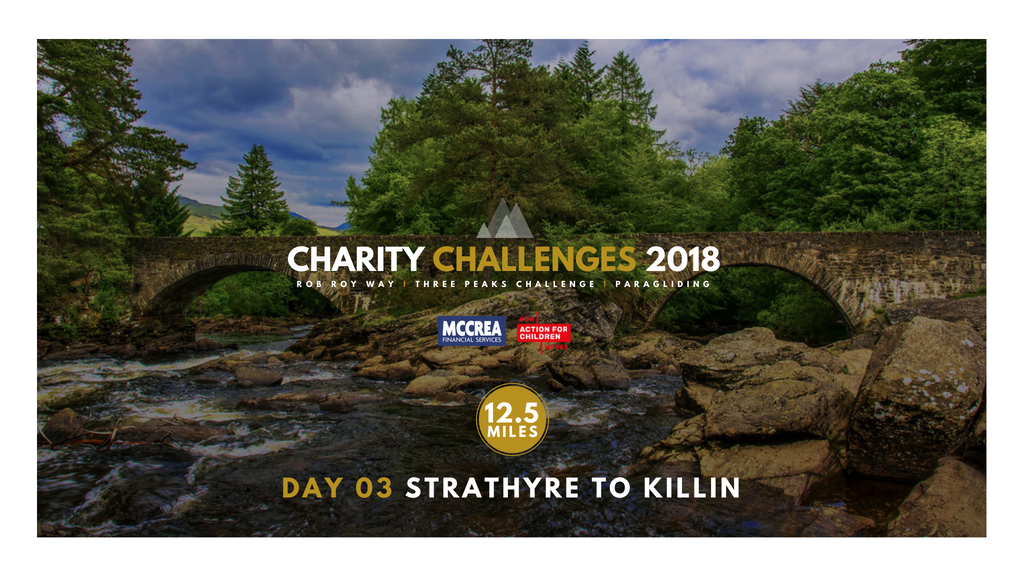 Day 03: Strathyre to Killin
Distance: 15.2 miles
Steps: 30,042 
Time: 05:43 hours
Well my cunning plan didn't work.
Leave around 10 so it's not too hot, I decided.
And guess what, not a cloud to be seen and almost 20 degrees!
I expected today to be not too bad. How wrong I was.
There was the obligatory big hill straight away. Then it was up through Strathyre forest where there was a bit of shade which was not too bad, but my blisters were playing up so speedy it wasn't.
Then I joined the cycle path which if you have a bike is great because it has a hard surface. If you don't have a bike it's not good.
I met a lovely local couple with four collie dogs who told me about the original Rob Roy Way from many years ago and suggested I detour and do that bit.
I detoured, but as usual got lost and ended up on the A85 playing dodgems; not to be recommended if you're not in a car.
Actually, it is not to be recommended even if you are in a car!
Next move was to clamber over shrubs and climb a steep incline to get back into the main path. I never learn.
Back on track but not moving like a sprightly 30-year-old (I wonder why).
With sore legs and feet, I was not impressed with all the hard surfaces. Then came another hill, Glen Ogle.
A cracker to look at, but not so much fun to walk up. But fabulous views.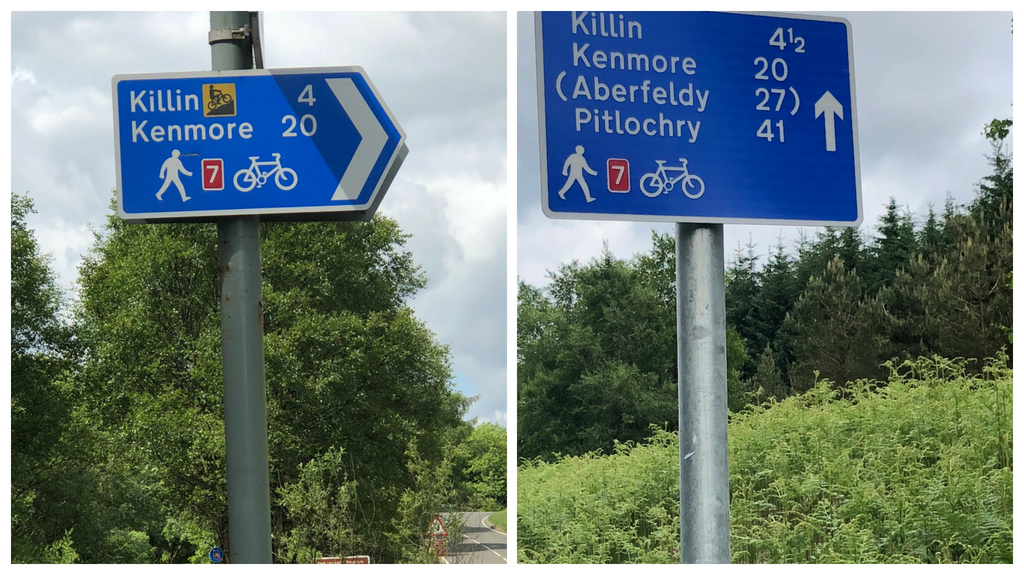 You know it's not your day when you pass a sign saying four miles to Killin, my next stop , walk a further 500 yards then the next sign says four-and-a-half miles to Killin.
And yes, I was walking the right direction.
Thursday is a belter. As the book describes it a, "long steady ascent from Killin to high mast (altitude 1850 feet)".
Could be a job for mountain rescue if anything goes wrong. Rough guess for mileage tomorrow is 18 or 19, so it may be quite a late posted blog!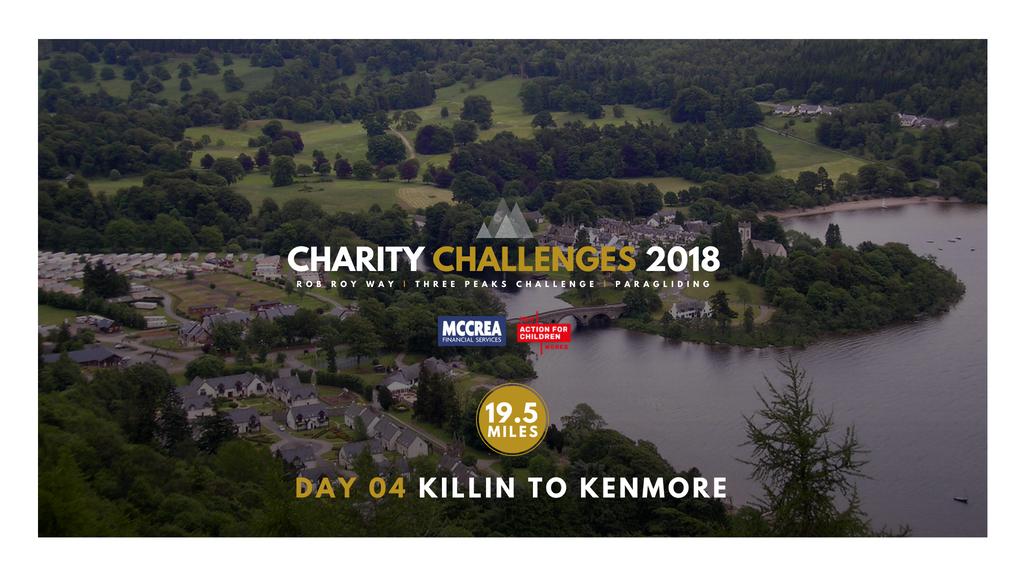 Day 04: Killin to Kenmore
Distance: 20 miles
Steps: 38,123 
Time: 07.21 hours
That was a scary day!
I was joined today by Brian and Gordon and we started with the hill!   Well the hill -  Creag Gharbh, a name of which none of us could pronounce - was big and, yes, the path takes you to the top. The views were great and you can see for miles.
We set off at 10 am and the sun was splitting the skies. It took two hours to get to the top with a steady climb and a few "view stops".
Then it started to cloud over.  "Ya beauty," thinks me - cooler weather to walk in! The clouds lasted 25 mins.  When the sun came back out it was a blazing 23c for most of the afternoon.
It took us another two hours to get to Ardeonaig where we had a brief stop for lunch.
The debate was then how far to Kenmore as it's not too clear from the map (this is one of the issues when you try and do a seven day walk in five).
Another three and a half hours later, three very tired and sore gentlemen arrived at Kenmore having racked up 20 miles. I'm fairly sure I didn't mention that distance when roping in Brian and Gordon. 
I suggested after day 3 that day 4 was going to be a belter and it was indeed.  It was really hard work but great company and stunning views from the hills and also of Loch Tay.
I reckon tomorrow - which is our last day - will be about 16 miles but having done 66 miles since Monday I would not be at all surprised if it's more.
My legs and blisters are bearing up well. Unfortunately, my dodgy arthritic hip (not the new one) is also starting to grumble (which Brian and Gordon may also do over dinner).
Thank you again to everyone who has taken the time to donate to our chosen charity, Action for Children, here in Scotland.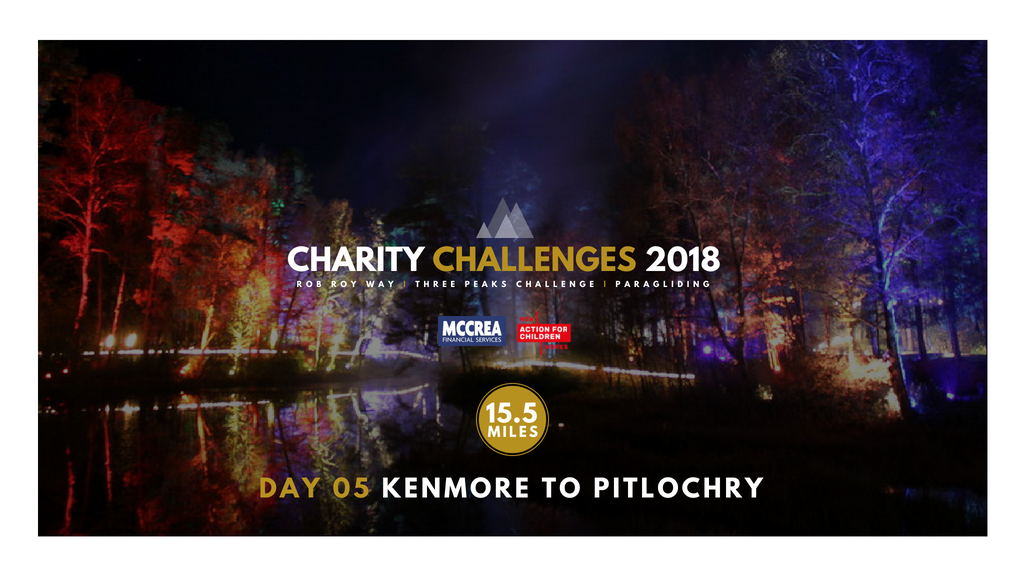 Final Day: Kenmore to Pitlochry
Distance: 18.3 miles
Steps: 34,973
Time: 07:11 hours

Video update from Douglas part way through his final day of the walk: 
Made it!
We headed off just before 10am with the added bonus of cloud cover which kept the temperature down.  That was just as well as the obligatory big hill was the first thing to greet us as we left Kenmore.
I was joined again by Brian and Gordon who amazingly hadn't done a runner during the night.  We were also joined by Christian, Brian's wife and their bonkers pooch Lexy.  
 We went up into the hills for the first stage to Aberfeldy where we arrived at 12.50pm.  By this point the only one that looked as though they had the energy to go on was Lexy.
After a quick lunch we were then back on the road for the last stage to Pitlochry.  The dug and Christian headed back to Kenmore and the three intrepid explorers continued on their way.
The sun of course had reappeared by now. We had a great walk along the river for a few miles then another big hill which was tough.  Thankfully what goes up must come down and unlike my skydive of a few years ago we could control the speed we came down.
We arrived at the finish line at the Pitlochry War Memorial at 5.35pm.
I'm sore but in good spirits. Many thanks to Mel, Graeme, Brian, Gordon, Christian and of course Lexy who joined me on the walk.
I ended walking over 80 miles but beat my target of four days and eight hours from the starting time, by over three hours.
Thank you to everyone who has kindly donated for Action for Children Scotland.
Now to go and lie down although I need to get back to Glasgow first. I will not be walking!