Flying Forbes picks up his first Warrior of the Month award
Whilst the 1872 Cup-clinching victory over Edinburgh didn't actually have any influence on the vote for the McCrea Financial Services Warrior of the Month for April, it certainly served as a perfect example of the winner's capabilities.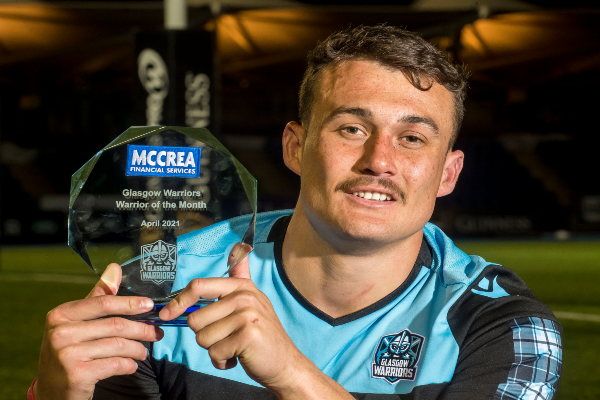 Having edged out Rob Harley to take home the trophy for the first time, Cole Forbes then delivered a pitch-perfect performance under the Friday night lights that had the Warrior Nation and Premier Sports pundits purring with appreciation. Whether it was cutting a sublime line to glide over untouched for the game's opening try, floating the ball into Kyle Steyn's hands for a walk-in, or time and again chopping down Edinburgh attackers, barely a foot was put wrong on Scotstoun's artificial surface.
With a Player of the Match medal duly coming his way, it was all in a night's work for Glasgow's full-back – all done with a spring in his step and a smile on his face.
"I'm definitely enjoying my rugby right now," Forbes told glasgowwarriors.org after being presented with his McCrea Financial Services Warrior of the Month award.
"I've settled in well and everyone's been really good to me since I arrived.
"Every time I get out there I try to bring heaps of energy, but above all have fun. You play your best rugby when you're having fun and we've got a good group of boys here.
"You saw that on Friday night, all of the boys were having fun and playing for each other."
Such was the standard of his display on Friday night, it's easy to forget that Forbes has only been a fully-fledged member of the Warriors for a shade over three months. Having initially joined on trial at the beginning of February, a debut away to Leinster soon followed and the 21-year-old has duly thrived in a rollercoaster of a season.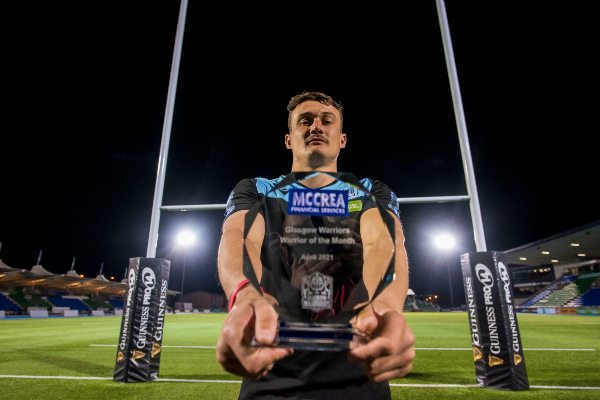 Indeed, Forbes is just one of a number of new Warriors to have made their mark this season, with the Glasgow youth movement having grabbed centre stage across the campaign.
"I was lucky to come into a group of guys like Ross [Thompson], Rufus [McLean] and Ollie [Smith], who are all a similar age to me and had all been exposed to the environment already," said Forbes.
"I just tried to feed off those guys really – it's a fun group to be involved with.
"Danny [Wilson]'s been really good at giving the young boys like myself opportunities and it's really exciting for the future."
However, it wasn't just a new system and a new style of play that Forbes had to get used to upon arrival at Scotstoun. A winter arrival in Glasgow? Talk about in at the deep end.
"It was a tough time to come over!" laughed Forbes.
"The first week I arrived there was snow, which was the first time I'd ever seen or touched snow. It was a bit of a shock to the system!
"It took a bit of time to adjust to how cold it could be, but I'm slowly getting used to it."
As Forbes has been getting used to his new surroundings, so the Warrior Nation has been getting used to flashes of brilliance from their new number 15. Take his first score in Glasgow colours, for example, as a combination of speed of thought and speed of foot saw him take full advantage of the new goal-line drop-out rule in last month's defeat to Benetton.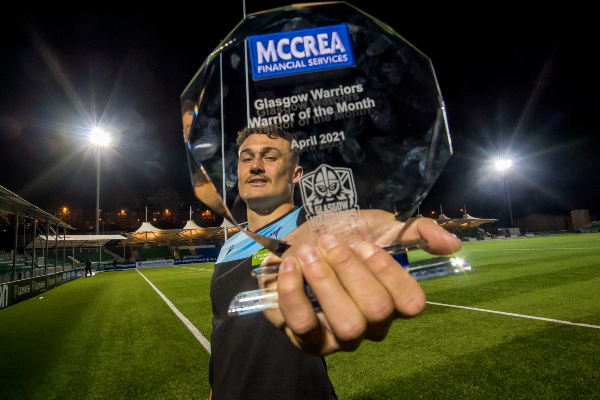 "We'd talked in the week about the new rules and how we'd play the drop-outs," explained Forbes.
"Keats [Ian Keatley] got the ball quickly and I was signalling that the cross-kick was on. It was a great heads-up play from him, it was the perfect kick. I just had to catch it and not get caught.
"Thankfully the legs held up because it was a long way to go. I had to go hard for the first 20 metres or so – I think it was a prop trying to come across so I had to make sure he didn't catch me!"
It's been a whirlwind few months for the former Bay of Plenty star, in a season that's been full of the unexpected. For Forbes, though, there's nowhere that he'd rather be as he returns to his Scottish roots playing the sport he loves.
"In New Zealand, everyone grows up watching the All Blacks and playing rugby," he explained.
"I think I was about four when I started playing – all my brothers and my dad played, so it was inevitable really. Ever since then I've played as much as I could. I've always been one of the boys out wide though, I was never one for getting dirty in the forwards!
"My granddad on my dad's side is from Aberdeen and emigrated to New Zealand. We never really clicked until a couple of years ago that I was Scottish-qualified, but it's definitely something I'm very proud to be.
I'd always wanted to play in Scotland at some point in my career, but I never thought it'd be as soon as this – I thought I'd give New Zealand provincial or Super Rugby a crack for a few years, but when the offer came in from Glasgow I jumped at the chance.
"So far it's turned out pretty well!"
One thing's for certain – as long as Forbes is having fun on the field, then the Warrior Nation is going to have fun watching.
McCrea Financial Services are sponsors of Glasgow Warriors and work with the club to recognise and reward player performance every month as well as the annual Player of the Year award, all voted for by supporters.