#GO33 - Jonathan Campbell's Blog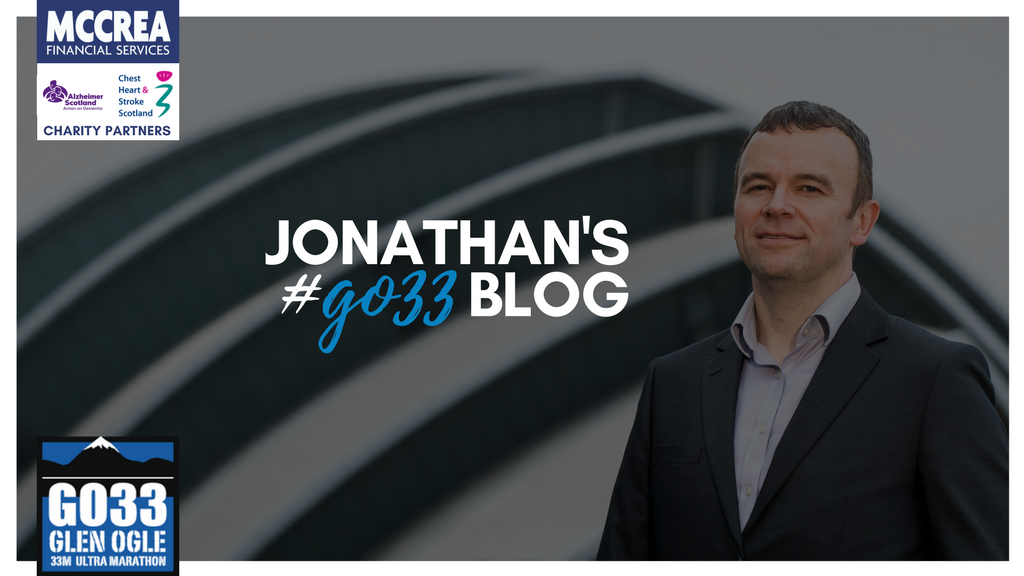 McCrea Financial Services director Jonathan Campbell is set to take part in the Glen Ogle 33 this weekend, a tough ultra-marathon in the Highlands. He'll be doing so to raise vital funds for the company's 2017 charity partners, Alzheimer Scotland and Chest Heart & Stroke Scotland. Jonathan has written a blog for mccreafs.co.uk ahead of the challenge.
Less than a week before the Glen Ogle 33, and I am now counting the days and keeping a close eye on the weather forecast.
Last year was a fairly big year for me, undertaking the London Marathon and the Outlaw Iron Distance Triathlon.
Initially, I had not really planned on any challenges in 2017 as the training schedule required in 2016 was fairly tough to maintain along with work and family commitments.
However, in June, I was cajoled into signing up for something new to support our fundraising for the year and came across the Glen Ogle 33, which takes place on Saturday (4 November).
My fitness was not particularly great at this point but the event was far enough away that I thought I would have time to do some decent training and perform at or near my best.
Unfortunately, due to a calf injury about two months ago that cost me around a month's training, I am not quite up to the distance in training that I hoped to be.
Last weekend, I did around 19 miles which I found pretty hard so 33 miles of running, walking or crawling on fairly hilly terrain is looking like a tough challenge!
That said, last year in the Ironman I managed a marathon directly after 112 miles on the bike so hopefully the memory of that can push me through.
I am doing the event as part of McCreas support for our official 2017 charity partners – both fantastic organisations - Alzheimer Scotland and Chest Heart & Stroke Scotland.
We have managed to raise a significant amount so far this year and I would be most grateful for any further support that anyone would be prepared to give.
I haven't really set a target time due to my lack of training but will be happy to finish within the allotted time and hopefully they don't have to send the search parties out for me in the dark...the clocks going back on Sunday has robbed me of an hour's daylight at the end of the event!