Landslide win for Niang as he picks up December POTM award
Mouhamed Niang was the runaway winner of the December McCrea Mortgages Player of the Month award after the young central defender grabbed three quarters of the vote.
The 21-year-old moved in to the centre of defence in mid-November and has been a revelation in red and yellow since. Aided by a strong defensive partner in Darren Brownlie, Niang added a degree of composure to the Thistle defence throughout the month of December with his calmness in position and commanding aerial presence. Every Jags fan was delighted when the youngster committed his future to Firhill until 2023 but the hard work starts now as Niang looks to develop and establish himself further within the first team at the club.
Speaking upon collecting his award ahead of training on Friday, Mouhamed said:
"I'm thankful to every Thistle fan who voted for me to win this award, it means a lot to be recognised in this way very early in my professional career. The main focus for me over the rest of the season is to keep working hard to earn my place in the first team and to continue improving as a footballer.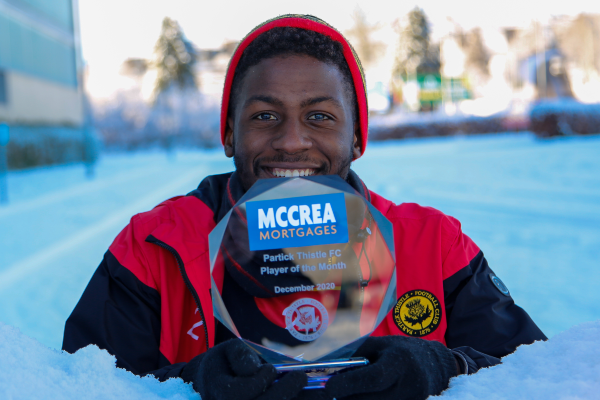 "It's a tough time just now with Scotland in another national lockdown and in that context, football doesn't seem quite so important. I just want every Thistle fan to know that I hope they can stay safe and that when they are able to watch streams of our matches, it gives them something to look forward to each week in these difficult times."
Don't forget you can follow us on twitter and facebook where we provide useful updates and the latest news on getting the most out of your finances as well as finding the right mortgage deal for you.