McCrea Charity Activity Update
Charitable causes continue to be extremely important to McCrea as we recognise that we have the opportunity to be able to give something back as well as helping raise the profile of our nominated charities; they can also benefit from the generous fundraising efforts of our clients, staff and friends, so we are delighted to be able to support Common Wheel!

Common Wheel is a Glasgow based charity supporting people with mental illness by providing meaningful activities. They have four projects; their bike project, which supports people in repairing and recycling old bikes, their music project supports people in singing playing and composing music, their visual arts project 'Carnival Club' which supports people in designing and producing large scale art pieces to be displayed in various parades in Glasgow, and their climbing project.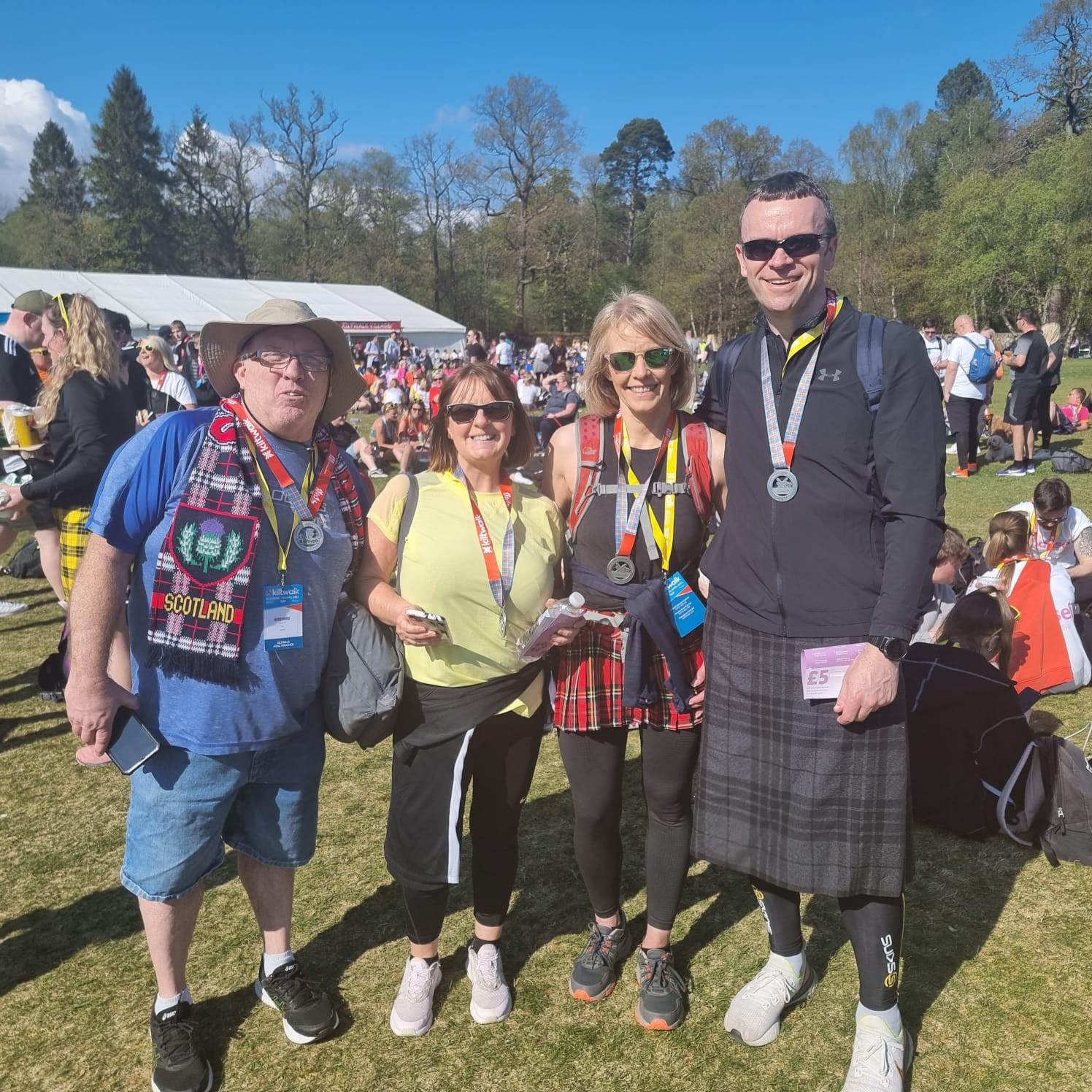 To kick off our year of fundraising for this great charity, 5 members of the McCrea team – Jonathan, Troy, Lesley, Elaine and Lesley-Anne, participated in the annual Kiltwalk during April 2022 as they tackled 'The Mighty Stride', a 22.7mile walk from Glasgow Green to Balloch. Even in the extreme heat (yes this was in Glasgow!), the team did a great job and all finished the walk, and were able to raise £1,076 altogether!
We were also delighted to be able to host our 12th Annual Charity Golf Day at The Duke's Course, St Andrew's on 19th May 2022. Thankfully we were blessed with great weather, and are proud to be able to say that the golf day managed to raise almost £18,000.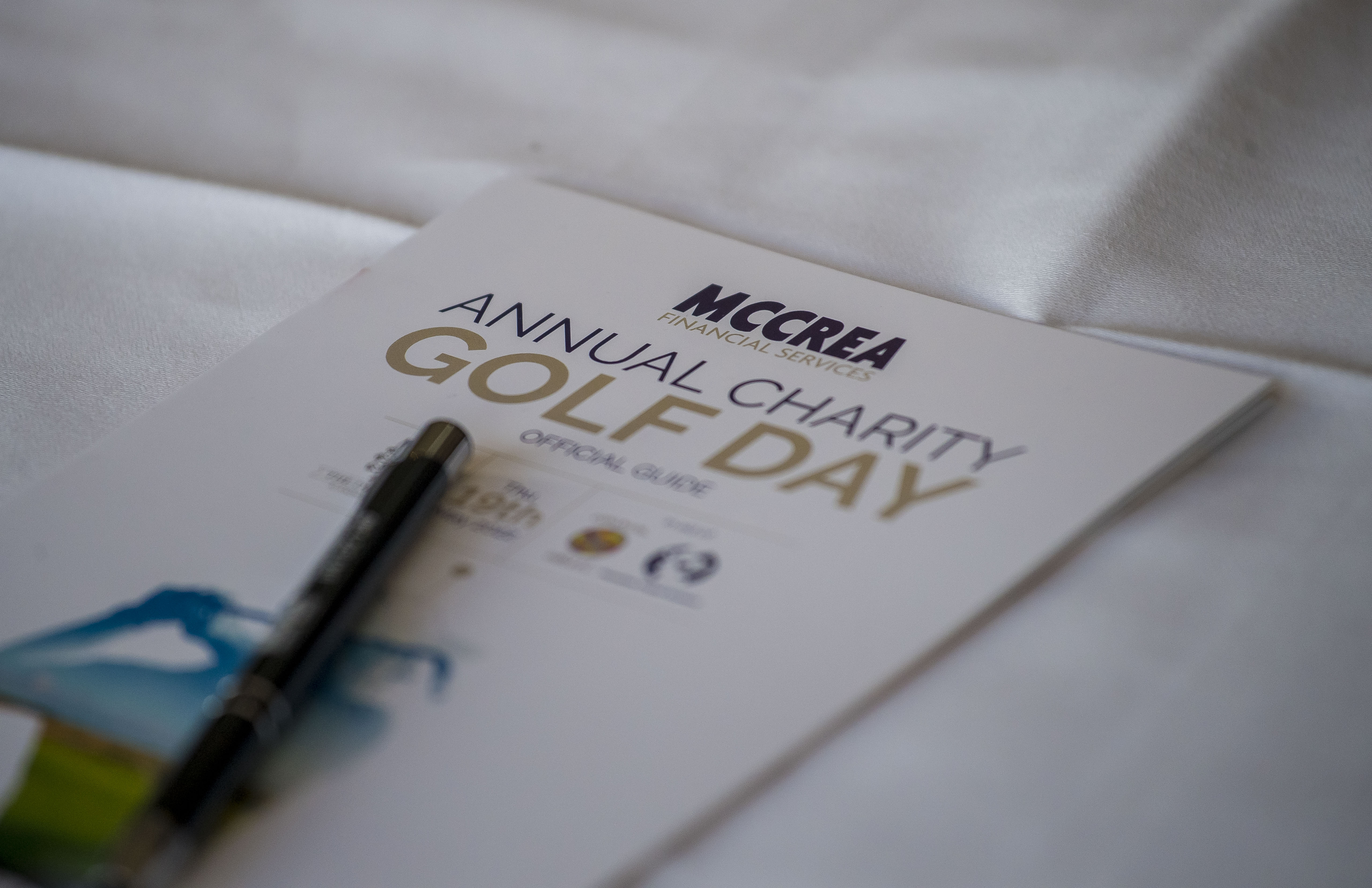 A year of charity fundraising wouldn't be complete without McCrea Managing Director Douglas McCrea participating in his Annual Charity Walk. Having spent 6 days last year walking the Dava Way and Moray Coast Trail back-to-back, totalling over 108 kilometres, this year Douglas walked The Borders Abbeys Way in August, totalling 109 kilometres - much longer than last year's effort! 
At the start of October, we had five of the McCrea team participating in the Great Scottish Run, raising nearly £1,000 between them. McCrea advisors Jonathan and Graeme ran the half marathon, while Elaine Hamilton, Michael and Emily ran the 10k event.
We round off our fundraising attempts for Common Wheel with the return of our Annual Charity Race Night on Friday 17th March! Our Charity Race Night is a great night which raises thousands of pounds for charity whilst enjoying loads of curry, horse racing, and a busy bar, which we are heading back to Hillhead Sports Club for!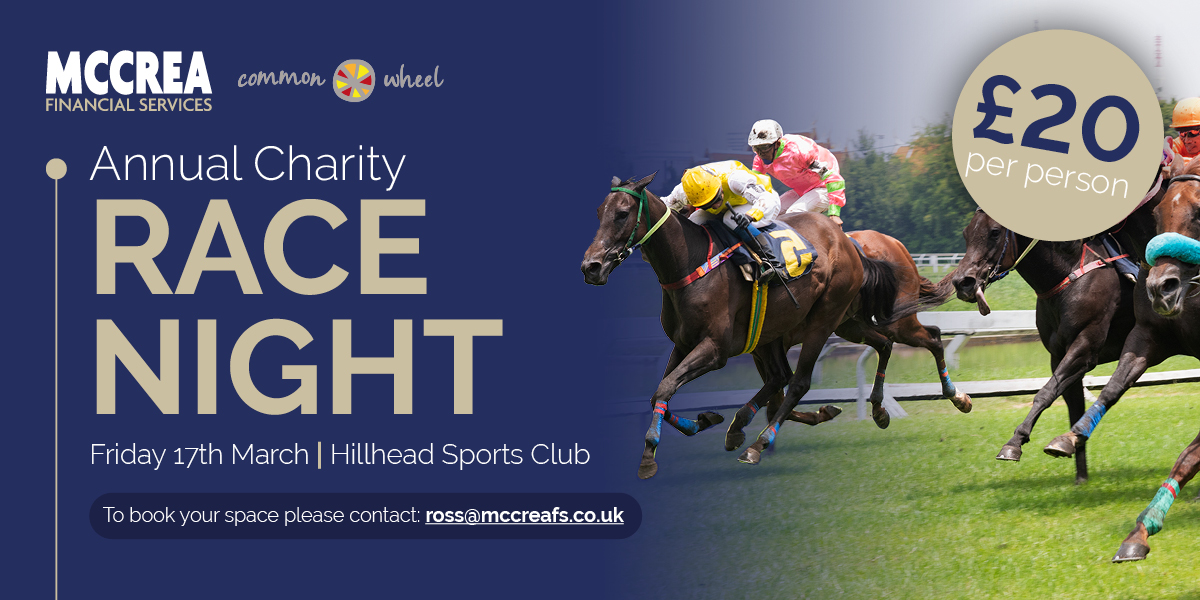 This exclusive event is open to a maximum of 150 guests so please book your tickets early to avoid missing out, as our race nights have sold out quickly over 7 consecutive years. Tickets are £20 per head including food and we can organise tables for your group. 
Horses are also available at £10 per horse; there are 64 horses in total with there being 8 races of 8 horses. Everyone whose horse wins a race will win a bottle of champagne! Additionally, anyone who would like to sponsor a race (£125) can represent themselves/their company with a race name of their choice and will receive shameless plugs as a thank you! 
To book a place, buy a horse or sponsor a race, please get in touch with Ross at ross@mccreafs.co.uk confirming how many places and horses you would like. If you are buying a horse, please provide us with their suitably daft name at the time of booking! 
If you would like to further support our fundraising efforts for this great charity, then any donations to our Just Giving page would be extremely appreciated. To donate to our Just Giving fundraising page then please click here,