McCrea Financial Services November Player of the Month
The games have continued to come thick and fast in November, with three Ladbrokes Championship matches before a free weekend for the Jags as their rivals compete in Scottish Cup action. As Gary Caldwell and Brian Kerr continue to exert their influence on the squad, in two of the three games at least, performances have certainly improved. This improvement culminated in the new management team securing a point against Falkirk in the final game of the month.
With things beginning to settle down again after an extremely tumultuous period for the Maryhill men, it is once again time to vote for your McCrea Financial Services Player of the Month. So, without further ado, here is your November shortlist:
Stuart Bannigan
Once again Bannigan has a 100% record in terms of minutes played this month. In November Stuart has continued to show why he has been missed so much during his injury absence in recent seasons. The creative role he has played throughout this month has proved very effective in switching play and stretching opposition defences.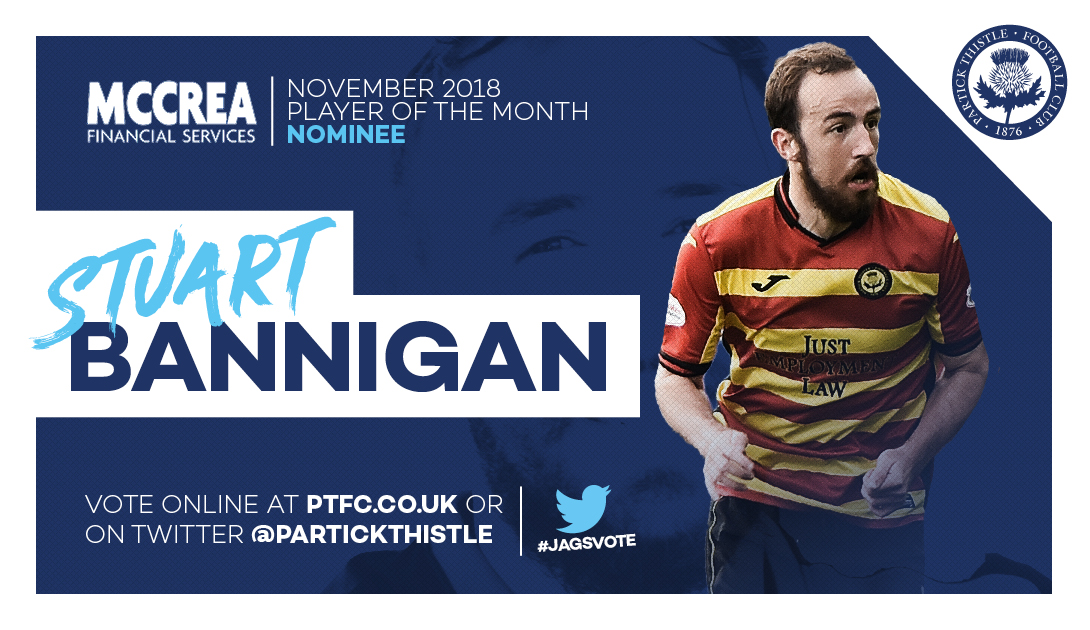 Vote for Stuart on Twitter
James Penrice
Last month's winner, James is another Jag who hasn't missed a minute of action in November. He is fast becoming one of the first names on the teamsheet and the young Thistle Weir Youth Academy graduate is certainly proving his worth. He's already picked up two Player of the Month trophies this season so can he make it a hat-trick?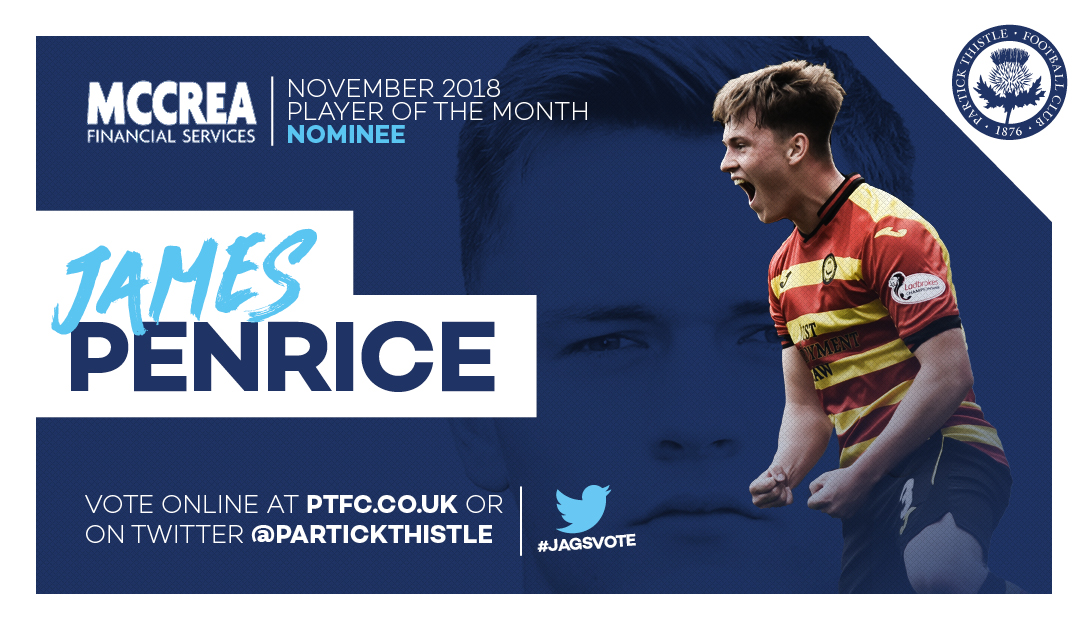 Vote for James on Twitter
Craig Slater
Craig Slater is Stuart Bannigan's partner in the middle of the pitch and it is quite a partnership they are forming. Craig's passing and movement has been at the centre of much of the good work Thistle have produced with the ball this season. Adding a goal to his name in November Craig has continued to improve and will be a vital part of Caldwell's side as the games continue to come. Slater has been nominated every month so far but is yet to actually pick up the trophy – could this be his month?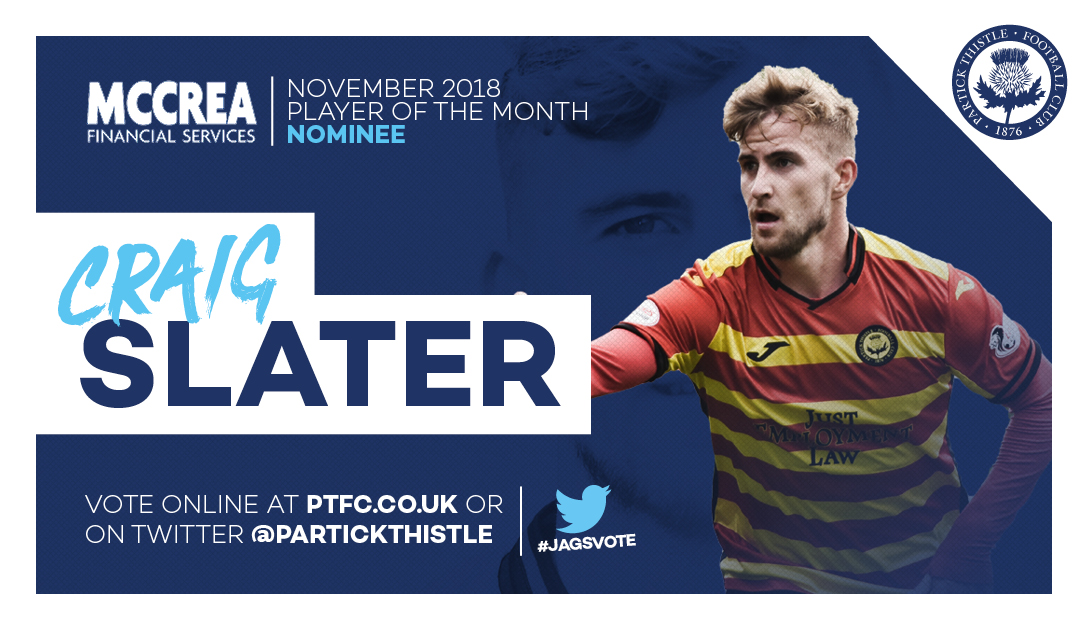 Vote for Craig on Twitter
Blair Spittal
In a month where performance across the team has improved, nowhere has it been more noticeable than in Blair Spittal's game. An outstanding showing against Inverness was only tarnished by his penalty miss but he bounced back with another strong attacking performance against Falkirk. Hopefully, it will be the start of a purple patch for the 22 year old.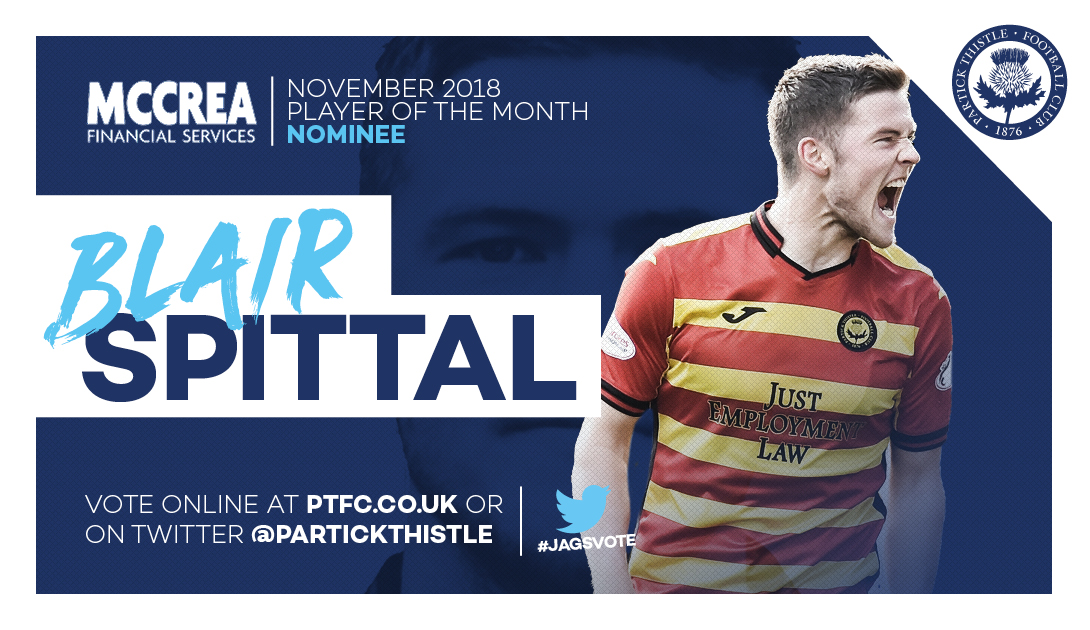 Vote for Blair on Twitter
So, there you have it, your McCrea Financial Services Player of the Month nominees for November. Now it's over to you, so get voting and make sure your favourite gets to take the trophy home.
Don't forget you can follow us on Twitter and Facebook where we run regular competitions with Thistle, as well as providing useful updates and the latest news for getting the most out of your finances.
Voting closes at 1 pm on Friday 30th November. 
McCrea Financial Services – For Every Stage of Life.