McCreas Back Gordon Reid for More Grand Slams
McCrea Financial Services are delighted to confirm that they have undertaken a sponsorship agreement with Wheelchair Tennis Ace Gordon Reid as they continue to work closely across a range of sports in Scotland to help support and promote the efforts of teams and individuals allied by a determination to succeed who are proud to represent Glasgow, Scotland and particularly in Gordon's case, Great Britain in the forthcoming Paralympic games.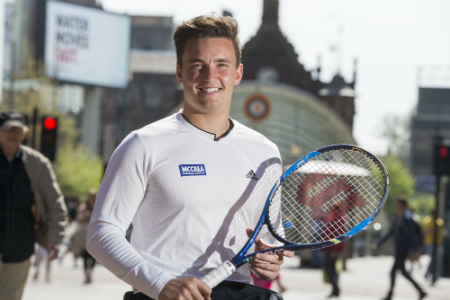 McCreas have been working with tennis for a number of years sponsoring local tennis clubs and tournaments as well as providing charitable support for the Elena Baltacha Foundation with colleagues of the West End Tennis tournament in Glasgow.  After a very enjoyable period sponsoring Colin Fleming and with close links to the Tennis academy development based at the University of Stirling, Douglas McCrea felt that Gordon would be a great ambassador for us.  He said "I've been extremely impressed with the way Gordon has dealt with the challenges his illness presented and hope that by offering sponsorship support that we can help him further his career and, of course, win more grand slams"!
"As an elite athlete who chooses to focus on his ability and not his disability, success is the payoff for Gordon with the ABN AMRO singles win soon after the Australian open this year". 
Gordon added "I am delighted to be working with McCrea Financial Services and am very grateful for their support.  2016 has already been a brilliant year for me beginning with winning the Australian Open singles in January and now looking ahead to the French open.  Securing this partnership with McCreas is the icing on the cake. 
This is an exciting year for me as I prepare for the Rio Paralympic Games and the addition of this valuable sponsorship support will enhance my training and enable me to be best prepared both in the lead up to and during the Rio Games.
Beyond 2016, I hope to be able to grow my partnership with the team at McCreas as I focus on the next four year cycle into Tokyo 2020.  I am proud to be representing a company whose roots are firmly planted in the city I live in and look forward to a long and prosperous relationship."
To follow Gordon's progress in his forthcoming tournaments you can follow us on twitter and facebook where we will be keeping our followers up to date.
More about Gordon:
Gordon Reid was born in Alexandria, Scotland on the 2nd October 1991 and until he reached the age of 14, was a fit and keen tennis player. However, in 2005, Gordon was tragically struck down by a rare condition called Transverse Myelitis, which attacks the spinal cord and left Gordon paralysed from the waist down.
A tough and determined young man, Gordon bounced back and started playing the game he loved, only this time, in a wheelchair, and only two years after contracting this illness, he proudly wore the GB shirt at his first Paralympic Games in Beijing.
As a junior on the world wheelchair tennis circuit, Gordon was ranked number 1 and won repeated Junior World Masters titles. He has represented GB at the Invacare World Team Cup for the past 7 years, winning one junior title, and being a pivotal team member in gaining promotion to the World Group 1 and later assisting the team finish a record breaking 5th in the table.  Gordon's continued hard work and dedication was rewarded with his selection to compete for his country again, only this time, at the London 2012 Paralympic Games, where he reached the quarter finals of both the singles and doubles events.
Major Achievements 
Undefeated as member of the GB junior team who won World Team Cup in 2007
Junior World Number 1: 2009
Represented Paralympics GB in Beijing 2008 Paralympics at age 16
Reached quarter finals of singles and doubles at London 2012 Paralympic Games
Doubles Masters champion 2013
2013 doubles finalist at Roland Garros
Became first British men's player to win Super Series singles title at Sydney International
2014 doubles finalist at Australian Open
2015 Roland Garros Doubles Winner – First Doubles Grand Slam
2015 Wimbledon Doubles Runner up
2015 US Open Doubles Winner
2015 November – gained World No. 1 Doubles Ranking
2016 singles winner at Australian Open – First Singles Grand Slam