McCreas Charity Challenge Update
It has been an extremely busy time for many at McCrea Financial Services outside office hours, as they are preparing for several fundraising challenges to which they have dedicated themselves! We aim to raise as much money for our nominated charity this year, Action for Children Scotland.
Head of Marketing Elaine Hamilton, and Director, Jonathon Campbell recently completed the London Marathon, on 22nd April (the hottest day on record!)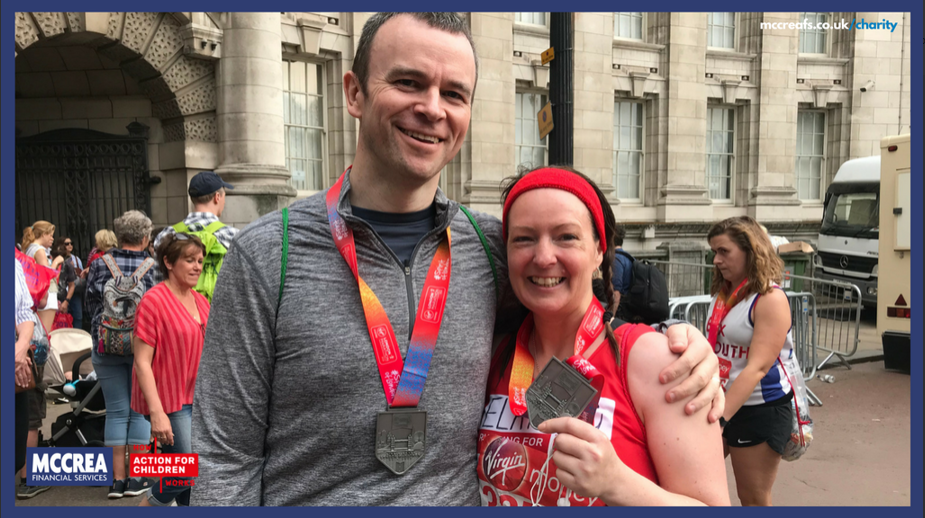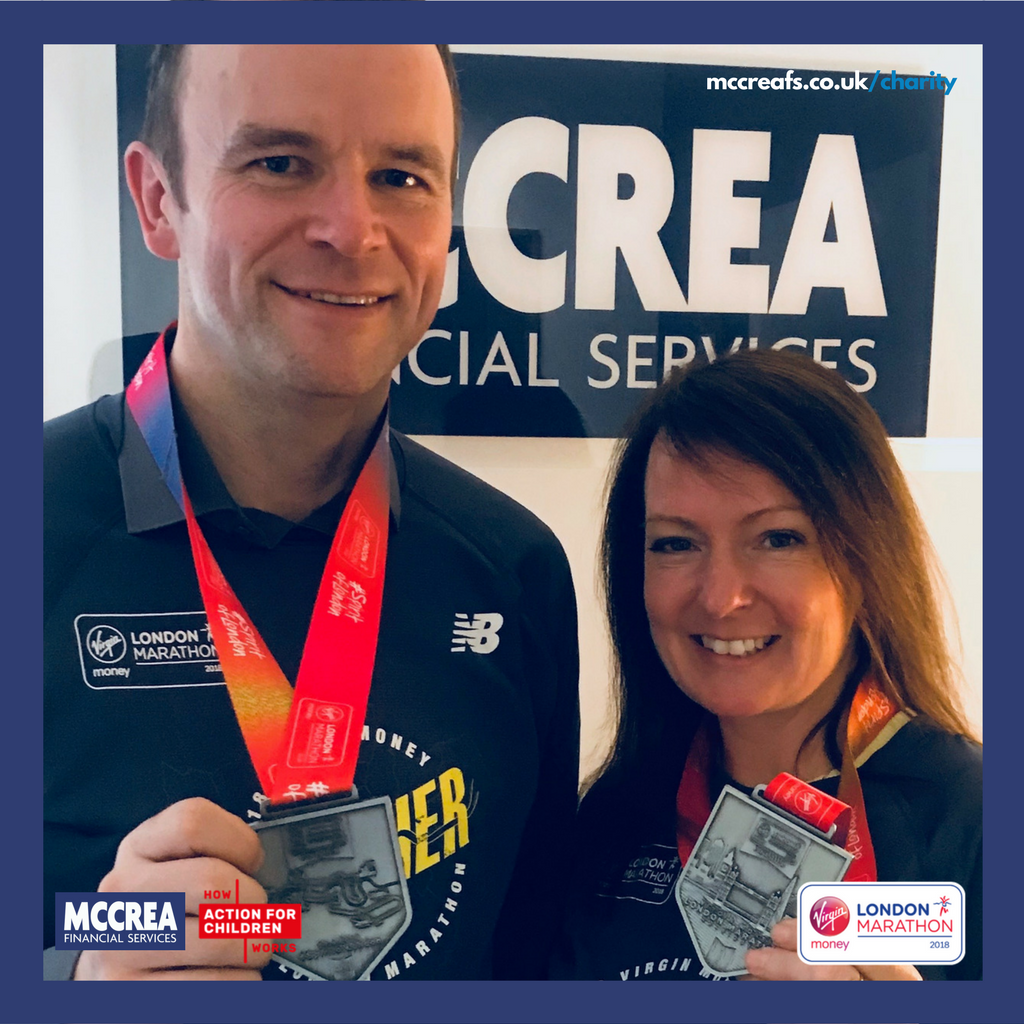 Elaine and Jonathan proudly smiling for the camera with their medals! 

Jonathan completed his race with a final time of four hours and 49 minutes, despite having an injury, whilst Elaine crossed the finish line an hour or so later!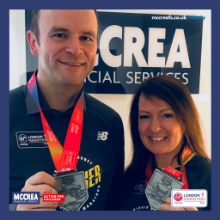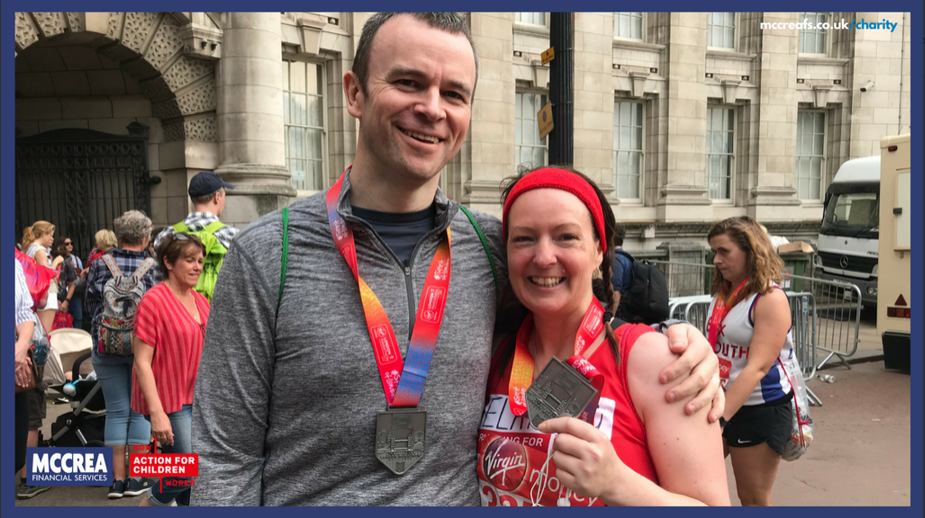 Action for Children organised food, showers and a massage for their marathon participants on the day, which was greatly appreciated by Elaine and Jonathan.
Here's what Jonathan had to say about his experience:
"Prior to the event, I was more nervous than usual, due to the forecasted hot weather, a calf injury and lack of training. Nevertheless, I was determined to finish it and didn't set myself any time expectations. The atmosphere upon arrival was great, and albeit very hot, it was a beautiful day.
To start with, I got over the line shortly after 10 am and felt ok for first few miles. Luckily, the calf was not causing any issues and the pace felt pretty good.
After about 6 miles, (very early on) my legs began to hurt and cramp up slightly – I knew then that it would be a long day. I had to adopt a run/walk strategy, however, the crowd were incredible and kept me going OK.
Upon finishing, my legs were terribly sore, however, I had no long-term damage, or injury concerns - a bonus! What a relief it was to get over the line, and I was delighted to finish to support Action for Children Scotland.
 It was great to see Elaine at the end and I was thrilled that she enjoyed it. I hope to give it another go in the future, with the benefit of a decent run of training ahead of the event."
 Here's what Elaine had to say about her experience:
"I loved pretty much every moment of the London Marathon from start to finish. The journey began down to London on the Friday, where I stayed with some close friends who put me in the right frame of mind, which was great as I was really quite anxious and worried. Training for the marathon had not been easy, so much bad weather and some niggles on the injury front meant that my longest run was 17 miles in the end. 
I stayed in a hotel the night before and was delighted to meet up with a couple of other marathon runners during breakfast, so we all travelled together to the start in Greenwich. I had a pile of messages wishing me luck and so many people tracking me which made me feel determined to do well.  
Conditions were so hot, and I'd never seen so many runners lining up in my life – I was a long way back from the start line and eventually crossed at 10.44am (official start was 10 am) but the atmosphere and camaraderie was fantastic, and the time passed quickly.
I really paced myself slowly – for me, it was all about finishing and I wasn't remotely concerned with timings – it was my first marathon and I wanted to take it all in.  I managed really well for the first 10 miles, did everything you're advised to do given the conditions and was so excited when I ran past the cutty sark.  However, I hit the wall at 10 miles – I felt hot, sore, tired and a bit dizzy at that point – I really couldn't comprehend doing another 16.2 miles in that heat!
I don't remember anything much between 10 and 13 miles but coming around a corner and suddenly being at tower bridge was one of the most incredible feelings I've ever had.  At that point my spirits lifted considerably, I felt good, and having made it half-way, mentally I knew I'd complete it.
From then on in, I loved every minute, the crowds, the parties everywhere, all of the other runners, the sights and sounds of London - everything that makes it one of the best marathons in the world.  From mile 23 to the finish I couldn't stop grinning, cried my eyes out at the finish when my daughter, who'd been tracking and messaging throughout, 'facetimed' me to say congratulations. and I enjoyed receiving my medal more than I thought possible.
Jonathan (who finished somewhat earlier than me), met me at the end of the mall for our celebratory photo – great to share the experience with my fellow workmate and I was so grateful for the effort he made on very tired legs!
What a day, what an amazing experience and very happy to report that whilst I loved it, I won't be doing another one.  I've signed up for the Glasgow half-Marathon at the end of September – I think that's much more my distance. 😊
Thank you to everyone who has sponsored us on behalf of Action for Children, we are very grateful for the support and delighted to help the charity this year.  Their support in the build-up, during and after the marathon was invaluable and made every moment (apart from miles 10-13) worthwhile!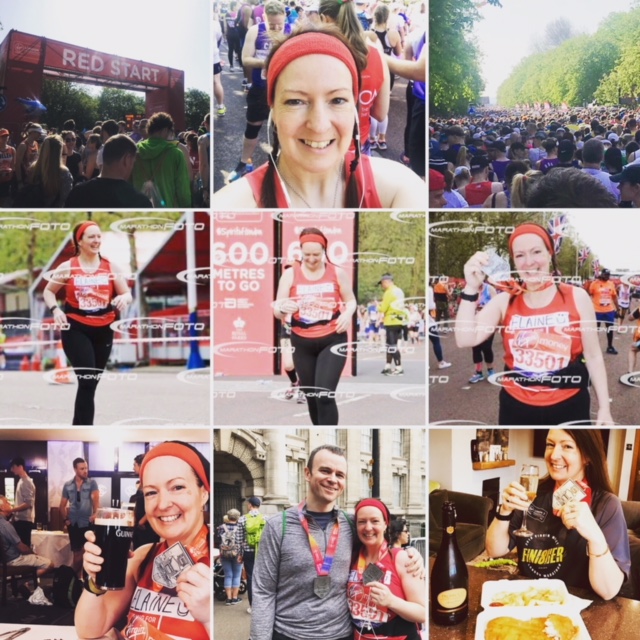 On behalf of everyone at McCreas and Action for Children Scotland, we thank you for your support and look forward to what our next Fundraising Challenges have in store.
Next up on, our 2018 Fundraising Challenge agenda:
GOLF DAY - 17 MAY                               
PARAGLIDING FLYING FEVER – 31 MAY (TENTATIVE DATE)
ROB ROY WAY – 4- 8 JUNE
3 PEAKS CHALLENGE – 15- 17 JUNE
CHARITY RACE NIGHT – 22 JUNE
AUTUMN EVENTS' DETAILS TO FOLLOW
Don't forget we will be accepting donations throughout the year, and if you have been inspired by their efforts, you can sponsor Elaine and Jonathan here. All donations will go to our charity partner, Action for Children Scotland.
For more information on our Charity Challenges and events, you can follow us on Twitter @McCreafs and Facebook.