McCreas' Charity Golf Day for British Heart Foundation
Another year, another charity golf day and more fantastic weather conditions for the 10th annual Charity Golf Day.
We took our annual charity golf day to Turnberry for the first time in 2018 and were so impressed by the golf team and the facilities that we decided to return for 2019.
As with 2018, we were very fortunate to have the support of many individuals and companies buying a team for the event which allowed us to put out 19 teams on the excellent Robert The Bruce Course. 
The format was a shotgun start Texas scramble and those of us in the clubhouse were able to track the play with the help of the golf genius app downloaded for everyone on the course to use!   This ensured a decent amount of  healthy competition, particularly between the McCreas staff as it turned out (naming no names Doug Hall and Jonathan Campbell...)! 
There was an opportunity to win a top of the range Range Rover Evoque thanks to our friends at Pike + Bambridge for a hole in one on the second hole par 3 but it wasn't to be this year for any of our guests.  
Viewing how their fellow teams were doing was closed off after 15 holes however so that we could ensure a few surprises during the prize-giving.
Well done to Royal London for swooping in to take first place and a mention of course to the runners up who at times led the field, Vanilla Square.  It was Partick Thistle Legend (now Ayr United) Footballer Kris Doolan who won the longest drive and nearest the pin went to Steven King from Greenbelt.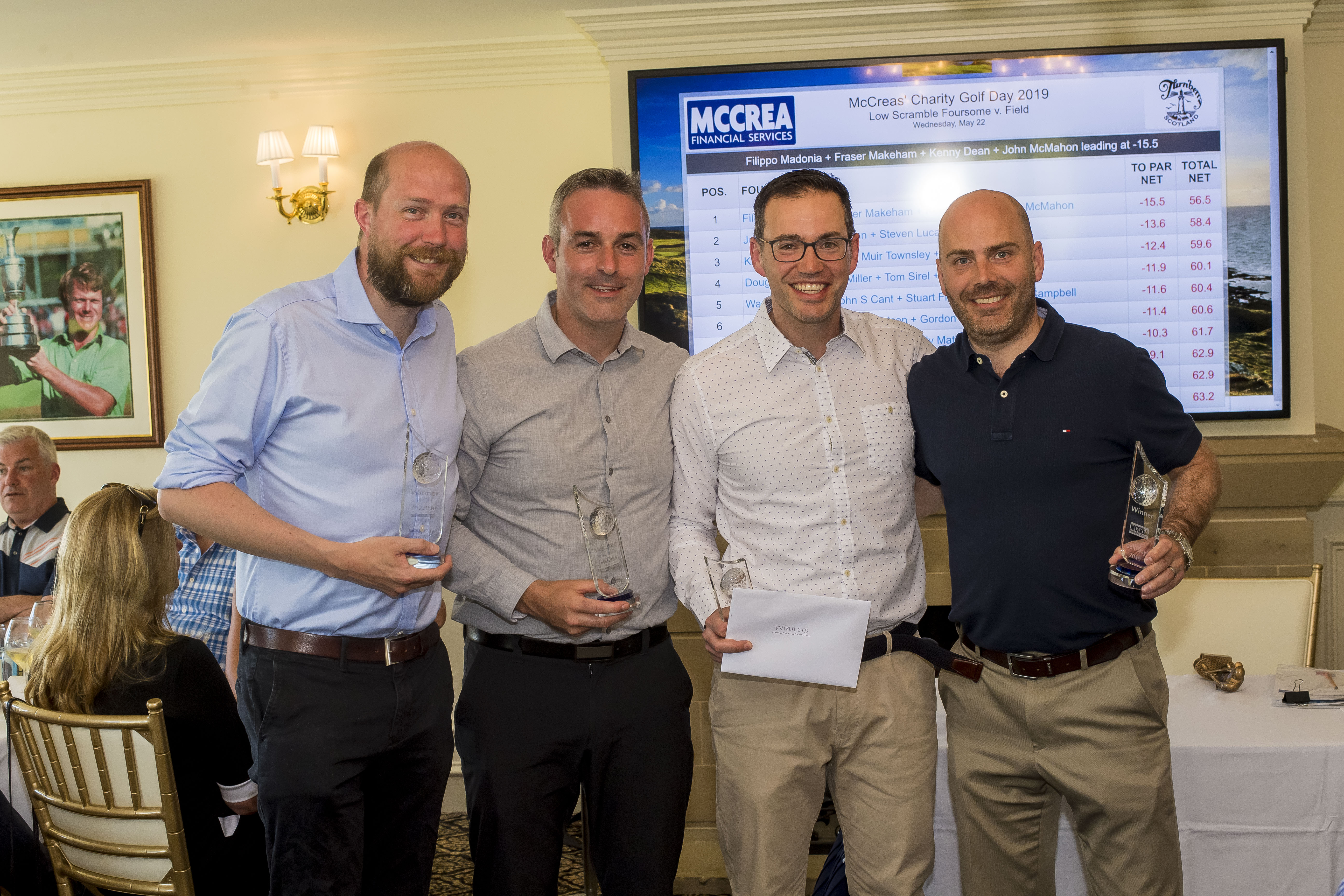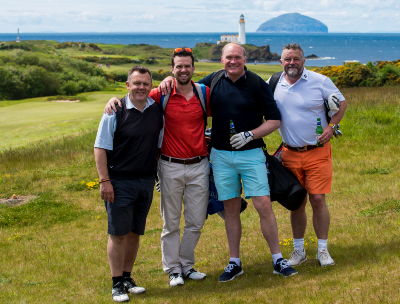 Dave Woolard was one of ten golfers to Beat the Pro this year and won an overnight stay at the Kilberry Inn in Argyle from the draw.  Another great place to visit and somewhere the whole team at McCreas are angling to stay at! 
Our thanks goes to each and every player who contributed either by buying a team, entering Beat the Pro, hitting their ball into a penalty bunker or entering the raffle as well as our wonderful prize contributors including Turnberry, the SSE Hydro, The Radisson Royal Mile in Edinburgh, Cameron House and the Ox and Finch Restaurant in Glasgow.
With the help of everyone involved, we've raised another six thousand pounds this year for British Heart Foundation Scotland and already have bookings for the golf day next year.  Watch this space for details of the date, time and location and please contact us if you would like to consider entering a team.  Our fundraising for British Heart Foundation is ongoing for the 2019 and any donations can be made here should you wish to do so.  They, (and we) are grateful for every penny raised to help with their fantastic work.