McCreas Directors complete their lockdown challenges for charity.
Friday 8th May was something of a long day for one of our directors who chose to commemorate the 75th anniversary of VE day in a rather different way to many!  
Jonathan Campbell, Pensions and Retirement planning specialist at McCrea Financial Services set himself the challenge of completing an Ironman.  Only with the current lockdown restrictions,  this meant he needed to complete it with the equipment he has in his garage!
This included a 10 km row (replacing swimming), a 180 km bike ride on his turbo trainer and a full length marathon - 26.2 miles on the treadmill.
With a start at 7am (whilst many of us were still in the land of nod) he got things very quickly underway with the 10km row in just 47 minutes!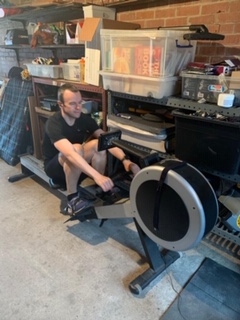 Onto the bike and there were some worrying technical hitches getting the equipment to measure the distances linked up with the turbo trainer which was quite stressful so early on.  However this was resolved fairly quickly and the cycle was underway.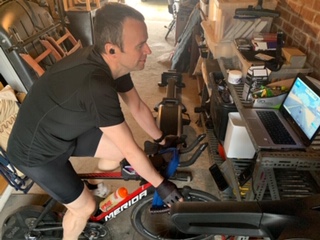 5 hours and 29 minutes later it was all done and Jonathan highlighted "the bike was tough but fine – trying to stay comfortable for that length of time was an issue but legs were OK".
Finally it was on to the last stage of the challenge, the marathon run on the treadmill.  Whilst there is no doubt the 180 km cycle would have finished many, Jonathan told us " the run was good for the first half but then legs turned to lead.  This meant the second half was tough mentally not helped by some stomach issues from all the gels which made it particularly uncomfortable but I completed it in 4 hours and 27 minutes".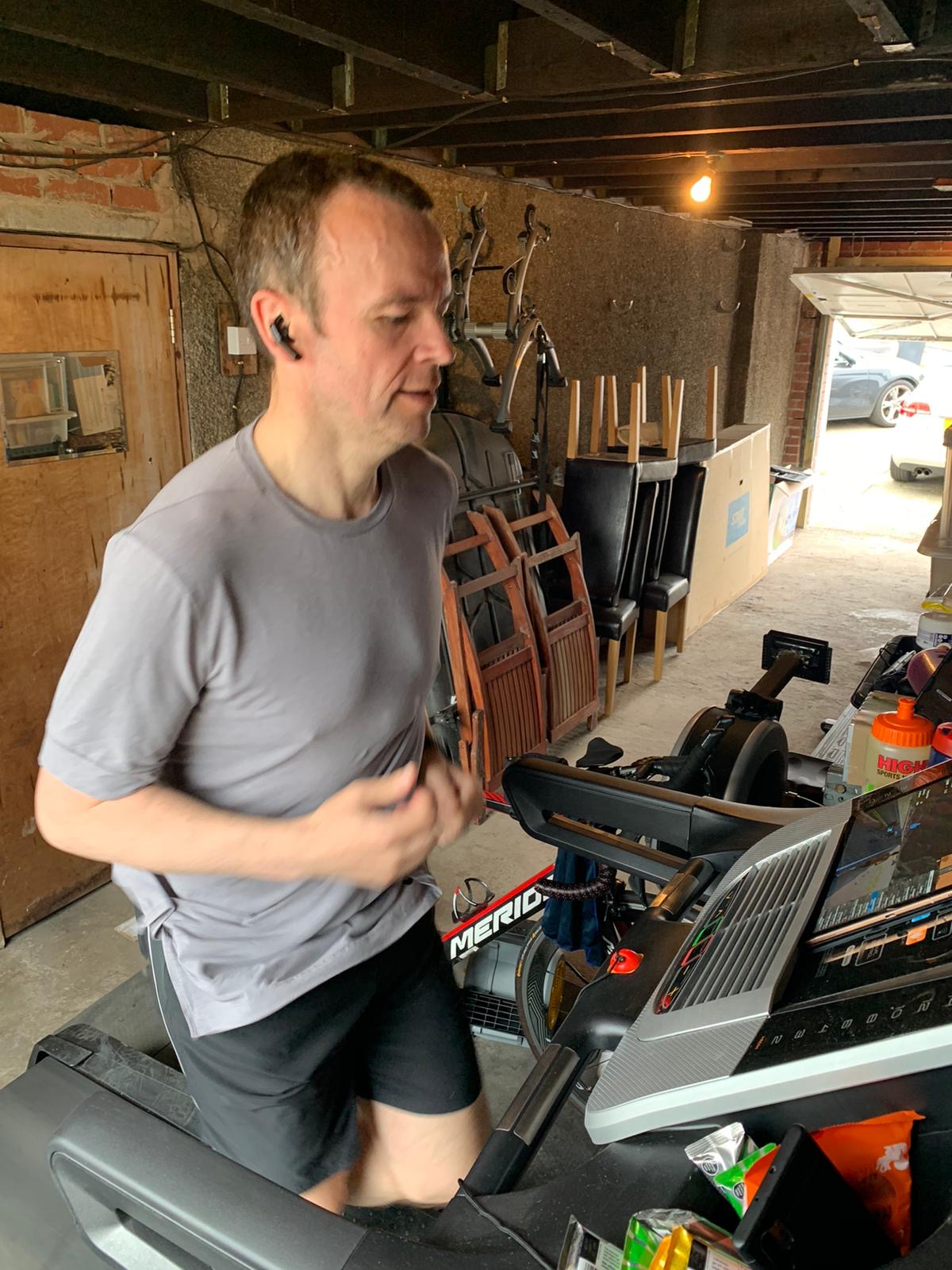 Jonathan had huge support from his family, his wife, Leah coordinating all the snacks, drinks and social media updates whilst sons Blair and Oliver helped their Dad by joining him from time to time on the other equipment to keep him going.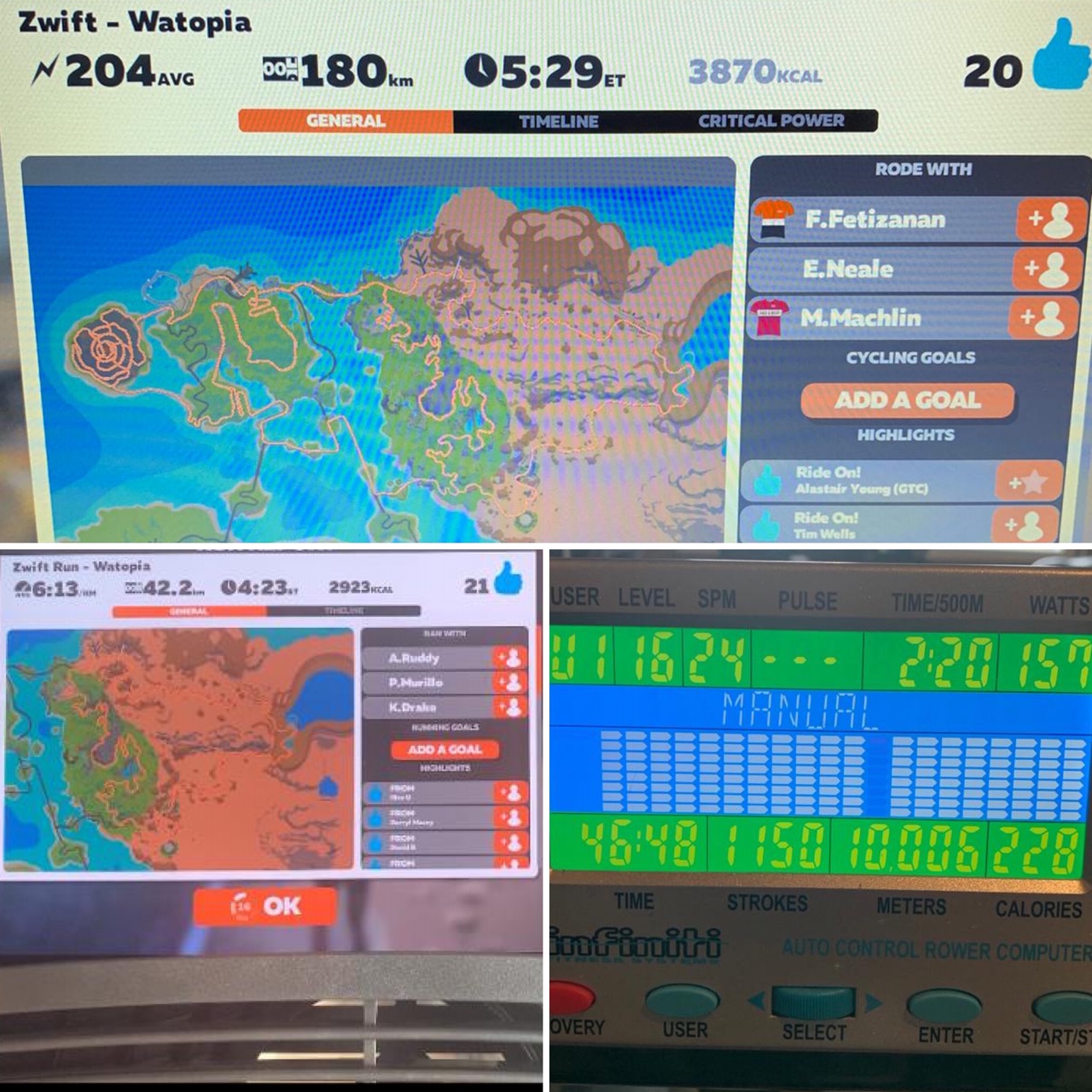 More than anything Jonathan stated he feels proud of himself for being able to complete the challenge but has to say is relieved it's all over. 
In the spirit of community support we've read so much about recently, it was a real surprise for Jonathan to find all his neighbours waiting in the street to applaud him when he finally left the garage after a very arduous 10 hours and 43 minutes undertaking the challenge. 
Meanwhile, entering the Etape Caledonia, a road cycle event starting and finishing in Pitlochry, was something pushing one of our directors Elaine Hamilton, well outside her comfort zone, but never one to shy away from a challenge, she signed up anyway!
However, despite the event being cancelled, and her new road bike being stuck at the manufacturers in Italy, the training was well underway (on her mountain bike) so when the organisers came up with a 'lockdown' alternative, Elaine duly entered.
The aim was to cycle the same distance as the challenge, 140km, but over the month of May.  However, given what Jonathan was doing, this felt just a little too easy so she decided to complete the distance to coincide with the original date of the event, Sunday 17th May.
We're delighted to report that Elaine duly did so on Saturday 16th (and in fact went just a little over at 145km) all on the mountain bike.  Ironically, as she was completing her last few kilometres of the challenge, she received a voicemail to say that the road bike she had ordered was now in the shop and ready to test!  You couldn't make it up 🙄😂 
The donations are still coming in and if you've been inspired by all that Jonathan and Elaine have achieved and are able to donate anything at all for the NHS Charities together, SAMH (Scottish Association of Mental Health) and Marie- Curie Cancer Care, they would be extremely grateful; you can do so here!