McCreas Team completes Tough Mudder Half!
Yesterday saw four members of the McCrea Financial Services team make their way down to Drumlanrig Castle in Dumfries & Galloway for this years first Tough Mudder Half event to take place in Scotland.
Gillian Toner, Doug Hall, Lesley McGinty and Stacey Russell all took part in their first Tough Mudder having been encouraged by one of last years participants Jonathan Campbell raising money for charity including the two nominated charities for McCreas this year, Beatson Cancer Charity and Venture Trust.  
With their team t-shirts looking pristine beforehand and lots of training put in by Gillian, Lesley and Stacey in the weeks before the event (Doug was relying mostly on any last residues of fitness from his extensive Warriors training last year...) the team were all set for a great day out and chance to test their metal!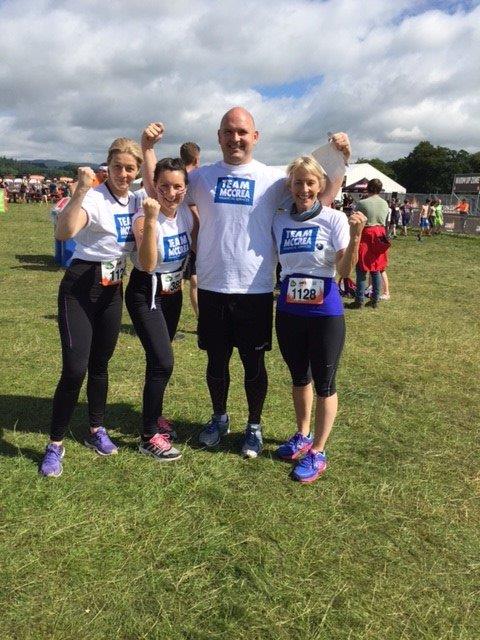 Highlights included the human chain formed to get Lesley over the Wall (Everest 2) with a stranger being dangled by his ankles down the wall so that the team could grab Lesley to drag her over, the fact that Doug got to the top of the wall on his first attempt which means his son now thinks he's a ninja and the Block Ness Monster (jury's out for the rest of us).
Less enjoyable for everyone was the 'birth canal' & devils beard.  Despite this, the camaraderie on the day and fantastic teamwork by everyone at the event means that we've already got four willing volunteers for the full Tough Mudder event next year.  At least next time the willing participants will all know what training they need to put in and coach Campbell should be available for selection again!  In the meantime, the effort put in by the team has helped push the funds raised for charity even further and we've still got six months to go!   If you'd like to sponsor any of the McCreas team of four in recognition of their efforts you can do so at our Virgin Money Giving page here.   
My fundraising page address:

http://uk.virginmoneygiving.com/McCreaFS 
My fundraising page address: