McCreas to continue support for Hillhead Jordanhill Rugby Club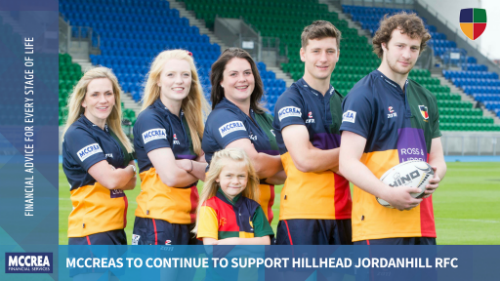 McCrea Financial Services is pleased to reveal that we will continue to sponsor Hillhead Jordanhill Rugby Club for season 2017-18.
This renewed partnership will see us support every part of the club, including men's and women's teams, as well as Hillhead Jordanhill's highly regarded minis programme.
We have been a strong supporter of sport across the city at all levels over the last 15 years, and there has rarely been a more exciting time to be involved in rugby in the west of Scotland.
In particular, the Hillhead Jordanhill Women have enjoyed tremendous success in recent years, most recently winning the Scottish Cup earlier in 2017.  National team player Louise McMillan has also joined the BT Rugby Academy programme in the last 12 months, reflecting the club's commitment to developing the sport. Jade Konkel is also a former Hills star, and was the first person to join the academy programme.
The club has a strong minis section, with more than 70 children taking part every Sunday morning at Hughenden.
And the men have pedigree, too! Doug Hall, now a financial adviser with McCreas, played for Hillhead Jordanhill when he moved to Glasgow to study at Strathclyde University; it was from there that he signed for Glasgow Warriors, going on to have a fantastic professional career.
McCreas are one of the Warriors' principal sponsors, and they intend to use some of the rights and benefits of that partnership to further support Hills in the season ahead.
Hillhead Jordanhill Rugby Club president Andy Scott commented: "I am delighted we are renewing our ongoing partnership with McCreas who have been a great supporter of HJRFC. Everyone at the club is looking forward to developing our relationship further through imaginative activity.
Our managing director Douglas McCrea revealed the personal connection which drives the company's desire to support Hillhead Jordanhill.
He said: "I went to both Hillhead Primary and Jordanhill Secondary and played rugby very badly up to S3 when my lack of ability encouraged me to play football instead!
"As our local rugby club, we are delighted to continue our long-standing connection with Hills. The enthusiasm we see at the mini rugby with the kids is fantastic and Hills women's team are without a doubt one of the top teams in Scotland. This comes at a time when Scotland's Women are having their most successful season to date."
We have been providing professional financial planning advice and assistance to individuals, businesses and charities since we were formed in 1999.
Based in Glasgow, but serving the whole of the UK, as well as clients abroad, we pride ourselves on a professional and friendly service.
As part of a commitment to the city where it all started, we also sponsor Partick Thistle and Glasgow Warriors, as well as supporting other major sports and events, including Wimbledon & US Open Wheelchair Doubles champion Gordon Reid, the Scottish Seniors Golfing Society, and the Scottish Women in Sport Awards.