Michael Macadam achieves Chartered Status as a Chartered Financial Planner!
We are delighted to announce that McCrea adviser Michael Macadam has passed his AF6 exam and therefore 
gained accreditation from the Chartered Insurance Institute (CII) as a Chartered Financial Planner!
At McCrea we are committed to investing in the future of our team, so we're delighted to be celebrating with Michael as he gains accreditation from the Chartered Insurance Institute (CII) as a Chartered Financial Planner.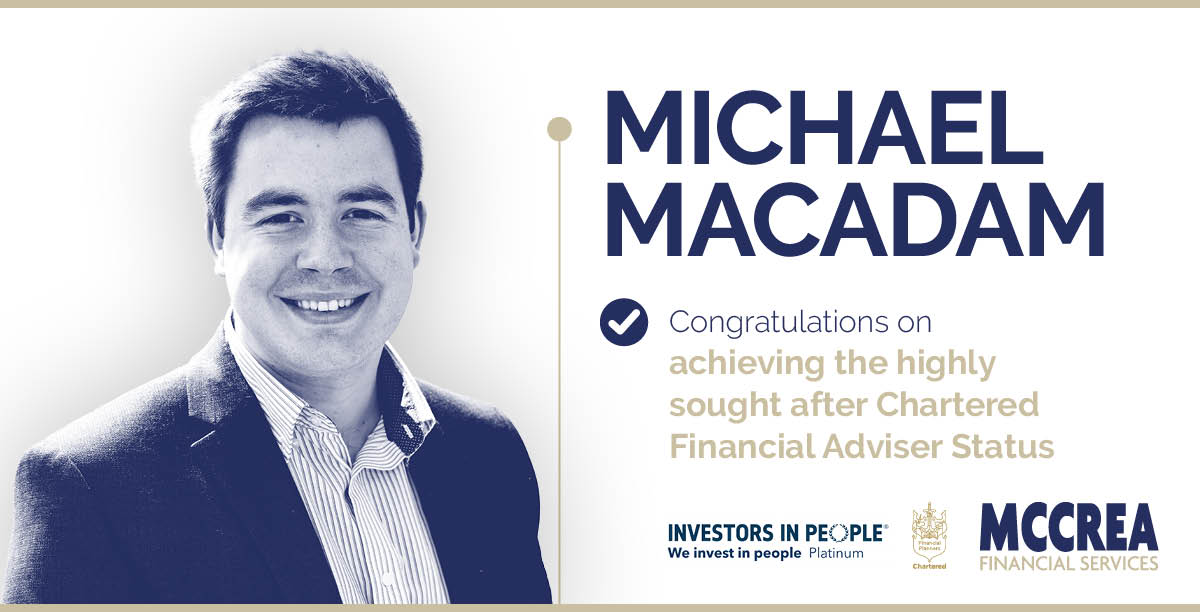 The CII confer Chartered status to 'individual professionals and firms who display eminence in their field,' with excellent standards of qualification, ethics, business practice and professional development. Michael joins McCrea colleagues Jimmy Mitchell, Jonathan Campbell, Chris Bain and Graeme Melrose in being granted Chartered status. 
''Having already achieved the Diploma in Regulated Financial Planning, I have been working towards Chartered status in recent years, with a big push in the last 12 months having sat 6 exams on top of working day-to-day at McCrea,'' says Michael. 
''I believe having Chartered status provides assurance to clients that they are working with someone who is dedicated, professional and knowledgeable. I am delighted to get over the line having sat a total of 14 exams to get to this point, and very much look forward to working more with our great clients in the future.''
''It's great to see Michael become part of the Chartered team at McCrea.'' Managing Director Douglas McCrea said. ''Having joined us in 2021, Michael has been a great fit for our team of advisers, and will be an important part in continuing to look after our clients.'' 
On a separate note, a huge congratulations to our paraplanner Zahra Sheikh, who recently passed the R06 Financial Planning Practice, meaning that she was awarded the CII Level 4 Diploma in Financial Planning!   
As an independent company, clients of McCrea can always be assured that our highly qualified advisers are giving expert, impartial advice. With a free no-obligation chat to start with, why not get in touch for a friendly chat to see how you could benefit from working with our unbeatable team?