Mortgage Market News
We wanted to provide an update on the present activity in the mortgage market, much of which you may have seen or heard via news and social media channels over the past few weeks, and in particular following the UK government's mini budget.

 
It only seems like yesterday when it was possible to get a mortgage for less than 1%, but those days now seem a distant memory. Each 1% increase on someone's mortgage rate adds £2,000 a year or £167 a month in repayments to a £200,000 mortgage.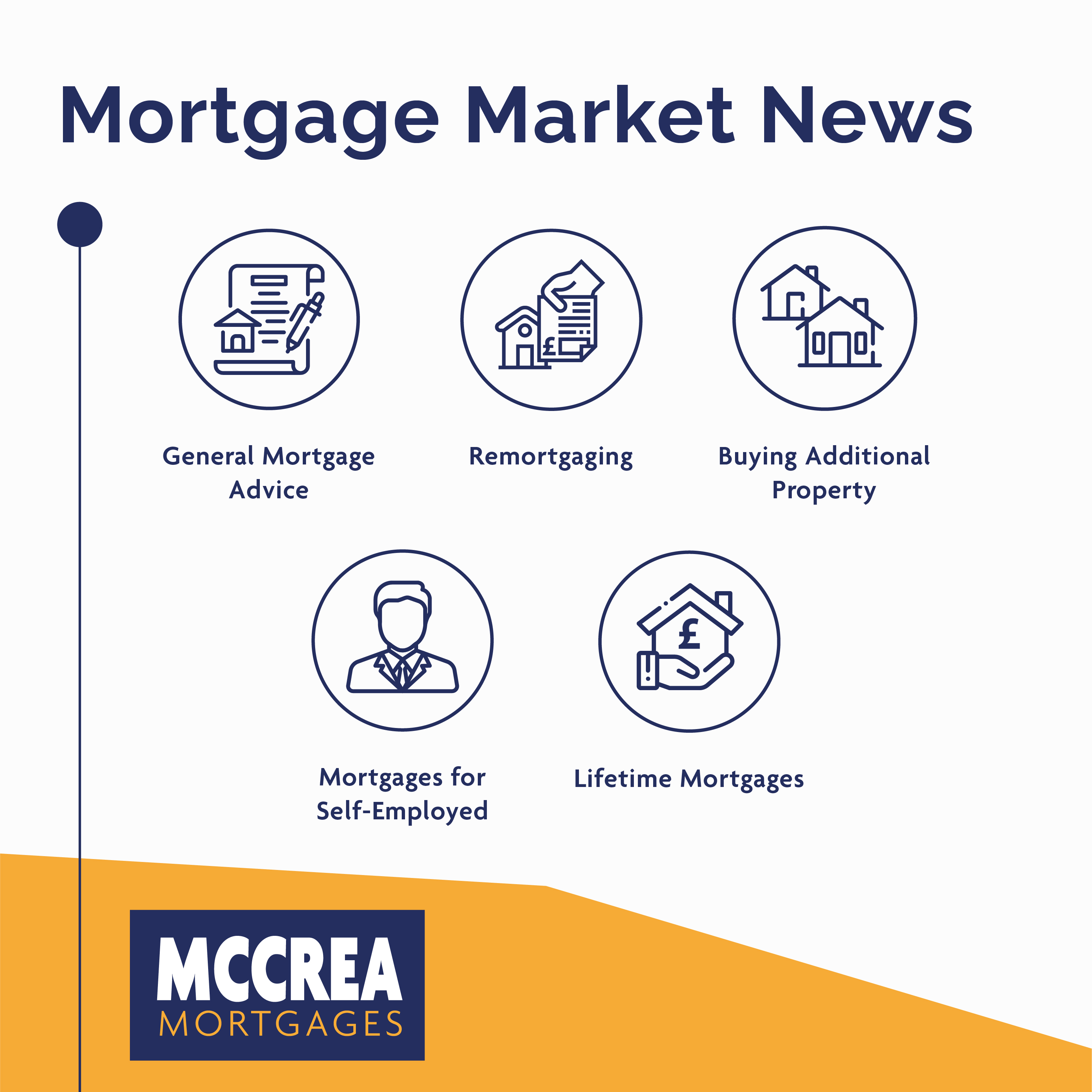 If mortgage rates increase by 4%, that's a staggering £8,004 a year. No wonder homeowners are concerned, especially with other costs increasing with recent sharp price increases due to inflation rising.  
At McCrea Mortgages we are focusing on a number of areas to do everything we can to help both our existing clients as well as those of you considering making a purchase or changes to your existing mortgage. If your fixed rate is due to expire in the next six months, we would encourage you to speak to us now to look to reserve a rate as soon as possible.  As independent specialist mortgage brokers, we have access to a wide range of lenders.
You have an agreement in principle
If you already have an agreement in principle agreed with us and are searching for a property, we appreciate recent rises can create uncertainly and you may be concerned about the impact the rises have on the agreement in principle you have in place.  To ensure you are in the best possible position and to clarify what to do next, it would be best to have a quick call or email to catch up, confirm we have your up-to-date information and talk you through what we can do to provide any help or assurance whilst you are looking for a property.
You are due to remortgage in the next six months
As you may know, if you do not do anything before your current fixed rate expires, your mortgage will revert to your lenders standard variable rate (SVR) which will be higher than the rate you are on currently and likely be a good bit higher than other rates available to you elsewhere. With this in mind, it makes sense for us to work with you now to find the deal that best suits your circumstances and get this rate reserved, ready for when your current fixed rate ends. Rates with most lenders can be reserved up to six months in advance of your current mortgage agreement finishing. This could mean a considerable saving for you.
You are considering or have a Buy to Let
Our mortgage specialist and financial advisers can also review your Buy to Let mortgage and can advise on the impact of interest rate rises, the tax implications of a Buy to Let and also discuss any alternative options that are available to you.
Lifetime Mortgage Equity Release
If you are currently exploring looking at an equity release mortgage, there are a number of options available. Please feel free to contact us to talk you through your options to ensure you make the right decision for you and your family.
We appreciate that not everyone will be in a position to make immediate changes as their existing fixed rate may still have a year or two to run. The McCrea approach to mortgages is they are an important part of your overall financial jigsaw and we can help you to factor in how the mortgage fits into the bigger picture.
While the headlines can be worrying and peoples' costs, whether mortgages or day to day purchases increase, it's important to have top quality professional financial advice at hand to discuss all of your options and give you clear guidance through a challenging period. We would hope that once inflation is under control, we will see the mortgage market stabilise and interest rates doing the same. If you would like to chat through your mortgage and/or longer-term financial plans, please give us a call for an initial chat at 0141 572 1340 or email us today.