Our Glasgow Warriors Junior Journalist Interviews
McCrea Financial Services were delighted to provide the chance for two children to win the chance to attend a real press conference and then interview two Glasgow Warriors players recently.  They did a fantastic job and we have the chance here to share their finished articles for publication.
Well done to Christopher and Ross for a fantastic effort!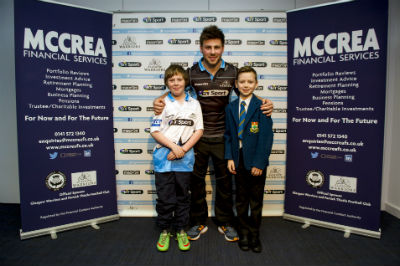 By Christopher Collins, Age 10 from the High School of Glasgow
I am a Glasgow Warriors season ticket holder and a few weeks ago I had the chance to enter a competition that gave two children the chance to be a junior sports journalist for the afternoon. To win, I had to think of a good question to ask one of the players at a press conference. I wanted to know which one of the Warriors was the best dancer!
 When my dad told me that I had won the competition I was very excited. I was getting the chance to meet scrum half Ali Price and Australian lock forward Greg Peterson. The day before the press conference I sat down and wrote out a list of questions for the two players.
 One of my favourite players is Finn Russell. He likes to do the 'Russell Shuffle' but which of the Warriors would win a dance off?
 AP: I would say Glenn Bryce. He is similar to Finn. He does the odd shuffle as well. They are very good. Jerry?
GP: I was also going to say Jerry [Yanuyanutawa]. Jerry is very good at what he does but no one likes to see him dance. He does 'The Dougie' (a hip-hop dance).
 This one's for Greg. You used to play American football at college. How does the tackling compare to rugby? Are American footballers just a bit soft, wearing all that padding?
 GP: They are probably a bit psychotic because what they teach you is to put your forehead to their sternum which obviously isn't very smart and you will probably break your neck but I think with the pads and stuff if makes them feel invincible… So they are not very smart but they are moving in the right direction now (like properly treating concussions) which is good.
 This one's for Ally. Well done on your new contract. When I am older I would like to be a professional rugby player and hopefully play at number 10. What advice can you give me?
 AP: Just to work hard. I mean I was in your position and I went and finished school and didn't really know what I was going to do and I have kind of gone through the academies and where I am at now and you have just got to put in the time and your skills on your kicking and your passing if you want to be a 10. So you have just got to work hard and grind it out and I am sure you will get there.
 This one's for Greg. What was it like playing against Scotland and a lot of your Glasgow teammates in the World Cup? Do they tease you (about the result)?
 GP: No, I didn't really know many of them back then so it was all right. I get teased now, but it was good like after the game we all knew of each other and stuff so it was a little bit awkward at the start but then it was all right. I really enjoyed that game. It was a really good contest so it was good fun.
 This one's for Ally. Now that you have signed your new contract, and you are loaded, what are you going to buy?
AP: I might buy a takeaway after the game! I am not loaded (much laughter)! What am I going to buy? I don't know. I might buy my girlfriend a nice present.
Who is the most competitive?
GP: Rob Harley or Chris Fusaro. You don't want to meet them in a game of touch because it is not a game to them.
 Who is the fastest player on your team?
AP: I think it is Lee Jones. Lee Jones or Glen [Bryce]. Hoggie is quite good…most of them, one of them, I don't know. I think Lee Jones got the back three record the other week actually.
 Who goes to the gym the most in your team?
AP: Kevin Bryce. He is quite strong.
 I had a great time interviewing Ali and Greg who both answered the questions really well. They were very funny and Greg is so tall he had to kneel down to fit in the photograph! I hope you enjoyed my interview as much as I did.
By Ross Graham Age 11 from Hillhead Primary School
My winning question was this: Imagine yourself going back in time.  You're just about to run down the tunnel and take part in your favourite ever game.  You're taking the place of your favourite ever player!  The Assistant Coach at Glasgow, Kenny Murray answered this question and said he has dreams of going back to Paris, standing in Gavin Hastings shoes and scoring 'that' try!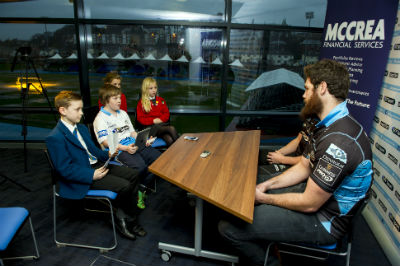 We had a fun day at Scotstoun, where me and my fellow journalist, Christopher, had the chance to ask Greg Peterson and Ali Price some questions about rugby.   It was a great experience!  We held the press conference in a room that overlooked a Scotstoun pitch that was very soggy.  Scotstoun is covered in puddles and it is easy to see why Glasgow were borrowing Kilmarnock's home football stadium, Rugby Park.  We had the chance to have some photos taken with the players after the day and get a couple of signatures from them too.
I began by asking Ali and Greg how they coped, as young players, with taking hits.  Ali said that because he's quite small he avoids contacts by side stepping using his light weight to his advantage.  Looks like he's good at sidestepping questions too!  Greg suggested that getting back up quickly is best, to make sure your team mates and opponents can't see any weakness.
Next, I asked Ali a question I was hoping he couldn't sidestep: having played with both Archie and Finn Russell, who's best?  Nice handling from the scrum half who said that he felt they were both really good and they are both very different:
"Archie is more of a centre, whereas Finn is obviously a 10.  I couldn't compare them, they are both very good at what they do. Archie is still young and coming through and progressing, so I am sure he will be about in the future."
"So Greg, did you ever think about playing for another country other than America?"
"Yeah because I grew up in Australia so my first goal was to play for the Wallabies.  I played for the Australian under 8 school boys and Australian under 20's, so that was my first goal but then I kind of got over it.  In Australia I was sitting behind people and I wasn't going anywhere so I decided to switch teams and play for the States and I would never look back on and I loved the opportunity to play for them and cherish every time I do it."
"What are you enjoying most about playing for America?"
"Just to be able to play for my family. I have multiple generations, they lived in the States, grew up in the States, you know that's where they made their living and being able to refer back to my heritage and my family is you know very touching and very humble."
Greg's dad was a handy 'football' player at college level in the states.  "When you were young did you play American Football like your Dad and did you ever consider playing American Football instead of rugby."
"Yeah I did, or if I had my time over I would have given it a shot because there is a very small window for that but I am pretty happy with the path I have chosen.  I played rugby when I was young and yeah so I am pretty happy with the opportunity that I have been given here at the Warriors and all the other clubs I have played at."
Since we were talking about countries, my next question was for Ali, who was born down south in England: "Would you rather play for Scotland or England?"
"Scotland 100%!  I made the decision a few years ago now to follow my Mum's roots and that was part of the reason I came up here was to represent Scotland."
My next question was for both of Ali and Greg.  I wanted to know if either of them would rather play in a different position, given the chance.  Greg was staying as a lock, but Ali, although happy at 9, was quite fond of the idea of the amount of space you get playing at full back, with a lot of open field to run in: "I wouldn't mind a shot of that."
Then I asked Greg; "Throughout your career, have you enjoyed playing for so many teams?"
"Yeah it's a great way to see the heritage behind each team, the tradition and play with many different players but in the same sense it is the side or rugby that we don't like is a lot of players come and go and stuff.  You get obviously being in a team for an entire year you spend day in and day out with each other, you get quite close to each other and you see some players go off somewhere else.  You know it sucks to see that happening but it's the game but yeah I enjoyed my time at the Waratahs, I enjoyed my time at the Tigers, and I'm really enjoying my time at the Warriors right now."
And to finish off, I thought I would see if Ali's handling skills were still as good: "I found out that you are quite keen at scuba diving.  Would you ever try and play rugby whilst scuba diving?" (Check this out, for anyone who doesn't believe me: https://en.wikipedia.org/wiki/Underwater_rugby)
"I think it would be quite hard.  I don't know how you would get a ball to stay under the water, I don't know if it is possible. I don't know I never thought about that but I used to go scuba diving when I was younger, I haven't been for a little while now but I enjoyed it, I don't know about rugby though, I would just look at the fish and stuff."
My time at Scotstoun was fun and I hope to come back soon to see another Warriors match before too long.  I hope you enjoyed my interview.