Our Junior Journalist Winners meet the Warriors!
A few weeks ago, we invited 20 winners of our Junior Journalist competition along to Scotstoun Stadium to meet four Warriors players and pick their brains with questions ranging from useful training tips to which players they would like to team up with on "I'm a Celebrity, Get me Out of Here"!
Oli Kebble, Robbie Nairn, Lee Jones and Mesu Dolokata were all put to the test with some tricky questions thrown in and provided the kids with some great answers and advice as well as a good few giggles!
The team here have put a couple of excellent videos together to give you a flavour of their day!
We've also got the full run down of questions and answers from our competition winners here:
Q 1: Archie Little, age 10: What would your top tips be for someone my age who wants to become a professional rugby player? 
Robbie Nairn: It's just about having fun. Don't take it too seriously. I started playing rugby a bit later, but I would say that the best advice I can give you is to just enjoy yourself. Don't worry about what's gonna happen in ten years time. Just enjoy yourself and then if it's going to happen, it will happen.
Lee Jones: So I think the best thing to do, especially when you're young, is do as much sport as you can. If you can play football, gymnastics, tennis. Anything, anything you're interested in, do that. Because when you come to play rugby, and if you want to pursue it at a higher level, all these skills are interchangeable and they make you a better rugby player. So I would say do as many sports as you can. That should help you out!.
Q 2: Eve McTiernan, age 16: Do you feel like the dynamic in training has shifted since Dave Rennie announced his new position with Australia and do you think things will change even more when Danny Wilson steps in? 
Oli Kebble: We are obviously still focusing on finishing the season well and I think we've committed to doing well for Dave before he leaves as well. So from that point of view, I think we are still just focusing on who we've got (to play) next and doing well this season. And with respect to Danny, I mean, none of us have really worked with him,  so I don't know much about him, but I've spoken to him once and we'll see what happens next season!
Q 3: Aidan Thomson, age 10: What would you like to do when you finish playing rugby?
Robbie Nairn: I don't know, actually. Personally, I think I want to join the police or fire service maybe. That's what my mum and dad do. When I was at school, that's what I thought that I was going to do and then my rugby ended up going okay! But I think once my rugby career is over, I'll try and do that because I think there are similarities. You're part of a team, you work with people you get on with. There's a lot in common. So I think that's what I want to do.
Lee Jones: I am part of the Glasgow Warriors band at the moment, so I think if that goes well.... we're going to see how the first gig goes, so far so goo - although we've not actually played any music yet!
Elaine: Who's the lead singer Lee?
Lee Jones: Ryan Wilson, I think he is the only one brave enough to actually stand up at the microphone! But there's a few boys with good voices!
Oli Kebble: I'm not actually sure, I think about it all the time, but maybe run my own pub or something! So i can pour my own drinks!
Mesu Dolokota: I'm trying to finish off my forensics degree, so after that I'll probably head home and also maybe try and join the police.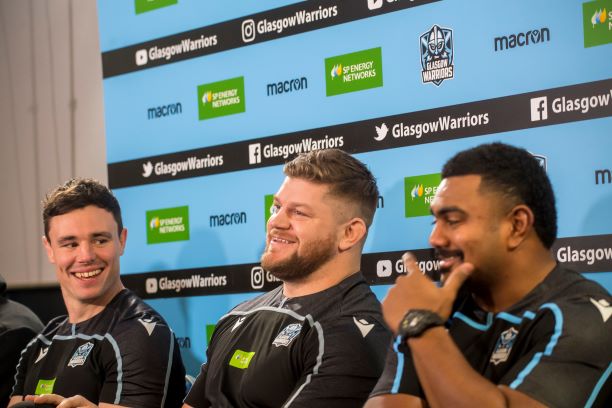 Q 4: Lewis McIlvenna, age 10:  At what age did you realise you were good enough to become a professional rugby player?
Robbie Nairn: I was about 16 maybe. I used to do athletics as well. I used to do some sprinting and things. And I kind of got to the point I was trying to juggle the two too much and my coach at the time basically said would I rather do athletics or rugby? Because you can't do both. And I said I wanted to do rugby because you could actually make a career of it and make a bit of money. So it was then I stopped athletics and focused on my rugby. So I'd say maybe 16, 17.
Lee Jones: For me, it was probably a wee bit later. I always played rugby through school and then I went to university and I was still playing rugby for my local club back home. I didn't sign my contract until I was maybe 22. So I was a wee bit older compared to some of the boys that come straight out of school. But it was something I always wanted to do. So it was always there in the background and I still worked hard while I was at university just to keep it as an option, but I was fortunate enough to for it to come round.
Oli Kebble: So I suppose, like, I never really thought I was gonna be a pro rugby player to be honest. I always really loved the sport at school. But even when I signed my first pro contract back in South Africa,  I really couldn't believe what was happening. And I'm just incredibly grateful. So I think just you never know if it's gonna happen or when it's going to happen, but as long as you love the sport, that's what really matters.
Mesu Dolokota: I guess it's always been an aim. But yeah, I'm just enjoying the rugby. And if it happens, it happens. I just realised before the World Cup Glasgow wanted me to come over so probably last year for me!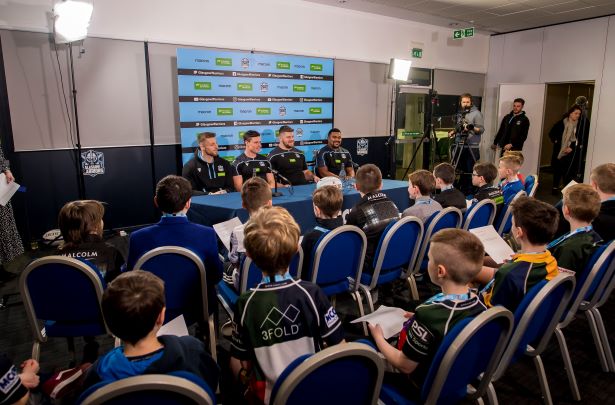 Q 5: Harris McIlvenna, age 8:  How much training do you have to do each week and is this your full time job?
Lee Jones: So, yeah, for us, it's our full time job. Every week can be different. Our week goes around basically when the matches are, whether it's on a Friday or Saturday. Sometimes we play on a Sunday and everything works back from there. So, yeah, lots of rugby, lots of skills, lots of gym. When you've got games week on week, you have to recover as well. So its balance of everything.
Q 6: Fraser Wilson, age 8: Who is the silliest player in the team? 
Mesu Dolokota: That's probably Niko! He's always saying some weird stuff. Most of the boys half the time don't know what he's talking about! So probably him!
Robbie Nairn: So I'd agree, I'd say, Niko, you don't understand what he's talking about half the time, but he seems to enjoy himself! He's always smiling and he brings out the best of the guys around him. 

Q 7: Ben Scoular, age 8: If you picked Dave Rennie in the clubs Secret Santa, what would you get him and why?
Oli Kebble: Oh, that's an easy one, actually. I would definitely get him a guitar, he loves playing the guitar!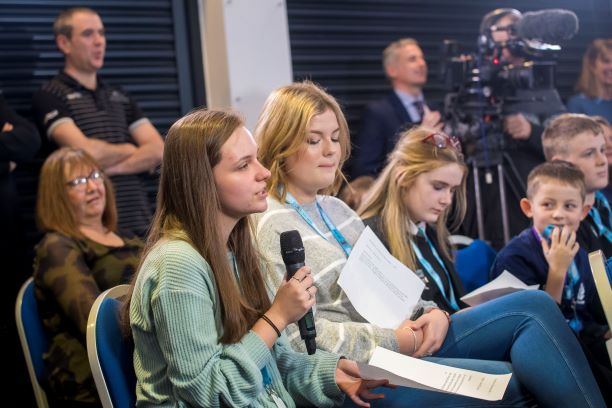 Q 8: May McLaughlin, age 15: In what ways do you think the male rugby game can help inspire and promote women's rugby throughout the country?
Robbie Nairn:  I think in lots of ways the women's game seems to be growing a lot. One of the guys in the team, Matt Smith, his sister plays in a women's team. So there's a couple of guys that go along and watch her when she plays. And I think it's getting better. But you just need a bit more money going in and a bit more funding and more people coming to watch the games and then hopefully one day it will be at the level that the men's game is at. But it takes time and you've got to be patient with that.
Lee Jones: There's definitely more girls playing rugby in Scotland and I think the profile of the women's game has definitely increased in the past few years. In terms of world rugby, it's been Dubai and Cape Town Sevens at the weekend there, and the women's game is on the same level as the men's in terms of the fixtures and and how much coverage it gets and and how it's played at the moment, which I think is great and it's good for the women's game. And you can see that it's getting so much better.
Q 9: Jack Haggerty, age 7: I play for the GHA RFC Primary 3 team and I get nervous before I play in tournaments. Do you get very nervous before big games and what do you do before you go out and play?
Oli Kebble: Yeah, I think it's a good point. Even now, I've been playing for ages and still get incredibly nervous before every game. I think it's not something that goes away. But it's it's a good sign if you do get nervous. It shows that you care about like your performance and you want to show like everyone that you're committed to the game. So yeah, basically it's a great thing to get nervous and not something you should shy away from.
Lee Jones: Think of it more as excitement! When you think of it more like that it makes it  a bit better, but Oli's right, I think everyone still gets nervous no matter how many games of rugby you've played. Chris Fusaro, one of our players, he gets so nervous he's sick before every game. No matter what he's still sick in the changing rooms, but for him, that's how he knows he's ready to play rugby. So I think everyone gets nervous, but try and think of it more like you're excited to play the game, because I'm sure when you start to play the game, you forget about it, right? And then you just enjoy the game. You're always nervous. It's always a build-up to the game. And so it never really goes away, you just have to learn to learn to enjoy it.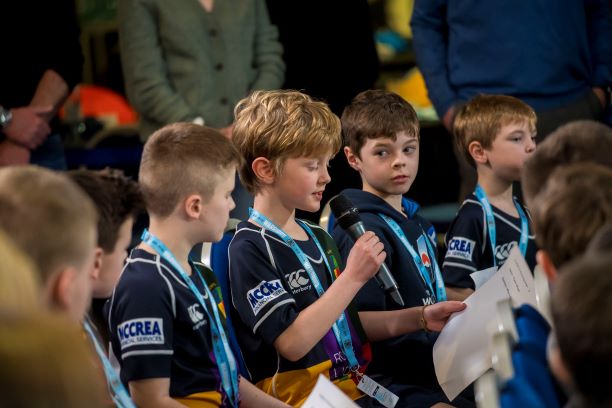 Q 10: Cameron McGarey, age 11: Does being a warrior live up to the dreams you had when you were a young player like me ?
Robbie Nairn: I'd say so. I really enjoy it. I think it's hard work, but you get to come to work every day and enjoy yourself and you play with your mates, but it's hard work. Sometimes you do a little gym and fitness and these things, but that's easy because you're doing it with your mates and you come in and we have a lot fun with guys like Niko. We just enjoy ourselves and work hard. So I'd say so. It's something I think we're all very lucky to do, and you don't take anything for granted and appreciate where you are.
Q 11: David Broadley, age 10: How many Keepy Uppys can you do with a rugby ball & can I challenge one of you?
 *** Keepy Uppy challenge commences with Ollie Kebble ***
Oli 5 - David 2 (although behind the scenes after the press conference David got 6!!)
Q 12: Tom Duncan, age 7: What's the best advice your coaches ever gave you?
When I was at school, whenever I made a mistake, I would get really annoyed and get really angry with myself, and then I'd drop the next one. So he said to me "stop worrying about it and just enjoy yourself", because I was going into games thinking, "don't make a mistake, don't make a mistake". But then eventually I was like, if you make a mistake, it's not the end of the world. It doesn't matter. So just enjoy yourself. That's what I'd say to any young players, if you drop the ball or make a mistake, it doesn't matter. It's just part of the game. You've got to enjoy it.
Q 13: Calum MacArthur, age 7: If you could choose any player in the world to play for Glasgow warriors, who would you pick and why?
Mesu Dolokota: Probably Leone! He'll just set you up with a try anytime, so I'd just try and run next to him!
Lee Jones: Who would you like?
Calum: Beauden Barrett
All players: Nice! Good choice!
 Q 14: Lewis Cadamy, age 11: If you could have a super power to improve your rugby, what would it be?
Lee Jones: An invisibility cloak?!
Robbie Nairn: I was going to say mind control, so I could ask Dave to pick me every week!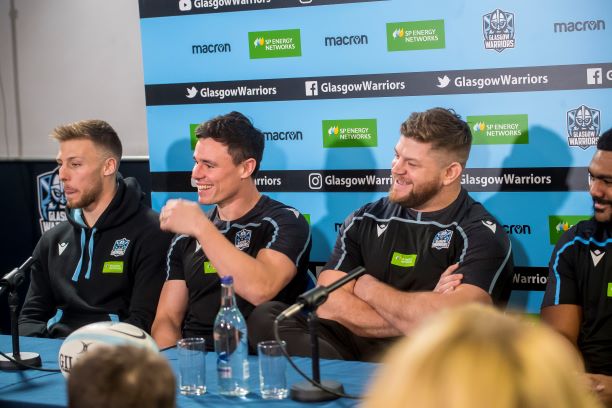 Q 15: Daniel Seve, age 13: Who's your favourite team to play against and why?
Games against the Irish teams are always really good, because they're there up there with the best teams in the league. We've played against Leinster, I've always enjoyed playing against Munster. They're always a strong team. I feel that the games that we've won against Munster, it's been hard earned. They never give you an easy game sort of thing. So those ones are always really competitive.
Q 16: Caleb Seve, age 8: Did you just play rugby when you were kids or did you play other sports as well?
Oli Kebble: I agree with what Lee said earlier, the more sports you can play develops a lot of different skills. That's the best thing for you. So I did pretty much everything. That meant less homework time, so cricket, water polo, athletics, everything!
Robbie Nairn:  I played football for a little bit, but I wasn't very good. I wasn't getting picked there either. So I said I'll go and try playing rugby. And I was lucky that I had a bit of a growth spurt and ended up being pretty good at it!
Lee Jones: I did some athletics and used to do some karate (watch out!)
Mesu Dolokota: I did athletics as well, but it was always going to be rugby!
Q 17: Ruairidh Watson, age 8: What is the best tackle you have ever made? 
Oli Kebble:  Mine was when I was twelve years old and I remember it very well because I chased down a winger, which hasn't happened since! So I was pretty proud of myself and I got a can of coke afterwards to say well done!
Robbie Nairn: Mine was probably when I was playing sevens and a big Fijian guy tried to sit me down and score in the corner, but I got hold of one of his ankles and I managed to get him out, which was lucky because otherwise I would of looked quite silly!
Lee Jones: I think mine was against a Fijian as well! He went behind the posts and kissed the ball instead of putting it down to score the try, and I managed to sneak up on him and get him before he put the ball down. So that was probably the best one. They ended up beating us in the end, I think it just made them angry. They went and scored loads of tries after that!
Mesu Dolokota: Yeah, well, I guess for me, one time I was on the edge and he wanted to run around me and so I ankle tapped him and it gave time for the rest of my team-mates to catch up!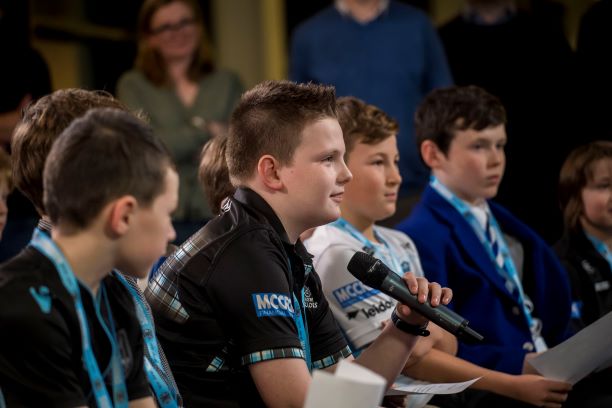 Q 18: Aulay Watson, age 5: What's the best thing about playing in the same team as your mates?
Lee Jones: As well as working hard we all have a good laugh and enjoy ourselves, and its great all supporting each other and working towards the same goals. We can share all the ups and downs and celebrate together when things go well. 
Q 19: Ella Parry, age 15: If you were to be in "I'm a celebrity get me out of here" which players would you take into the jungle and who would win? 
Robbie Nairn: Any of the front rows really because they eat anything! So you could just get them to go and do all the challenges, and win us all the meals! So I'd take Oli with me! He can do all those challenges!
Oli Kebble: I don't know, I really don't like spiders, so I don't think I'd do too well to be honest! I'd take Darcy (Rae), because he would do anything you tell him to!
Q 20: Brodie Baird, age 7: If you could pick anyone you wanted, which celebrity would you choose to go at the top of your Christmas tree and why? 
Oli Kebble: Is it a celebrity that we like on top of the tree or someone we can throw stuff at?!
Brodie: Someone you like!
Lee Jones: We could pick someone that could cook us Christmas dinner! Gordon Ramsay maybe!
Oli Kebble: Who's the lady on the Great British Bake Off? She could make us some cakes!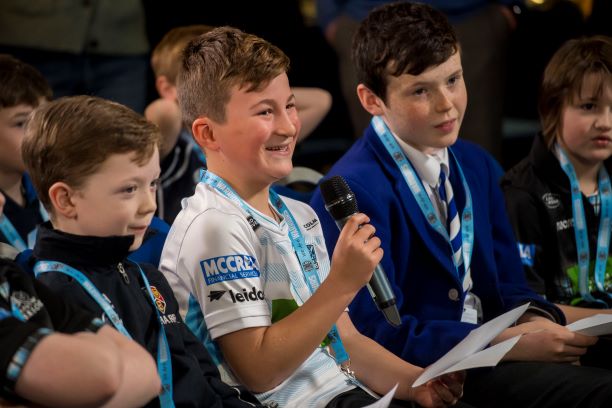 Q 21: Andrew Bain, age 10: What does it feel like to come out into the crowd at the start of the game at Scotstoun?
Lee Jones: It's quite hard to run out, there's so much smoke in the tunnel and you really can't see a thing to be honest! The crowd at Scotstoun is always, you know, really noisy when you run out. But it's a good feeling!
Robbie Nairn: Especially if you've worked really hard during the week and you've trained for three hours on Monday or four hours on a Tuesday, you're working towards that. And then it's almost like a reward you put in the hard work and then all you have to do is enjoy it. You go over, you can hear everybody screaming and you get to enjoy it. And the game is the fun part of the week. That's how a lot of the guys look at it!
McCrea Financial Services would like to thank all of our Junior Journalists for taking part, and all the parents and guardians who came along on the day to support them and join in!