Our Top Tips for Feelgood Festivities in 2021
2021 has been another momentous year, and while our Christmas plans might not be quite back to pre-pandemic normality, there's still plenty to savour in the season.
Here are our top tips for the stress-free festivities you deserve: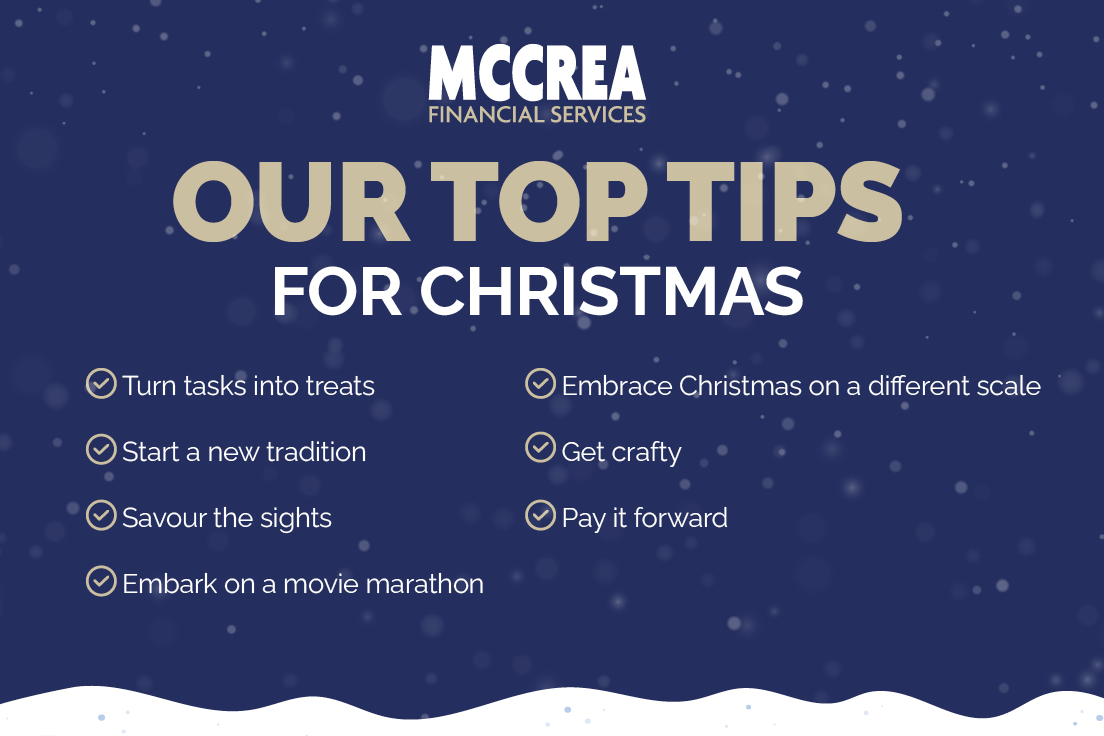 Turn tasks into treats
Make an occasion of festive admin tasks such as card writing and present wrapping. Pick up a seasonally scented candle, load your preferred Christmas playlist and, with a celebratory glass or handful of tasty treats, embrace the start of the holiday season.
Start a new tradition
From panto trips to the time at which you were finally able to open the tempting packages beneath the tree, our family's unique traditions tend to dominate our impression of the quintessential Christmas. Make memories to savour with a new signature tradition. Whether you chose to read a festive storybook to younger relatives on Christmas Eve or wrap up warm and sip mulled wine on an outing to your local Christmas market, establishing a new tradition will ensure festive cheer for years to come.
Savour the sights
It's tempting to stay by the fire as the temperatures drop, but heading outside on a crisp clear wintery day can be incredibly refreshing. In fair weather, why not head out for a bracing walk – you could aim to conquer your daily step count by hand-delivering cards to nearby friends and neighbours. Get the whole family involved by incorporating a festive scavenger hunt – points for the first to spot a robin, hear a Christmas tune or find an unusual tree-topper!
Embark on a movie marathon
With sell-out screenings every year, It's A Wonderful Life remains a festive favourite, and with modern classics like Elf – and even Die Hard – to add to the pile, there is no shortage of movies to put you in the Christmas mood. Make the most of your streaming subscriptions and sample as many as you can find – perhaps each member of the family selects one or two titles each for an exclusive at-home film festival?
Embrace Christmas on a different scale
Now that we may be less likely to take for granted the opportunity to spend Christmas with our loved ones, we can let go of the perfectionism that used to see us trying to create the 'perfect' Christmas and embrace the opportunity to appreciate what we have. Avoid excessive and unnecessary spending by creating - and sticking to - a budget for gifts, food and drink, entertaining and extras like a new outfit for the big day, and make sure to take time out to simply enjoy the company of the people around you.
Get crafty
Why not turn your hand to some DIY this Christmas, with home-made gifts or decorations? Hand made textiles and baked goods make for thoughtful gifts that don't bust your budget, while the sight of your own wreaths, stockings and other décor hanging in your home will be a point of festive pride.  
Pay it forward
Many people volunteer or make donations at this time of year to focus on the less commercial aspects of the season. Whether you're helping a local foodbank ensure needy members of your community have a Christmas dinner on the table or writing a cheque to a charity you admire, supporting the causes closest to your heart will give you a warm glow as the snow falls.
Whatever your plans this year, all of us here at McCrea wish you a peaceful and happy Christmas season, and we look forward to working with you for a prosperous new year.