Out of the Wilderness with Venture Trust
McCrea Financial Services have selected two great charities for 2016. 
Alongside the Beatson Cancer Charity which we launched recently with their wonderful mascot competition, we are thrilled to have selected Venture Trust as our other nominated charity for 2016.
Our thanks goes to Partick Thistle Football Club for helping us with our partnership launch as we are keen to do all we can to help build the profile of this small but growing charity.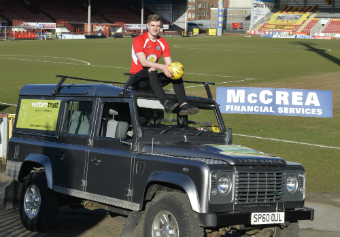 Venture Trust believes that people have the ability to make positive changes in their lives for a more productive future.  They support people who are struggling with complicated life circumstances such as homelessness, drug and alcohol misuse, caring responsibilities and other complications in their lives.  Three-phase personal and social development programmes, including an intensive wilderness-based journey, mentoring, and employability support, aim to help people unlock their potential.  This may be better communication skills, consequential thinking and building positive relationships with others, growing in confidence and self-esteem, or moving towards education, training and employment. 
Douglas McCrea, who takes on an annual 'wilderness challenge' with his distance charity walks highlighted that McCreas have raised more than £350,000 now for charities in recent years.  "We commit time and resource to support the charities as something we strongly believe in.  This year we are particularly pleased to work with a charity who recognise the benefits our beautiful Scottish Wilderness can bring to people as they learn new skills to build confidence and self-belief"
"Venture Trust is delighted to have been chosen as one of McCrea's charities of the year. The support will make a real impact on the lives of people in Scotland who are struggling to overcome disadvantaged and chaotic backgrounds." Amelia Morgan, Chief Executive, Venture Trust
Jonathan Campbell, one of the advisers at McCrea Financial Services is running this year's London Marathon for Venture Trust on Sunday 24th April.  You can sponsor him (and the rest of the McCreas team) here
Meanwhile, the team at McCrea Financial Services this year will either be walking, running, trail-running, cycling, Iron-Manning, jumping off mountains, baking and BBQ-ing to raise as much money for our two nominated charities as we can. 
You can follow what we are up to on our website, twitter or facebook and to find out more about the great work undertaken by Venture Trust you can visit their website