Ryan Edwards wins Partick Thistle Player of the Month for September
Ryan Edwards has won the McCrea Financial Services Player of the Month award for September.
It was a much closer race this month but the dynamic midfielder, whose energy has been vital to Thistle this month, won the award with just over 40% of the vote.
Although he hasn't got himself on the scoresheet Ryan has found himself playing a crucial role alongside both Abdul Osman and Adam Barton in defensive midfield this month. The Australian has more energy than the proverbial Energizer Bunny and has work rate can certainly not be faulted.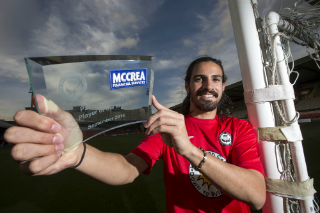 On winning the September award, Edwards said: "I am honestly so grateful for having won this award. Last season was all about establishing myself as a Thistle player and to have been a regular member of the starting eleven this month has been fantastic. Thistle is a great club and I'm just glad to be part of it and be able to make my contribution on a Saturday.
"It obviously hasn't been the best start to the season but the performances are there, we just need to start getting those results over the line. I've been really pleased with the way I've played but I would have traded any of the performances this month for a win.
"For someone who hasn't been a Jag for as long as a lot of the boys it means a huge amount to receive this award. It's the first award I've ever won so I'll always remember it and it means really does mean an awful lot to me. I'd just like to thank everyone who voted for me and I can only hope to start repaying them by playing my part in getting more points in the bag over the next month."