Thistle Player of the Month for September 2017!
It has been a tough month for the Jags with Archibald's side still looking for their first win of the season but with three draws against tough opponents and an admirable display against in the Betfred Cup against Rangers there were positives to take from September. So, without further ado, it has come to the time of the month where you have your say on who the Jags' best performer has been as the vote for the McCrea Financial Services September Player of the Month award opens.
Here are your nominees and voting options:
Ryan Edwards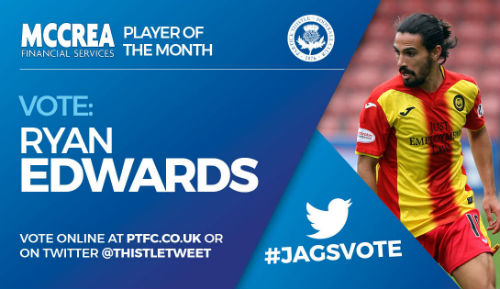 The Firhill Energiser Bunny certainly earned his nickname this month. The young Australian started each of the five games in September and showed typical drive and determination in his performances. His never say die attitude on the pitch and consummate professionalism off it are exactly what is needed when the chips are down and Ryan has certainly shown he won't be beaten easily.
Vote for Ryan on Twitter
Vote for Ryan at ptfc.co.uk
Christie Elliott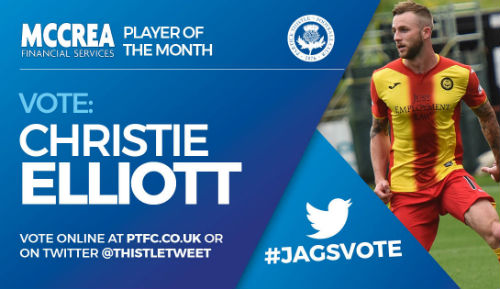 Although the month ended in devastating injury news for "the Jarrow Arrow" it was another excellent month for Christie as he found himself playing out of his comfort zone as a left wing back. Last month's winner, Christie continued to be one of the club's most consistent performers this month and the fact that he is included in this shortlist despite missing the final game with a broken ankle bone is testament to just how well he has done.
Vote for Christie on Twitter
Vote for Christie at ptfc.co.uk
Paul McGinn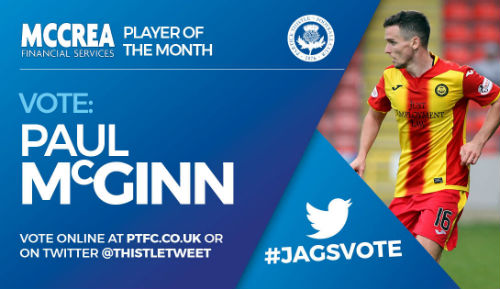 Signed on deadline day after being released by Chesterfield McGinn proved an excellent and timely arrival to help deal with the unbelievable series of injuries to hit the club's full backs. A delay in his clearance meant that Paul was forced to watch Thistle's first September fixture from the stands but was brought into the starting 11 for the first game in a double header against Rangers. McGinn settled in well but when injury struck Christie Elliott the former Queen's Park man was forced to play in a less comfortable position at left back. Despite ultimately disappointing results against Rangers and Motherwell Paul acquitted himself well on the left and looks to be a truly talented addition to the Firhill squad.
Vote for Paul on Twitter
Vote for Paul at ptfc.co.uk
Blair Spittal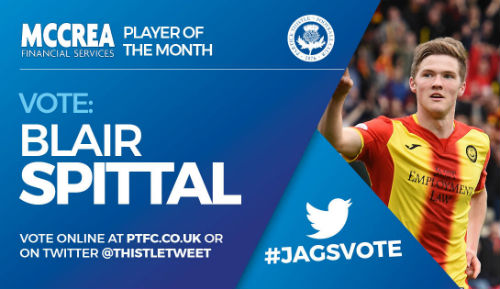 Blair has been something of a revelation since joining the club at the start of the summer transfer window. Lethal from a set piece but equally influential and dangerous from open play, the winger doubled his tally for the season during the course of the month adding three more goals to his haul, with each of his strikes coming in games where Thistle managed to get a draw. Although he has certainly hit the ground running it is exciting to think that there could still be more to come from the 21-year-old.
Vote for Blair on Twitter
Vote for Blair at ptfc.co.uk
So, there you have it, your McCrea Financial Services Player of the Month nominees for September. Now it's over to you get voting and make sure your favourite gets to take the trophy home.
Don't forget to follow us on twitter and facebook for regular competitions with Thistle as well as useful updates.