Thompson triumphs to win March Warrior of the Month
It's been a season of firsts for Ross Thompson.
A first Glasgow Warriors appearance. A first start. A first Player of the Match award. A first try. All milestones that weren't even a blip on the 21-year-old's radar this time last year.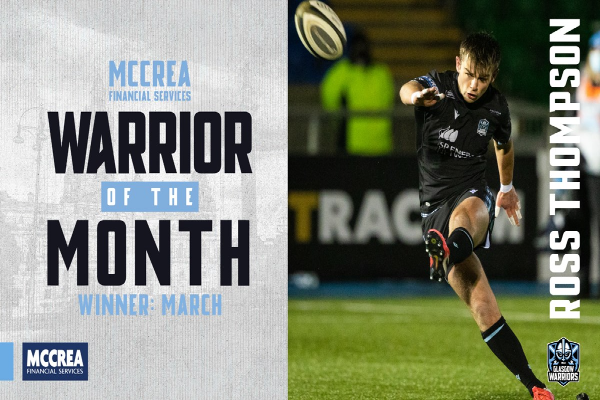 To that already impressive list you can now add a first-ever McCrea Financial Services Warrior of the Month accolade, after Thompson's impressive form across the month of March saw him emerge as the narrowest of victors from a shortlist also including Rufus McLean, Enrique Pieretto and Robbie Fergusson.
Whilst the Warrior Nation might not be surprised to learn of the fly-half's triumph, the man himself? It's safe to say the news caught him a little off guard.
"To be honest, any one of the guys nominated could have won the award and deserved it," Thompson told glasgowwarriors.org.
"Rufus obviously scored that unreal try against the Dragons, which could have won the award on its own! It was such an unbelievable finish, one of the best tries I've ever seen.
"Enrique and Robbie were both outstanding in March too – Enrique probably doesn't get the recognition he deserves this year because of there being no fans in the stadium, but he does so much of the hard work up front and gives us the platform. Robbie's now away with the GB 7s programme, but he's an ideal player to have outside you in the back-line – he just does everything so well.
"It's a great feeling. For the fans to have voted for me as Warrior of the Month, I must be doing something right! It makes it even more special considering the fans haven't been able to get into games this season – I've not played for Glasgow in front of the Warrior Nation yet, so for them to have taken to me is a huge boost."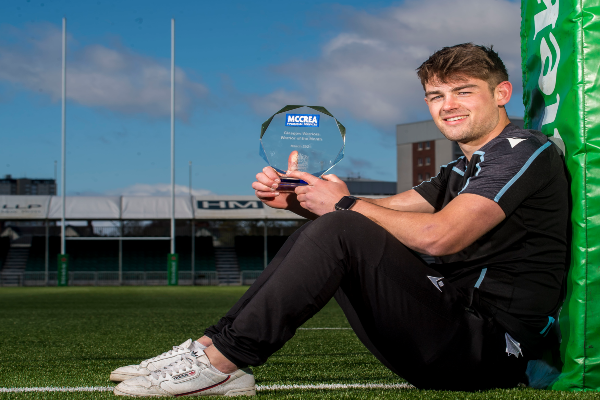 Handed the keys to number ten in Glasgow's first match of 2021, Thompson has made a remarkable impact on the club in such a short space of time. Indeed, March's displays showcased the full range of skills the former Ayrshire Bull has in his locker. A debut try in Glasgow colours against Zebre was followed up by a composed performance in victory over the Ospreys, earning him a second Player of the Match award from his first seven appearances in professional rugby.
"I don't think I'd scored a try for about two years before the Zebre game, so it was a bit of a novelty!" laughed Thompson.
"It wasn't the prettiest of tries, but they all count the same. Cole [Forbes] stuck a really clever little kick in behind, and I was just in the right place at the right time to pick it up and score. It was a really good feeling, made better by the fact we came away with all five points.
"I thought Rufus was going to get the Player of the Match nod for the Ospreys, to be honest! A lot of the stuff I did to get the Player of the Match award was down to stuff he did well, so thanks to Rufus for making me look good! That was a really good game, looking back on that night. Everyone pulled together on a tricky night and we came away with a good win.
"It was a good month overall. We're obviously disappointed with how the match against the Dragons turned out, but to get three wins – and two try bonus-points – was really pleasing."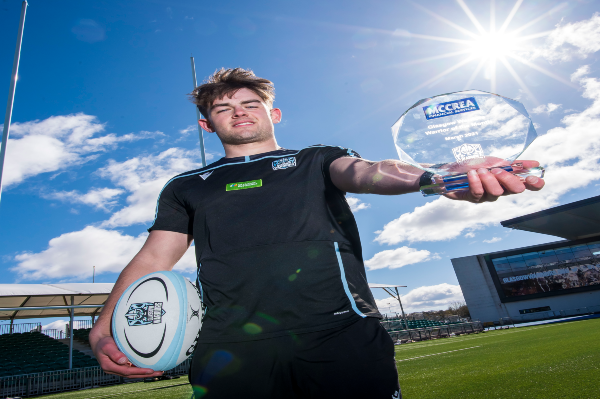 Despite the disappointment of Friday night's defeat in Montpellier ended Glasgow's Challenge Cup aspirations, 2020/21 isn't over yet for Thompson and his fellow Warriors. Far from it. The new Guinness PRO14 Rainbow Cup is coming into view over the horizon, with the fly-half relishing the chance to test himself in the new format.
"It's an exciting prospect, for sure," said Thompson.
"We obviously don't know the full extent of what the competition will look like yet, but we know that we've got matches against Benetton and Edinburgh to start with. They're two teams we know well, so we'll be preparing for them and looking to hit the ground running."
As he looks to add to his impressive list of firsts, then, Glasgow fans can expect to continue to see the exciting development of their new number 10. The excitement is mutual for Thompson, who is amongst those counting down the days until the Warrior Nation can pack out Scotstoun once more.
"A massive thank you has to go to the Warrior Nation - thank you for voting for me and thank you for sticking with us through thick and thin this year," said the fly-half.
"It's been pretty tough for them in terms of not being able to come and watch the games, but we definitely feel their support every time we run out onto the pitch wearing the Glasgow shirt.
"I can't wait to run out in front of a full-house and hear them in person."
McCrea Financial Services are sponsors of Glasgow Warriors and work with the club to recognise and reward player performance every month as well as the annual Player of the Year award, all voted for by supporters.