Turner Triumphs in December Player of the Month Vote!
Following an incredibly tight round of public voting, Kyle Turner has been named the McCrea Financial Services Player of the Month for December!
Aidan Fitzpatrick, Jamie Sneddon, Harry Milne and Kyle Turner were the four nominees and it ended up being a hotly-contested duel between the latter two for the prize.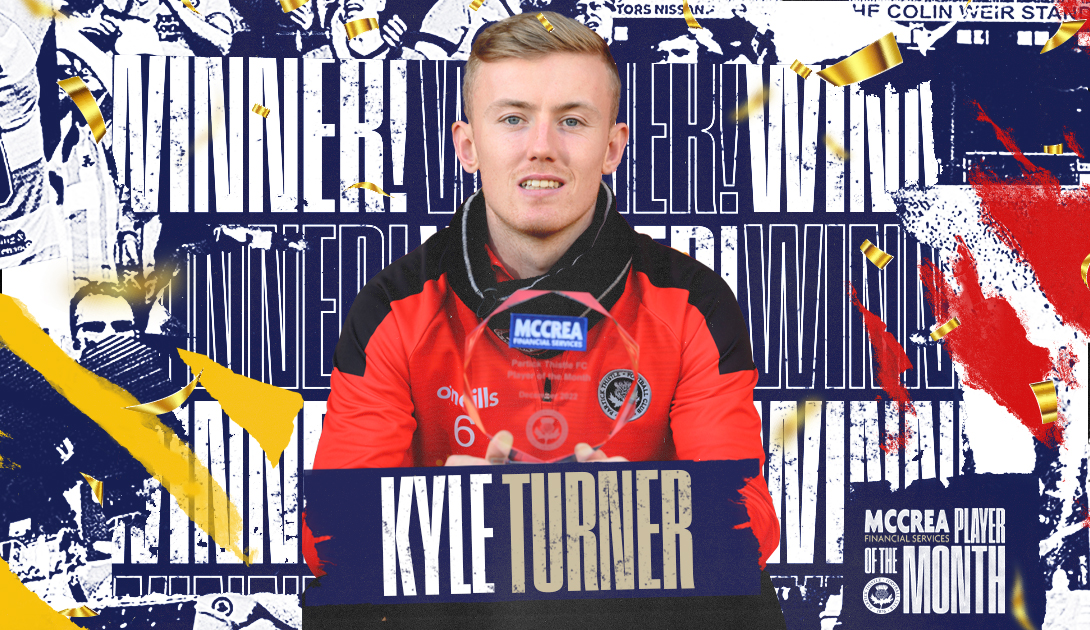 November award winner Milne won the Twitter poll however Turner topped the website vote and edged Harry out in the overall count meaning he is the McCrea Financial Services Player of the Month for December 2022.
This was Kyle's fifth nomination and it took a couple of outstanding performances at Firhill to clinch the award for him at long last. The number six set up two goals in the team's thrilling 3-2 victory over Ayr United before then registering a goal and an assist in the final game of 2022, against Inverness.
Upon receiving the award, Kyle said:
"I had a positive end to 2022 so it's nice to have that recognised with the award and a huge thanks to everyone who voted. I've really been enjoying my football over the last couple of months and it's been good to get a couple of goals and a few assists.
"Of course, the most important thing has been getting results as a team and we've managed to get a good number of points on the board over the recent run of games. That being said, we were disappointed not to get anything from the game against Queen's Park and we need to make sure we respond to that in the right way.
"Our last couple of performances at home have been terrific and we want to reach that level more consistently, both at home and on the road. That starts this weekend against Morton which will be a really difficult game but hopefully we can get a positive result."
Don't forget you can follow us on Twitter and Facebook where we provide useful updates and the latest news on getting the most out of your finances as well as finding the right mortgage deal for you.