Update from Douglas McCrea on Day 4 of John Muir Way Charity Walk
Douglas set out from Helensburgh on Saturday 18th June along with a few pals to keep him company and has already 'enjoyed' some interesting conditions as he undertakes this years' charity walk on behalf of our nominated charities, Beatson Cancer Charity and Venture Trust
As the 50 mile mark approaches, we've received an update on how things are going so far from Douglas:
"So the current state of play is there is no way this is a 7 day walk. Combination of a loss of time on Sunday along with a monsoon, age and concrete paths mean it looks more like it's going to take 10 days.  As John Muir said 'the world is big and I want to have a good look at it. ' And as I say if I do 134 miles in 7 days I'm going to be gubbed and won't have time to enjoy the scenery and historical sites.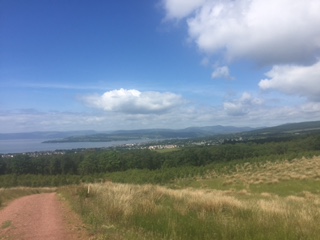 To date, with some company from friends along the way, I've covered Helensburgh to Balloch on Saturday, the first leg is usually 9 miles but we cracked on and did 15.  On Sunday it was a total washout and we only did 9 as we were soaked through.
The decision was then made to do different stages over the journey and yesterday it was Croy hill to Falkirk which was 17 miles.  Today's shift is  Linlithgow to South Queensferry.  14.5 miles by the route. (8 by helicopter which certainly sounds appealing right now)!  Tomorrow it will be South Queensferry to Edinburgh and from there I'll determine the latter stages of the route best suited to conditions (of both the walk and of me)!  
Still doing the full works and 134 miles finishing in Dunbar.  My legs are ok, my feet are ok but my hip is getting sore. This will be interesting!"
To support Douglas as he continues his walk to raise funds for the Beatson Cancer Charity and Venture Trust you can sponsor him here or by sending a cheque into the office payable to one of the two charities mentioned here and thank you so much to everyone who has already pledged support for Douglas and the team during 2016. 
My fundraising page address:

http://uk.virginmoneygiving.com/McCreaFS 
My fundraising page address: