Vote opens after a hectic December schedule for Thistle Players
McCrea Financial Services December Player of the Month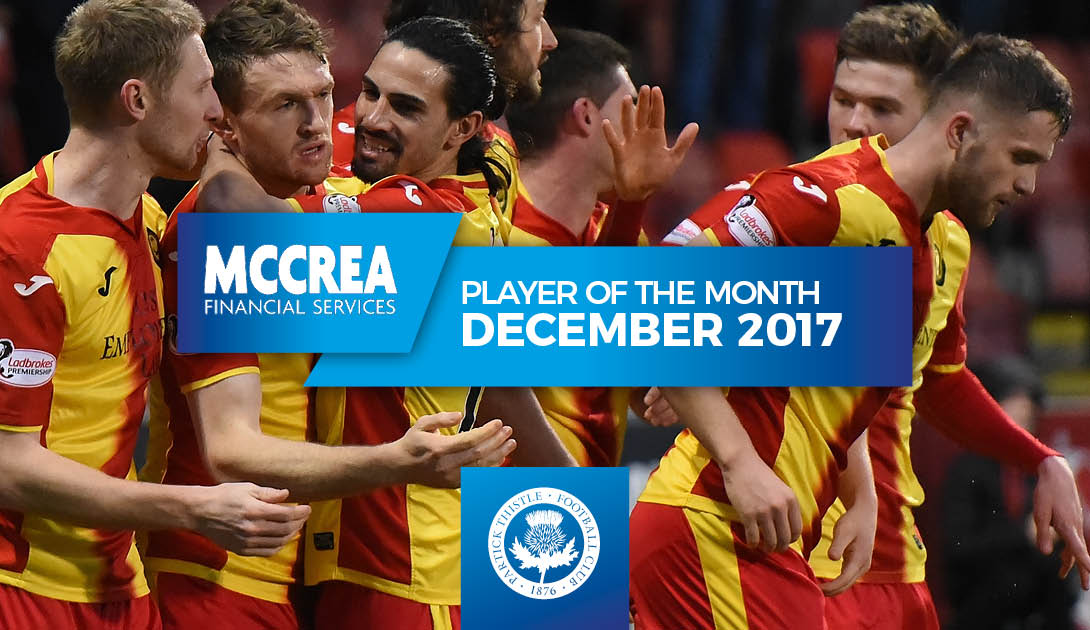 With no fewer than eight games during December the final month of 2017 was always going to be absolutely vital to the Jags. Alan Archibald's men were clearly focused on changing their fortunes as they looked to get their Ladbrokes Premiership campaign moving in the right direction heading into 2018.
It was the festive period that saw the Jags' fortunes begin to change last season and, although there were certainly some bumps along the road, three home wins against Motherwell, Hamilton Accies and Ross County as well as solid performances away to Celtic and Aberdeen have certainly given Thistle some momentum heading into the New Year.
So, without further ado, it's time to have your say on who the Jags' best performer has been as the vote for the McCrea Financial Services December Player of the Month award opens.
Here are your nominees and voting options:
Steven Lawless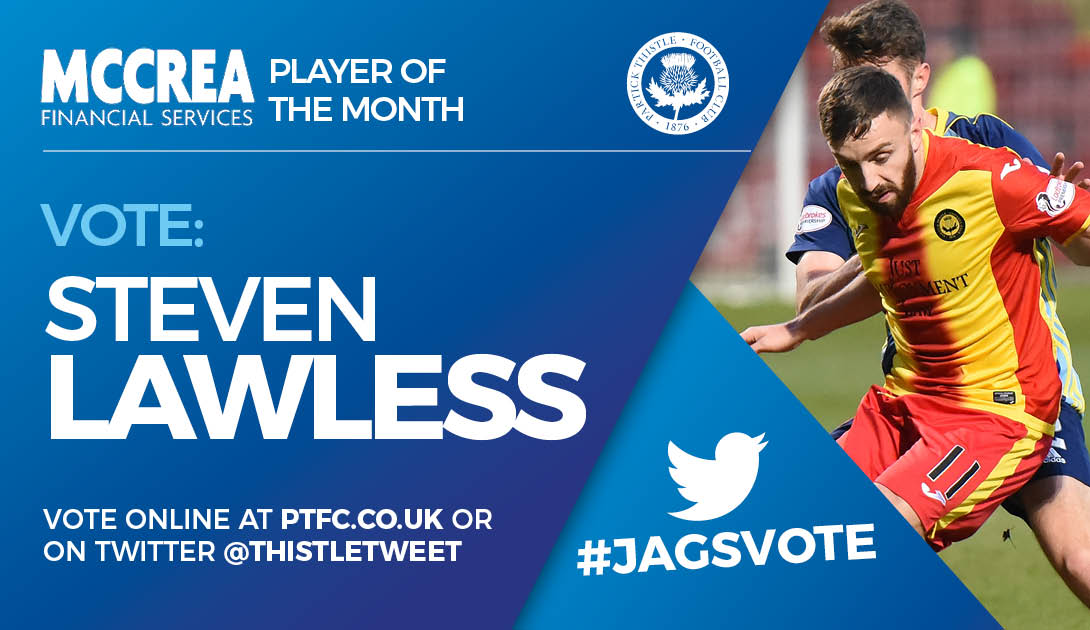 A Jag since 2012, it is rare that Stevie is not familiar with his surroundings when in a Thistle shirt but, with injuries forcing him into a very unusual left wing back position for several games in December, he may have been forgiven for looking a little out of place. Far from it though, as the diminutive winger played the role like a natural and was crucial in winning hard fought games against Hamilton Accies and Ross County.
Although the positional move stifled his usual attacking creativity he slotted into a back five superbly looking more than comfortable in the role. Playing a part in each of the team's eight matches Stevie's application has more than earned him his nomination in December's competition.
Conor Sammon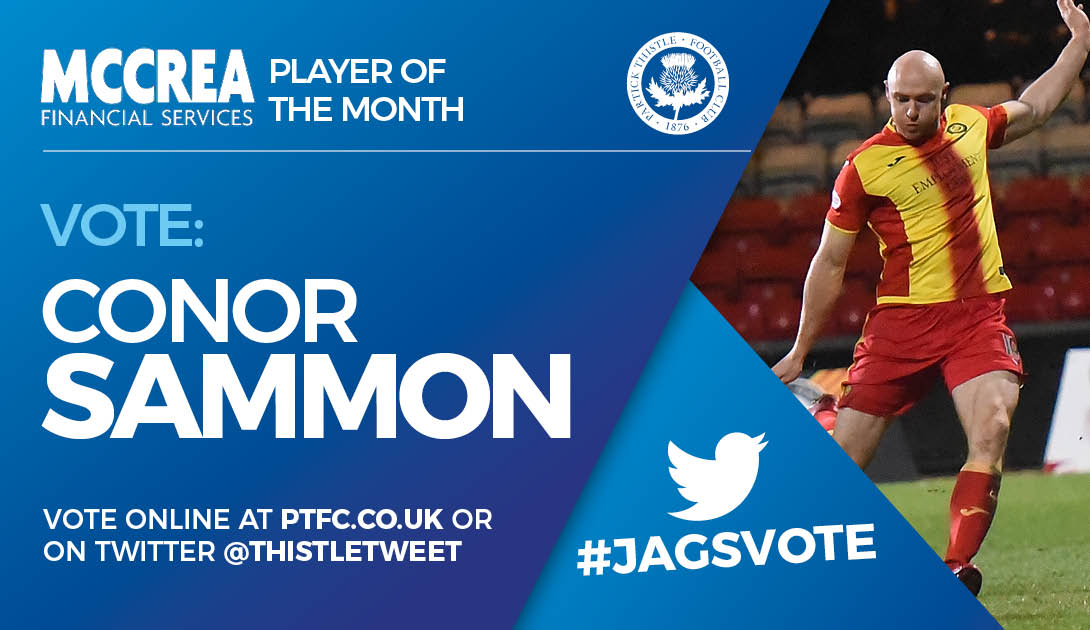 On loan from Hearts, Conor featured in seven out of the eight matches in December and netted twice during the course of the month. Although his goals were crucial, his power, pace and hold up play were just as important in helping the Jags grab nine points over the festive period.
Forming a formidable partnership with whichever striker he was paired with Conor showed why he is still a real asset in the Ladbrokes Premiership and a threat against any team he plays.
Jordan Turnbull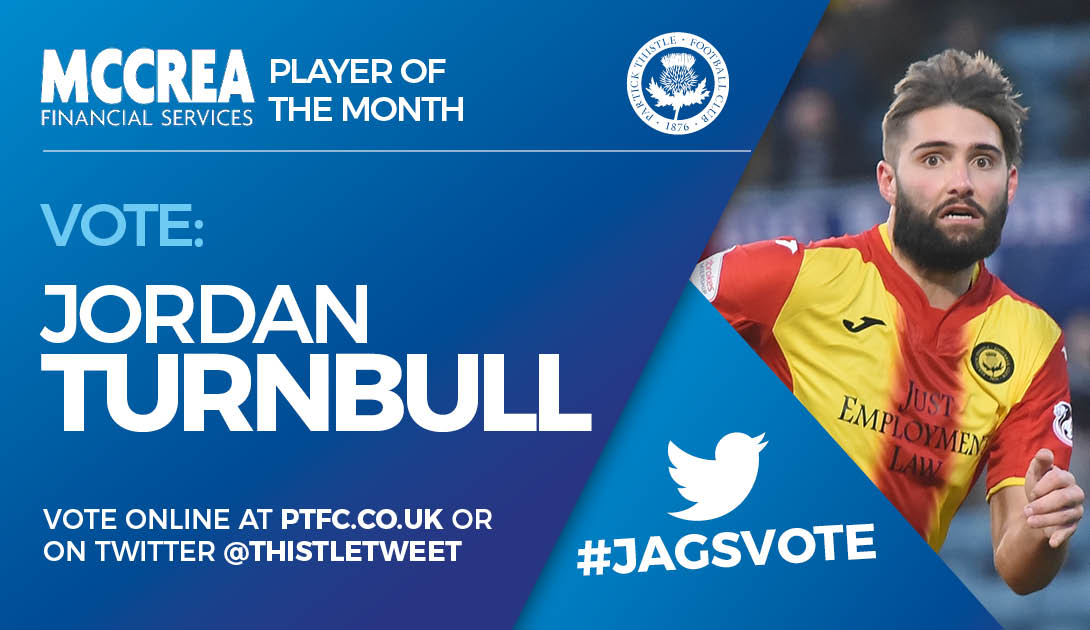 Another loanee to make the list this month is Jordan Turnbull who joined the Jags on a temporary basis from Coventry City at the start of the season.
Naturally a centre back, Jordan has been forced to play most of his football at Thistle from left back but has taken to the position like the proverbial duck to water. One of the side's top performers so far this season, Jordan is comfortable on the ball and enjoys carrying it forward when he can. That doesn't mean he can't do the hard stuff when he needs to though and his defensive work has was one of the key factors in Thistle's year ending victory over Ross County.
Playing as part of a back three and a back four Jordan is versatile and has proved a great asset since moving to Maryhill.
Martin Woods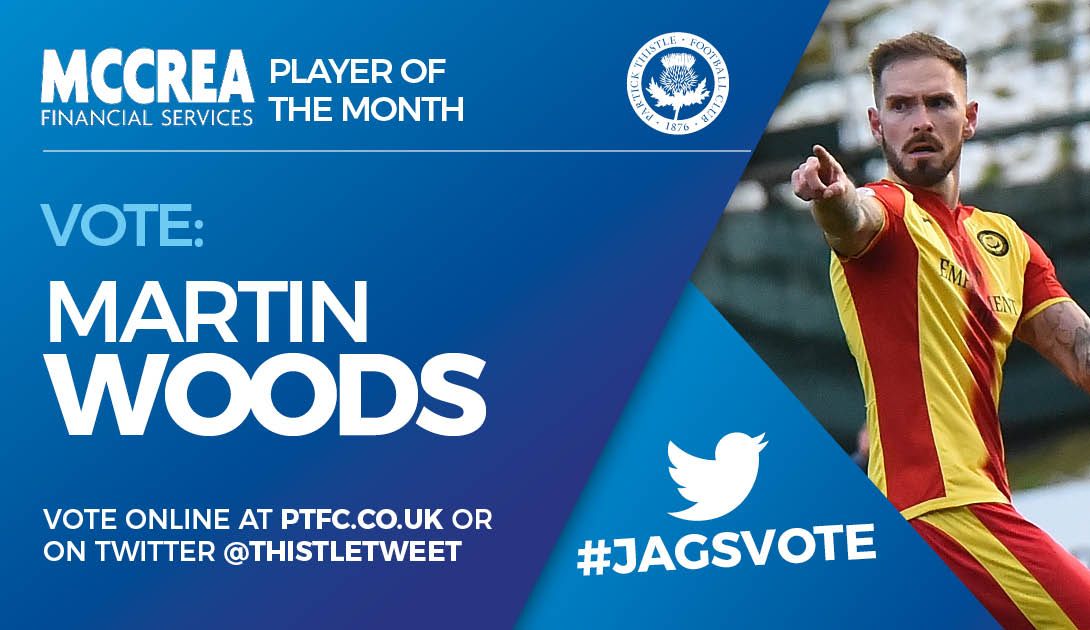 Although Martin only played in five of December's games his influence when on the pitch was as big as anyone in the team. Joining as a free agent at the end of October, fitness was always going to be an issue for Woods but as regular training and game time have had their effect he has proved vital in the defensive midfield area, filling a gap left due to Abdul Osman's long term absence.
At 32 Woods' experience and street wise approach have also brought a much needed calmness to the centre of the park, allowing more creative players like Ryan Edwards and Adam Barton to express themselves. Jags fans will no doubt be hoping the winter break has come at the right time for Woods and that his fitness levels will only improve from here.
So, there you have it, your McCrea Financial Services Player of the Month nominees for December. Now it's over to you so get voting and make sure your favourite gets to take the trophy home.