Warrior of the Month for April revealed
West End café owner Ed Avdiasi has been named as the McCrea Financial Services Warrior of the Month for April, after the Warrior Nation responded in their droves to nominate the unsung heroes inspiring their community.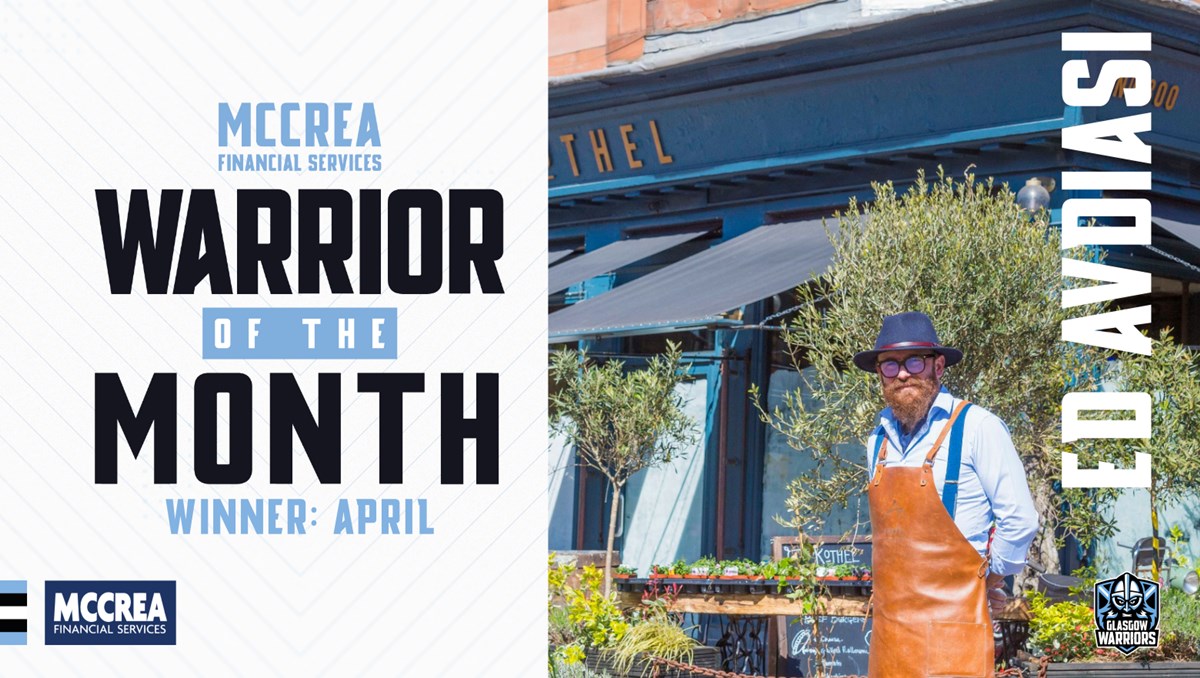 Nominations came from across Glasgow and the west of Scotland, ranging from long-standing Glasgow Warriors supporters to those who have never previously attended a rugby match.
After receiving nominations from multiple sources, however, it was Avdiasi – owner of Kothel in Broomhill – who was selected to receive the prize.
The café owner has been keeping the local community connected during the COVID-19 pandemic, setting up a community mini-market and helping to deliver food to those in social isolation.
Those over the age of 70 have also received donations of cupboard staples such as bread, rice and pasta, as Avdiasi and the Kothel team look to ensure the local community continues to look out for each other.
Key workers such as police officers and NHS workers have also been receiving donations from Avdiasi and his team, whilst Kothel has also been supporting food banks, asylum seekers and charities such as Brothers In Arms over the last two months.
"I've got members of family who live in the parts of Italy that were affected by COVID-19 earliest," Avdiasi told glasgowwarriors.org.
"I was looking at the situation and was aware that it would soon arrive in the UK, so I ordered a lot of stock and a gazebo 48 hours before lockdown was implemented.
"Glasgow and the West End community looked after me when I first arrived in Scotland, and the city changed my life. I wanted to do something to help the people that need it most at this time, because the city helped me when I needed it.
"We've been supporting the police and healthcare workers, as well refugees and asylum seekers – a lot of them were forced to leave their own countries, and we want to support them any way we can.
"We've also raised about £4000 for Brothers In Arms – one of our regular customers sadly lost her son not too long ago, so we've been doing our bit to help them raise money wherever we can."
The news of the award came as a surprise to the man himself, having set out solely to help his community.
"I just wanted to give back to the people that had helped me," explained Avdiasi.
"When I was told that someone had put me forward for this, I was driving and I had to pull over to the side of the road because I had tears in my eyes!
"I'm really proud to receive this award – thank you to everyone that nominated and thank you to everyone out there doing their bit to support their community."
Sponsor of the award McCrea Financial Services said: "Our congratulations go to Ed and everyone working so hard at Kothel for the benefit of the local community. It's fantastic to be able to recognise his contribution with this very special Warrior of the Month."
Honourable mentions
Mary Theresa Crumlish
Looking after both her family and neighbours, from picking up shopping to walking dogs.
David Maguire
Providing over 500 meals per day to NHS staff at Gartnavel Hospital through his restaurant 1051 GWR.
Richard McCombe
Diverted resources from his company Matic Media Services Ltd to producing social distancing stickers and other media free of charge for local businesses, as well as designing and distributing face-shields.
Izzy Conway
Selflessly devoting herself to charity work across Glasgow, including The Mungo Foundation, Kindness Glasgow Homeless Street Team, Rogart SAS and Cumbernauld Resilience.
Mark Feeney
Keeping pharmacies open across the central belt in order to serve his community.
Jules Silverton
A North Stand season ticket holder and radiographer at Queen Elizabeth University Hospital, seeing patients for imaging and carrying out her job with a smile on her face.
Suzanne Hill
Working on the front-line as an NHS nurse as well as home-schooling her two children.
Shan Murray
A carer in the local community working overtime to care for those most in-need in her local area.