Annual Charity Walk Blog with Douglas McCrea
Douglas McCrea Charity Challenge 2021 - Regular Blog Update 
Over the past week Douglas has been reporting in to the office on a nightly basis so we were able to provide daily updates as to how he was getting on in this years Annual Charity walk. Douglas walked the Dava Way and Moray Coast Trail back-to-back, totalling just over 108km in aid of Guide Dogs Scotland - a long way to walk for someone with a dodgy hip! 
The sponsorship total has gone up a fair amount in the past week and we can't thank you enough for the donations so far. Of course, if you'd meant to donate and hadn't got round to it, you can donate here to help us raise as much money as possible for the Guide Dogs Scotland. 

Congratulations and well done to Douglas for yet another terrific effort!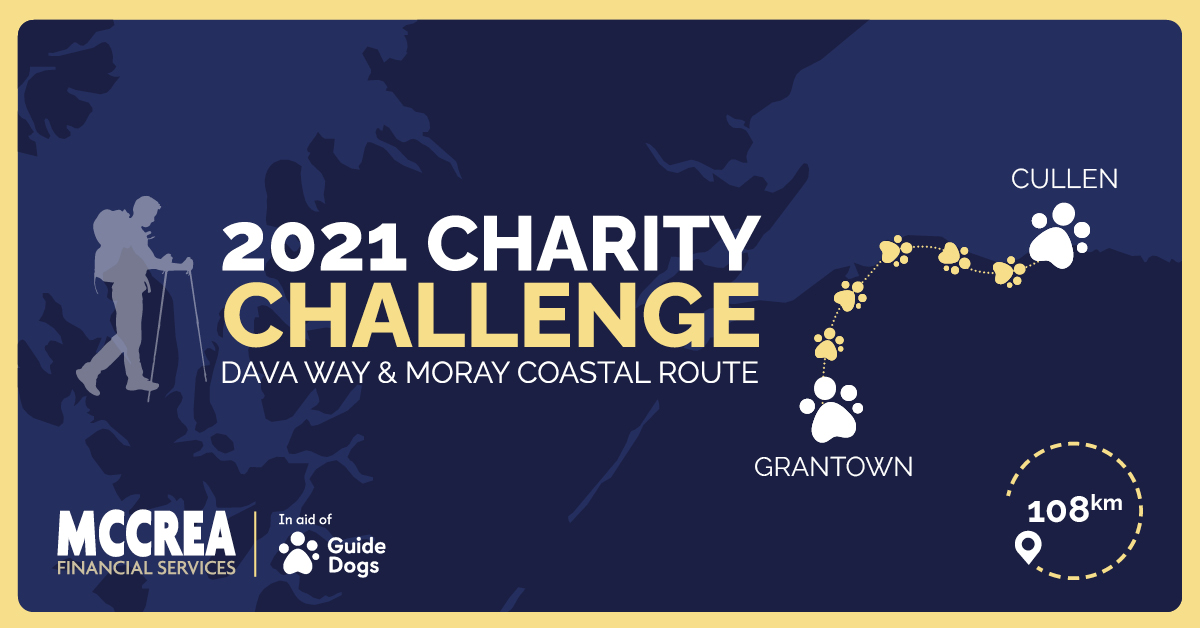 Saturday August 7th
It was a reasonably early start for Douglas on his final days walk, and thankfully the forecast was miles off and the monsoon of Friday was a distant memory. 
After an unsuccessful look to see if any dolphins were about at Spey Bay, Douglas' days walk consisted of a mix of forest, road and coast, with a few outstanding views from the cliffs between Buckie and Cullen. The walk took just over five hours, which finished on a long stretch on a beautiful beach at Cullen. It seemed a timely coincidence that one of the last people that Douglas came across on the beach stretch going into Lossiemouth on Thursday was a mum with her adult son and his white stick, which was a reminder of just how lucky most of us are.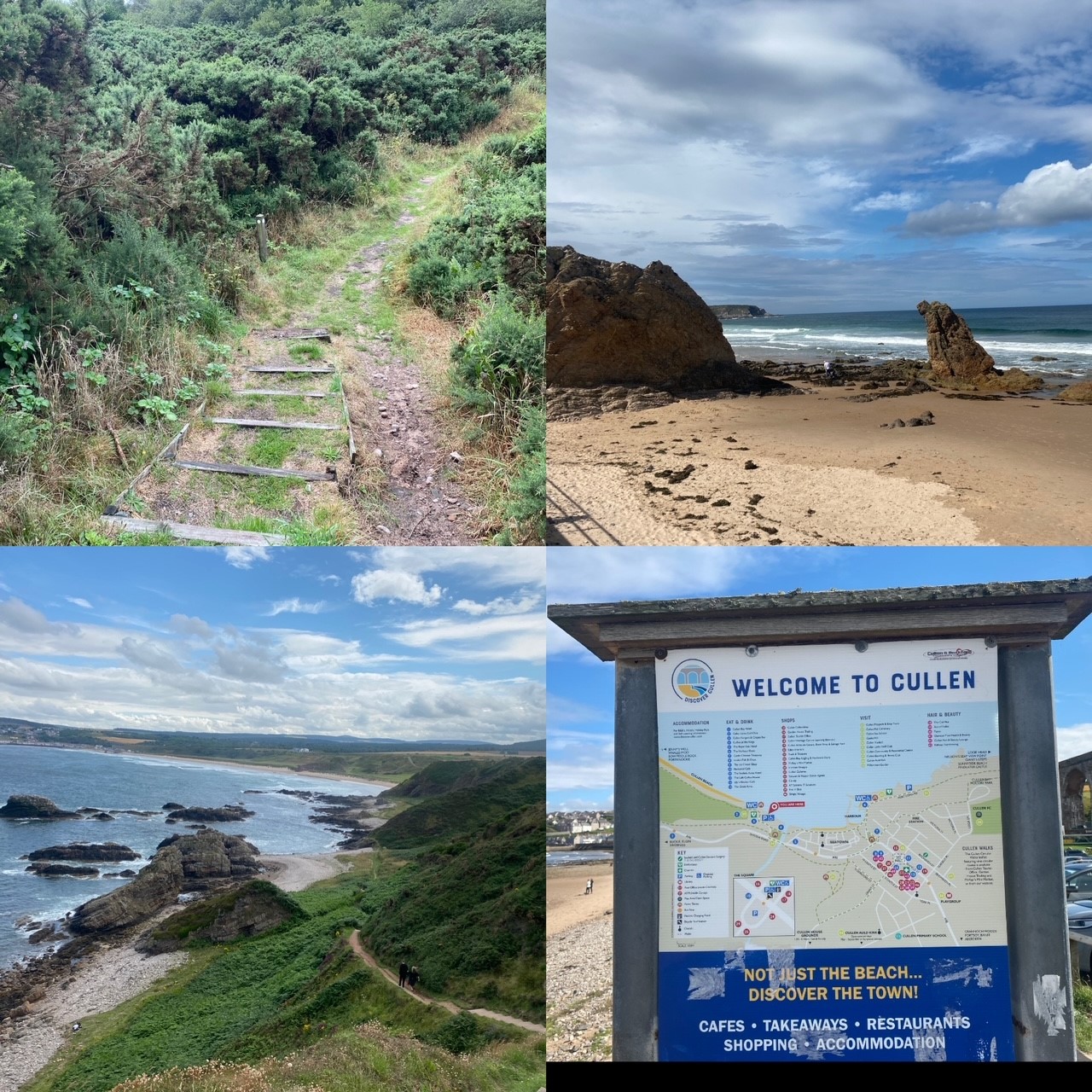 Overall it was a fairly successful and enjoyable walk for Douglas, only managing to get lost just the once - a vast improvement compared to other walks! Apart from the monsoon on Friday, the weather was fairly ideal for the week with it not being too hot and a slight breeze helping him on his way - even the feet, limbs and hip held up surprisingly! Hear from Douglas below as he reflects on the walk as he passed the finish line. 
Friday August 6th
A day that did not go to plan for Douglas, which did not come as a great shock having seen the yellow weather warnings before he had started...
Before the monsoon arrived, Douglas had managed to walk just over 8km having started the day early in an attempt to get ahead of the rain. Unfortunately this wasn't very successful as seen in the video below, with Douglas explaining he would as well have jumped in the sea after his waterproofs gave up on him! Douglas walked an extra few km before he had to have a cab take him back to Lossiemouth for a change of clothes and bite to eat.
As the day went on however, the monsoon started to calm so Douglas was straight back out to where he had stopped earlier to continue the days walk. Douglas ended his day at the dolphin centre at Spey Bay, meaning he had walked an impressive 20km on a day where drowning was more a concern than sore legs!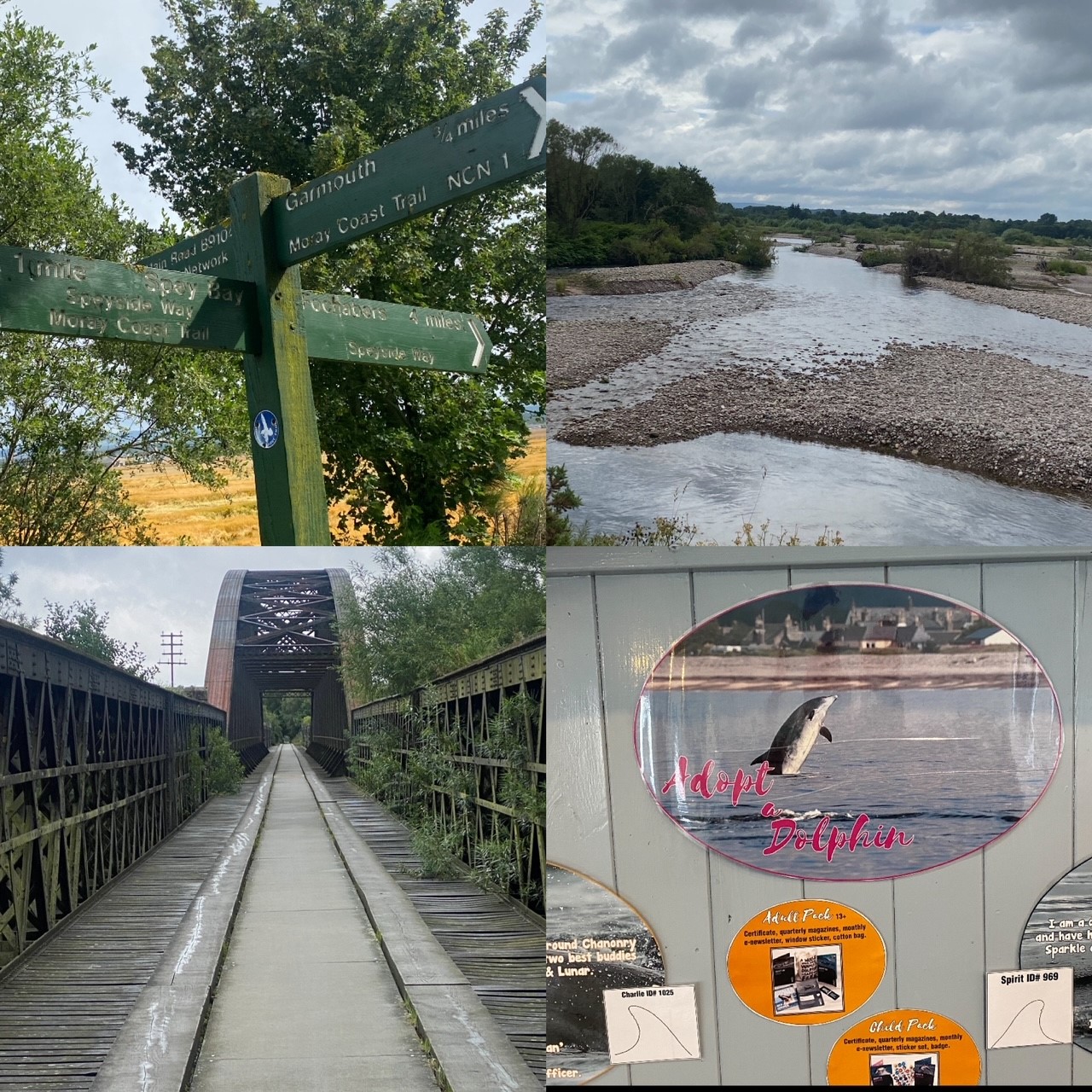 Next up for Douglas is the last stretch of his walk as he heads to the finish line in Cullen - hopefully the weather is a little more forgiving than todays! 
Thursday August 5th
Now officially into the second half of the walk, Douglas started Day 4 from Burghead with today's ending being in Lossiemouth, a walk of just over 15km which took him nearly 4 hours.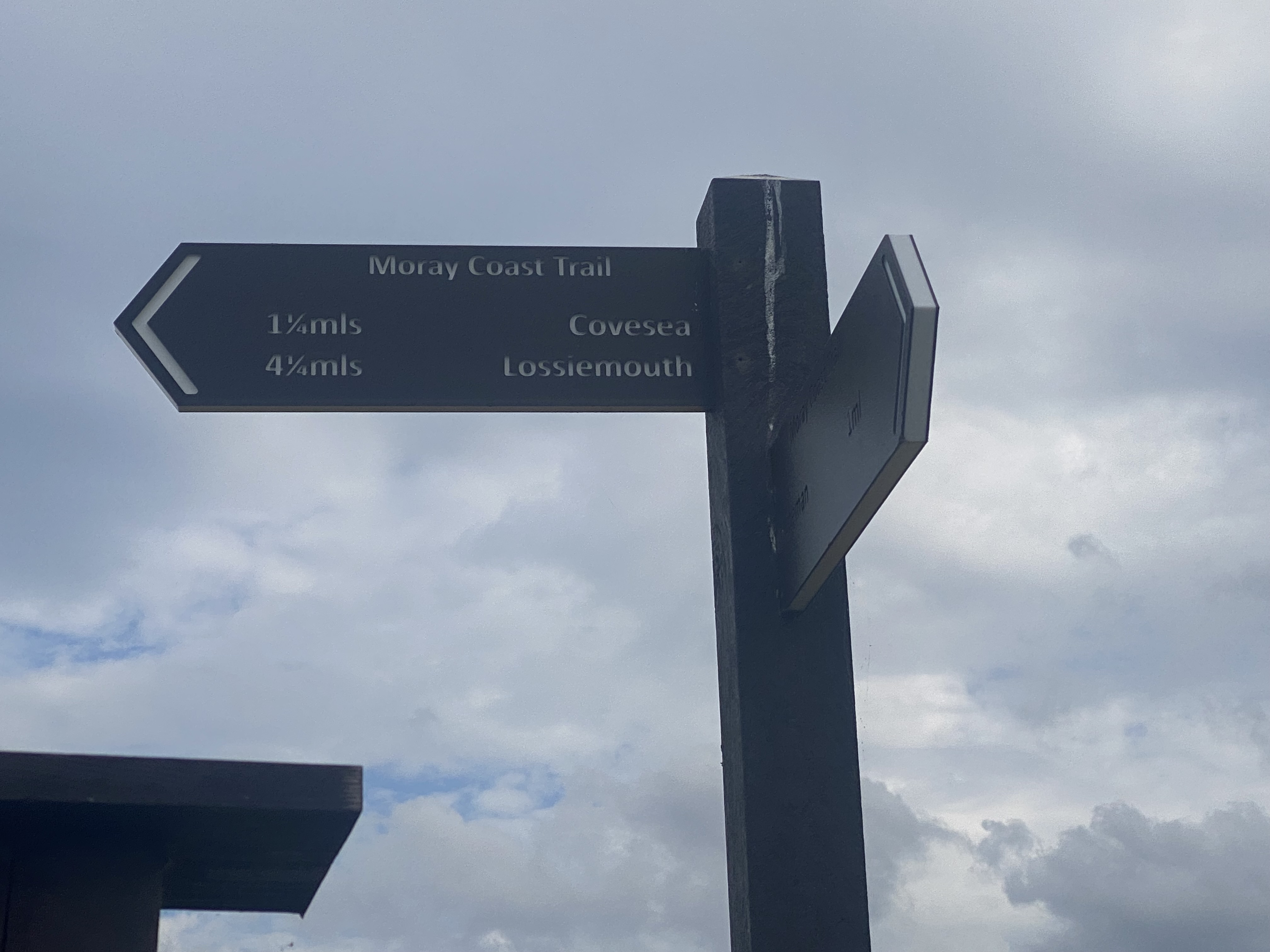 Thankfully the rain stayed away and Douglas was able to enjoy a cracking walk along the coast, with some great pictures taken as can be seen below. Douglas even made time for an ice cream and coffee - a somewhat day of luxury compared to what is to come...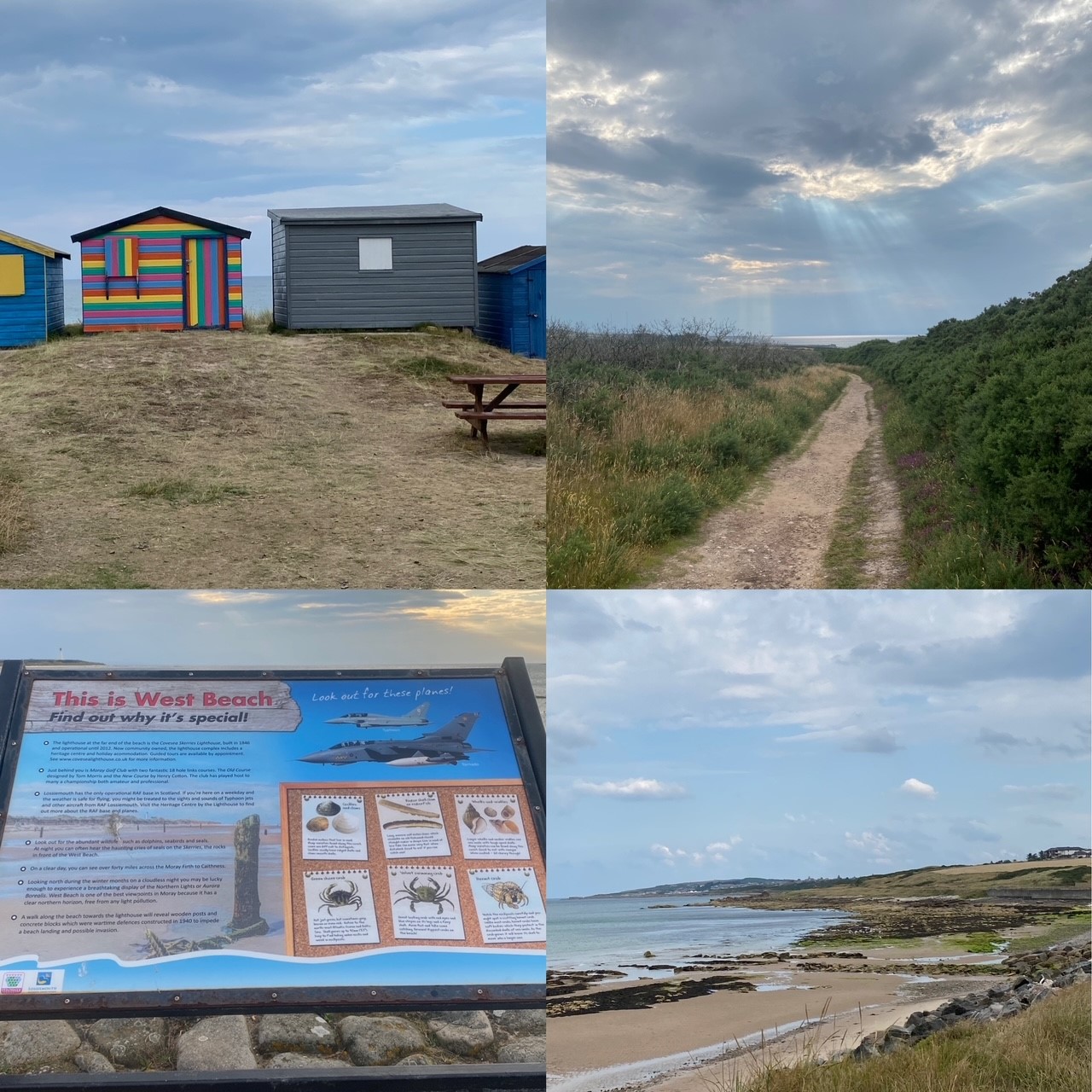 The remaining two days will see Douglas walk the last 35km in somewhat challenging conditions, with there being yellow weather warnings of rain and thunderstorms for both Friday and Saturday...good luck Douglas, we think you'll need it (that and some snorkelling gear!)
Wednesday August 4th
Day 3 and the start of the Moray Coast Trail saw Douglas start in Forres and end in Burghead, a walk that took him over 30,000 steps, 26.9km and nearly 6 hours, with a fair amount of the early hours on pavements which weren't comfortable on the feet!
Today's walk for Douglas was a tough one, not helping by the fact he managed to get lost coming out of Forres, blaming it on the 'dodgy signs'.... There were a number of cracking views on show with the walk taking him through forests and sand dunes, with Douglas expecting the next few days to come up with some of the best scenery of the week.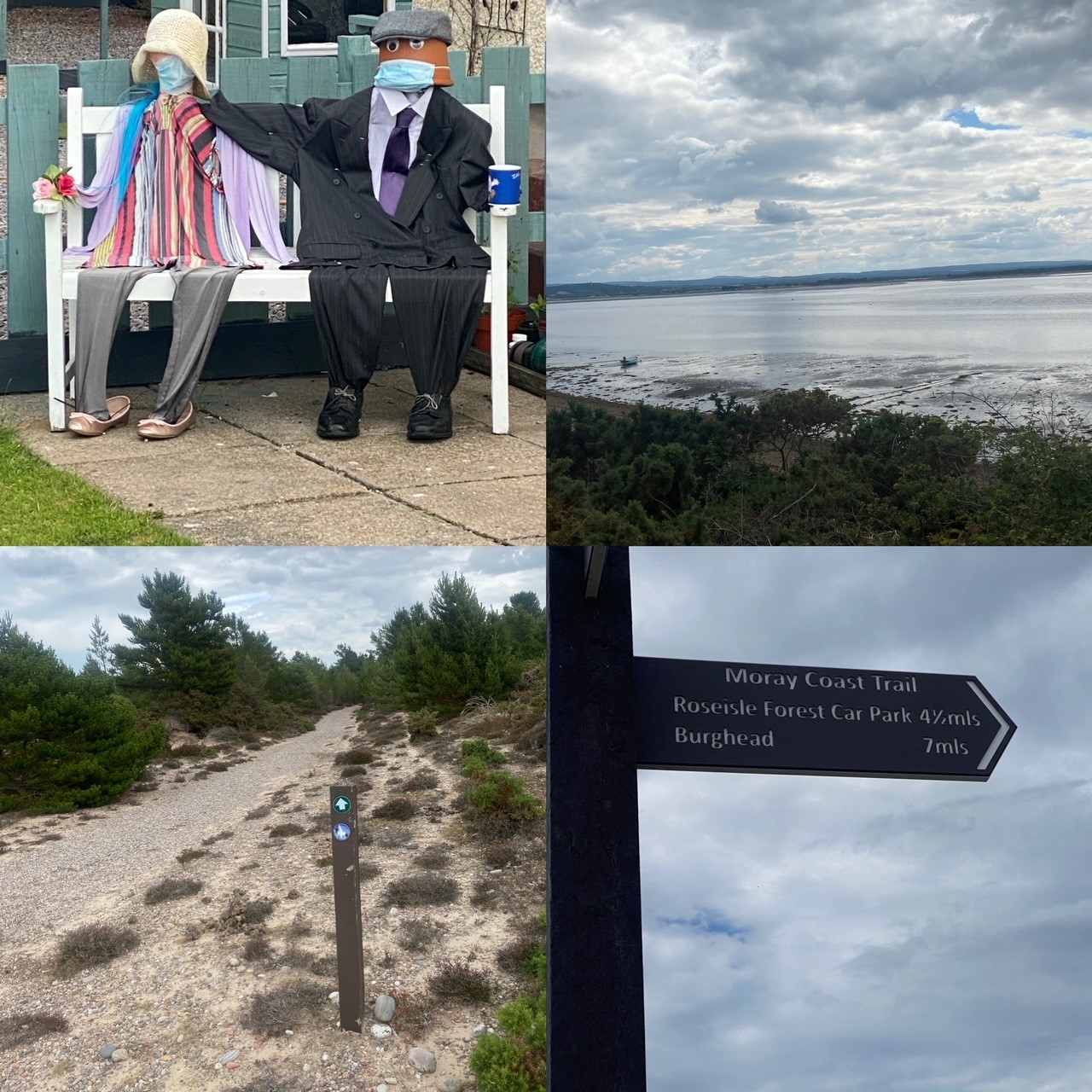 Thankfully the weather mostly held up for the day with just a small amount of rain - however, Douglas has browsed online for flippers and a boat having seen that thunderstorms are expected on Friday as he explains in his video update below. 
With halfway of the walk now behind him, next up is a 14km walk to Lossiemouth - thank you again to everyone who has donated so far!
Tuesday August 3rd 
As expected, a 'short walk' for Douglas turned out to be a sore one. Although only walking the 15km owing to the extra distances walked the day before, 40km in just over 24 hours proved to be a bit of a shock to his limbs after a fair period of inactivity! 
Today's walk for Douglas was from Dunphail to Forres, mainly through forest and following the old rail line to conclude the Dava Way. Very few people were met along the way, however plenty of sheep and an enormous pig farm were spotted, with many of the residents having a good wallow! See the pictures below for some of Douglas' new mates.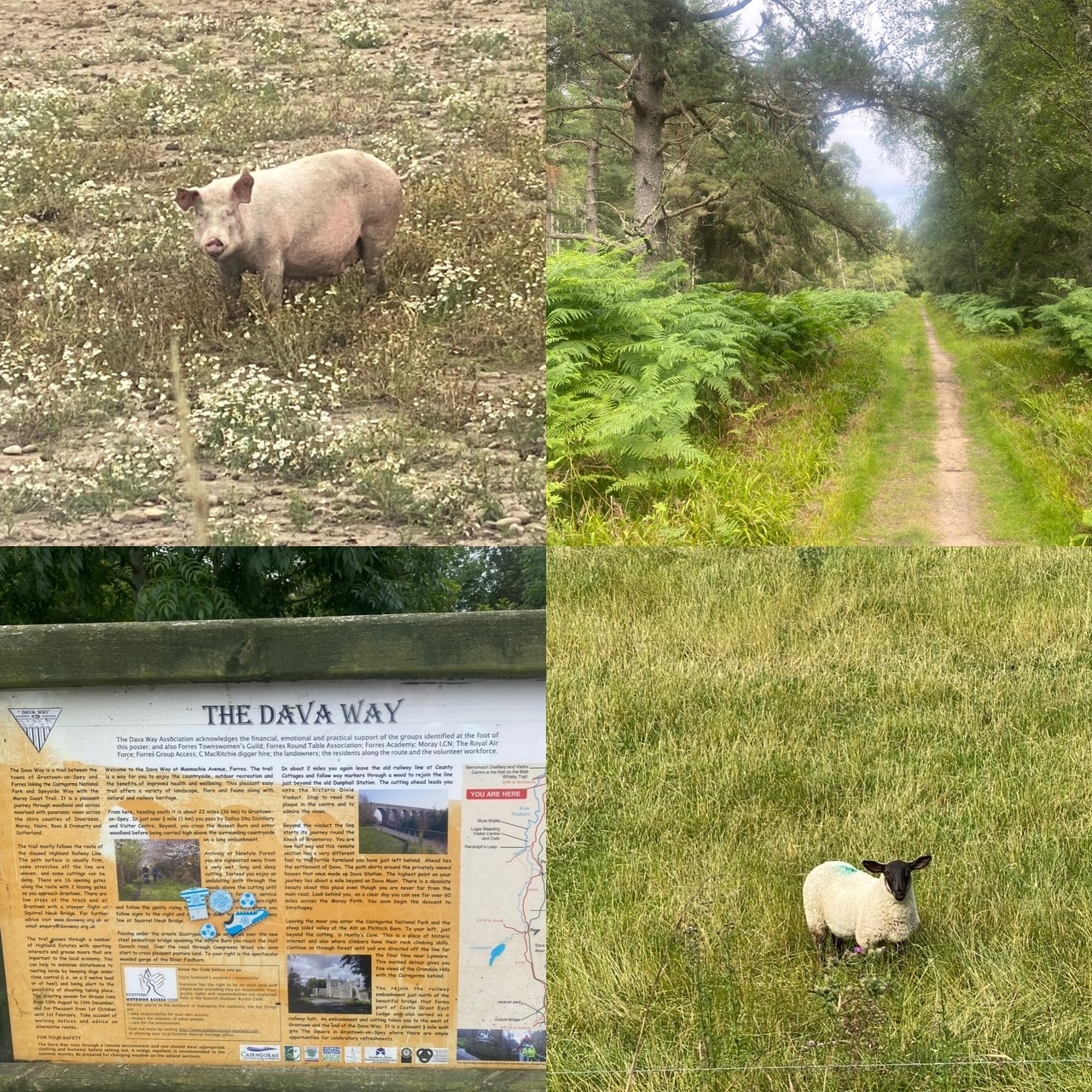 Tuesday nights entertainment saw Douglas find a local football game to watch, with Forres Thistle hosting Dufftown in the North Region Junior Cup - although not quite the standard of the mighty Partick Thistle, Douglas did manage to catch an eventful game with both teams having a man sent off, with Dufftown coming away with a 1-0 win having already missed a penalty earlier in the game.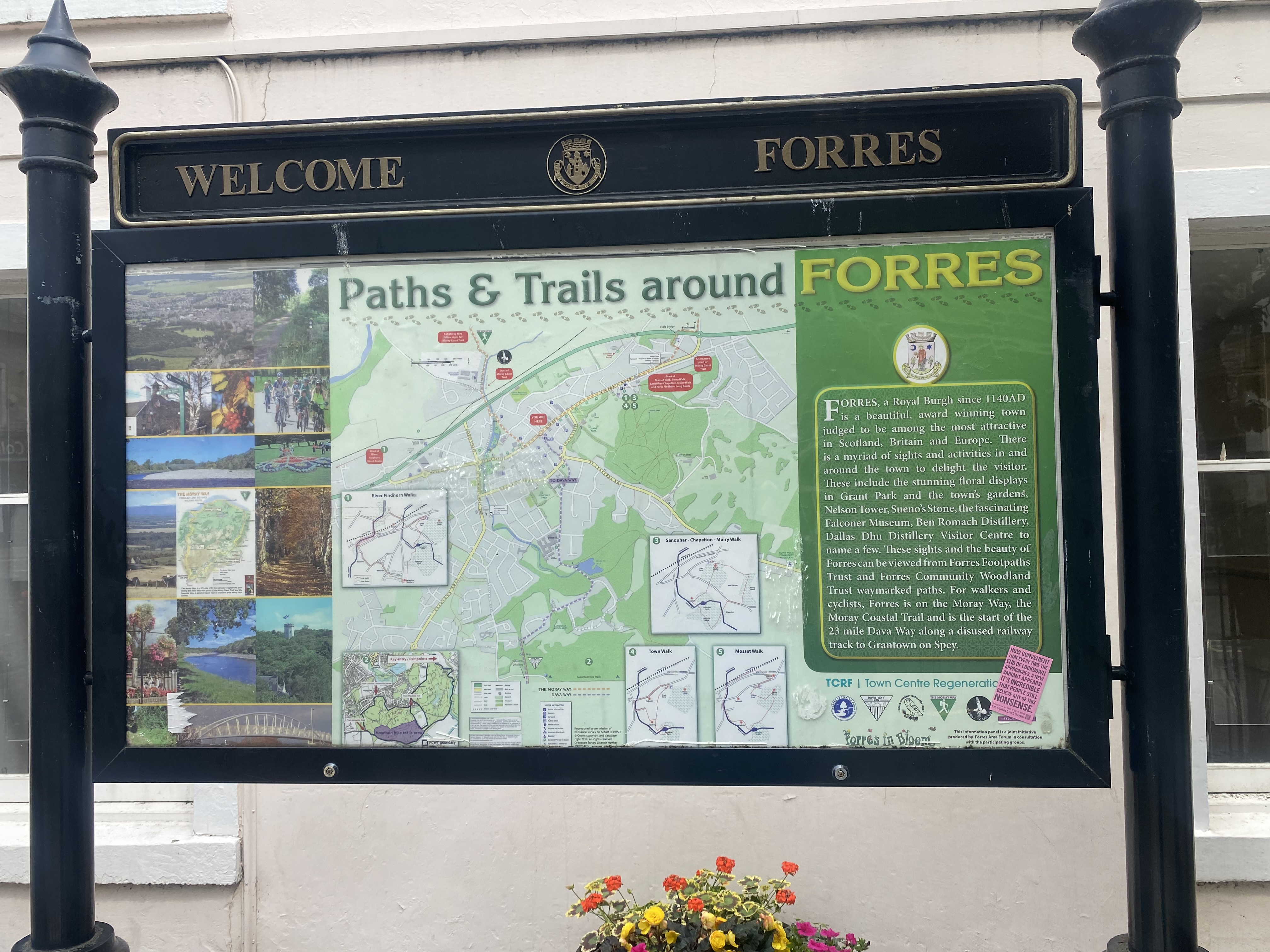 With the conclusion of the Dava Way, next up for Douglas is the first leg of the Moray Coast Trail. Unfortunately the 20km walk tomorrow looks like it could be a wet one with the weather forecast predicting rain meaning waterproofs will be required - but as Douglas says, getting soaked will be a small price to pay for a great cause! Thanks again to everyone who has donated so far. 
Monday August 2nd 
They say there is nothing like breaking yourself in gently to something that involves a fair amount of effort.... today ended up being nothing like that for Douglas!
Douglas started his day and his walk in Grantown, with the original plan to finish for the day in Dava, which would total just over 13km of walking. However, with a birthday spring in his step, Douglas decided to carry on for an extra 12km, bringing his total daily walking distance to 25km. Thankfully the weather was kind with it not being too hot and a slight breeze helping cool him down on his way - unfortunately, the forecast doesn't look to be as kind for the rest of the week...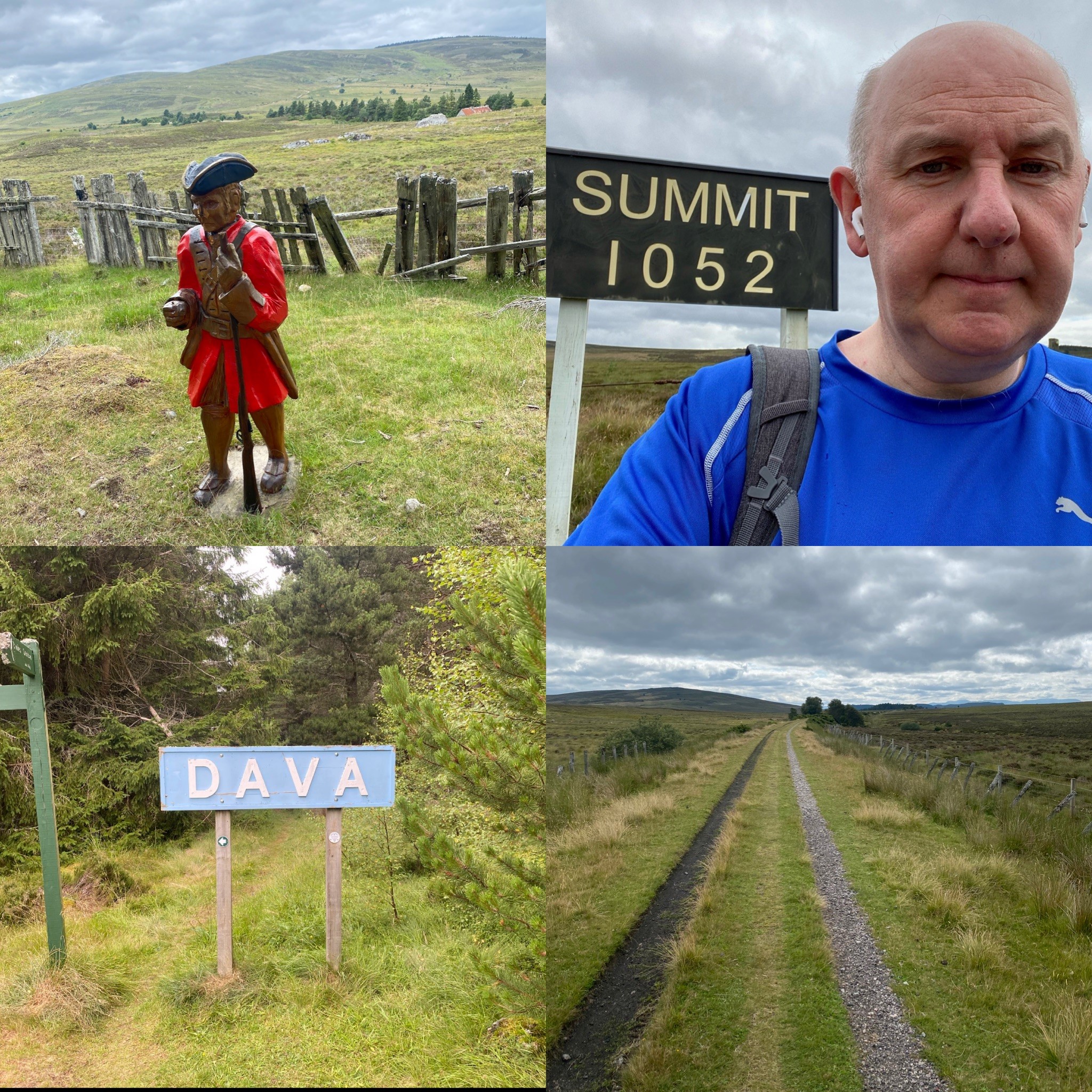 Having walked the 27,345 steps on his first day, it's now time for Douglas to rest up ahead of another big day tomorrow. Next up for Douglas is a long days walk to Forres, which will bring him to 40km of walking in less than 30 hours and conclude the Dava Way Trial and the first stage of his charity walk.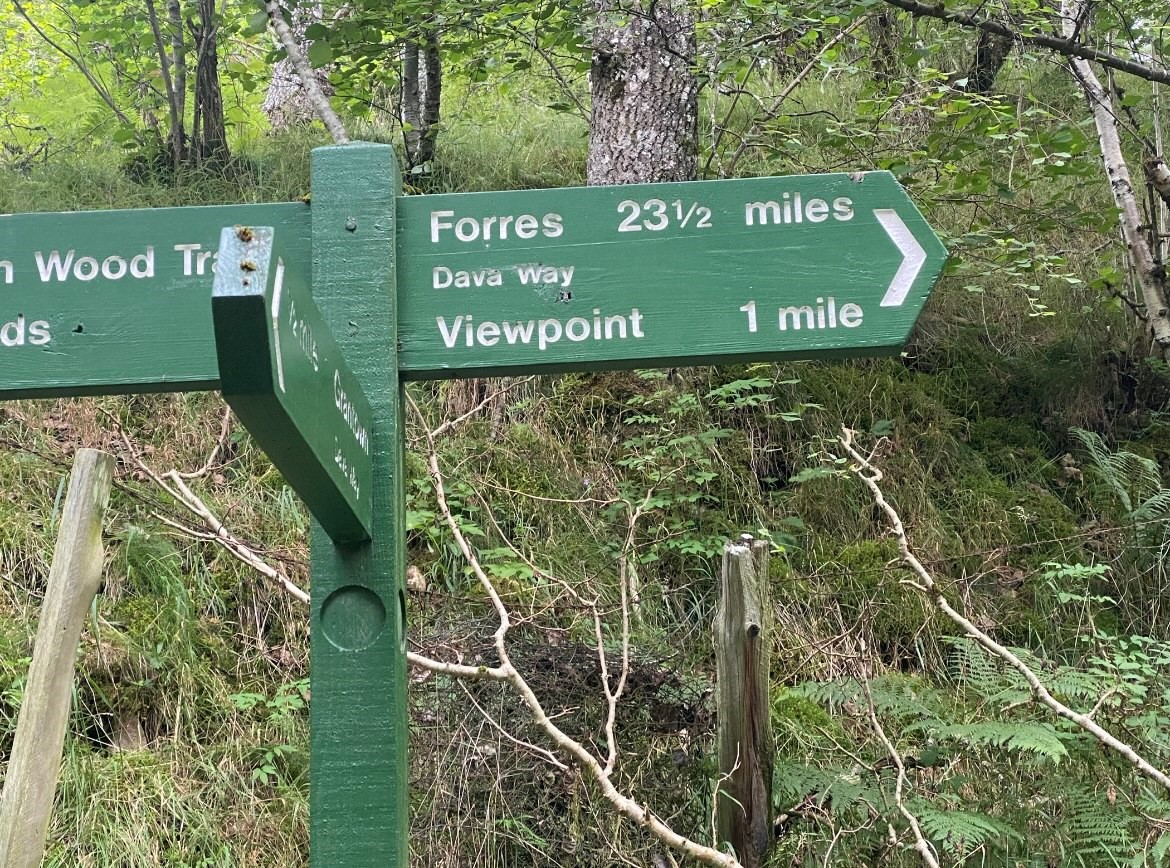 Thanks to all those who have donated so far for Guide Dogs over the last few days. Douglas really appreciates the donations and even says that it makes the sore legs all worthwhile!
You can stay in touch with all the charity activity being undertaken by McCrea Financial Services by visiting our website news pages or visiting our social media via Facebook and Twitter. If you would like to know more about the charity work we are planning, then click here, and if you would like to support Douglas and Guide Dogs Scotland, you can donate here.