Financial Fundamentals : The benefit of managing your cash flow
As we enter 2021, it's clear the effects of 2020 will be with us for some time. From the pandemic to Brexit, the last twelve months have seen sweeping changes both to our lives and the global economy.

In the midst of so much change, McCrea Financial Services are here to guide you through. Our new series 'Financial Fundamentals' will prompt you with ideas to manage your money and be in control of your financial future as we all navigate our new normal. Every month we'll bring you a timely task you can undertake to help you stay on top of your finances.
This month : How to start strong in 2021 by building a habit of analysing your personal cash flow.
You might be familiar with cash flow when it comes to balancing your household budget. This is a great habit to get into and something you could aim to achieve on a quarterly or even monthly basis in 2021. At the most straightforward level, this involves totting up your income and outgoings for the time in question, looking at where your money is going, identifying any ways to improve your financial situation and setting a personal budget to help you achieve your financial goals. You can go into as much detail as you need with categories like 'bills', 'entertainment', car, groceries, 'treats'  and there are Apps you can download to help you which we talked about here last month.  You can also find plenty of free budget planners to download via an online search using the words 'free budget planner' or monthly budget worksheet'.   As long as the information is meaningful to you, regularly analysing your personal cash flow will help you make smarter, more informed decisions about your money.  
If you're speaking with a McCrea adviser and they mention cash flow, however, it's likely we will be talking about the long-term planning tools we use to help forecast your financial future. These tools can help calculate the worth of the assets you expect to have – or are recommended to invest in – as you move through different stages of life and into retirement.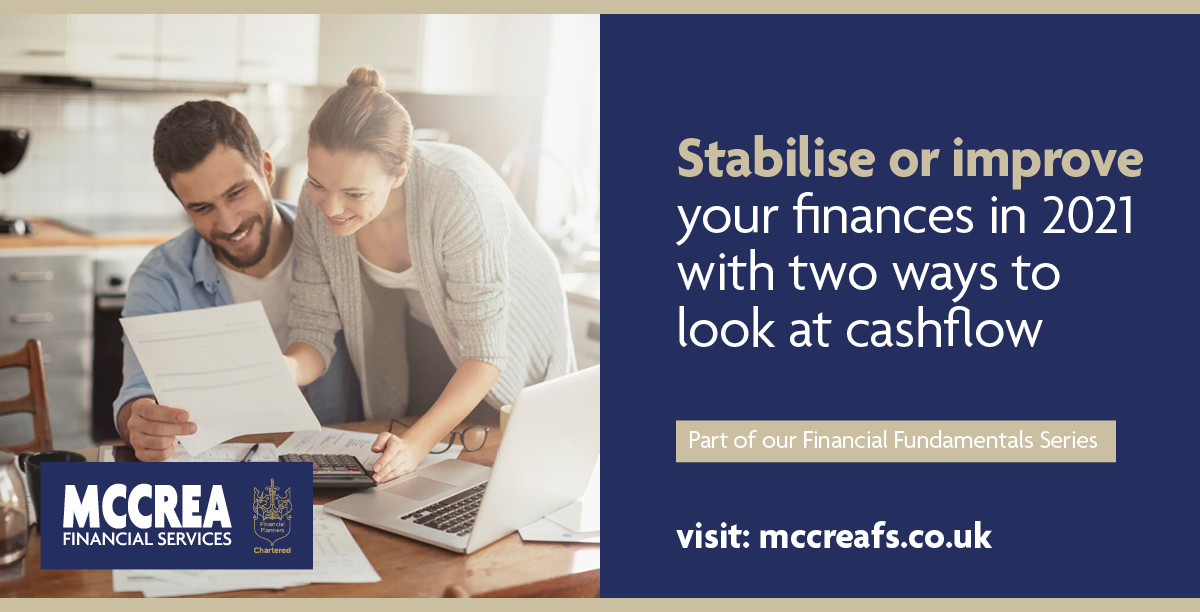 If, like many of us, you're in your forties or early fifties with a number of pension pots dotted around and possibly a mortgage, some savings and perhaps ISAs or other investments, it makes sense to work with us to gain an accurate picture of what might be available to you when you retire.  Often, we have ideas of our retirement based more in hope than expectation, so having an accurate cash flow forecast is crucial to help you prepare now for the retirement you want to enjoy!  
Our cash flow tools can help determine whether your current financial arrangements are working for you. We can help you interpret these along with your monthly or quarterly personal cash flow analyses, identifying any opportunities for more beneficial arrangements such as switching your mortgage payments or helping increase the tax efficiency on your savings.
Whatever your age, checking in on your current finances and how they relate to your retirement goals can help you take any corrective action before the gap is too wide. Alternatively, you might discover you are en route to early retirement, as these McCrea clients were delighted to discover! 
Combined with your own regular cashflow and budgeting habit, our professional projections will help you make a strong start on your retirement plans.  Contact us today if you would like to know more.